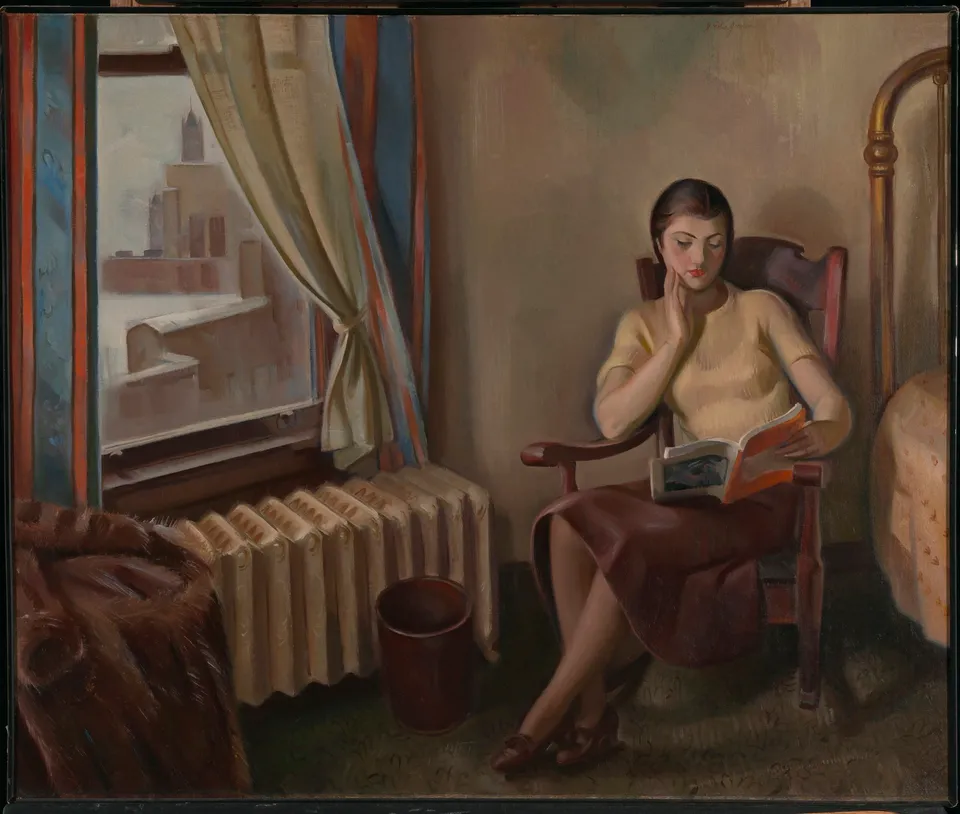 Copied
J. Theodore Johnson,
Chicago Interior
, 1933-1934, oil on canvas, Smithsonian American Art Museum, Transfer from the U.S. Department of Labor, 1964.1.82
Title

Chicago Interior

Artist

Dimensions

28

x

34

in. (

71

.

2

x

86

.

4

cm.)

Credit Line

Transfer from the U.S. Department of Labor

Mediums

Mediums Description

oil on canvas

Classifications

Keywords

New Deal — Public Works of Art Project — Illinois
Architecture Interior — domestic — bedroom
Cityscape — Illinois — Chicago
Architecture Interior — detail — window
Recreation — leisure — reading
Portrait female — Johnson, Barbara Salmon — full length

Object Number

1964.1.82
The warmth from the radiator is almost palpable in this painting, contrasting with the snowy city seen through the window. The distinctive blue-tiled tower of the American Furniture Mart identifies the setting as Chicago, where artist J. Theodore Johnson and his wife, Barbara Salmon Johnson, came to attend an exhibition of the artist's work shortly after they had wed in New York in December 1931. The artist lovingly portrayed his beautiful young wife reading in their hotel room. The warm browns, yellows, and oranges raise the visual temperature, heightened further by hot touches of red in the drapery and in Mrs. Johnson's lips, cheeks, magazine, and chair. A heavy fur coat laid to dry by the radiator shows that Mrs. Johnson has recently come in to escape the frigid winds from Lake Michigan. Her husband was one of many artists who participated both in the Public Works of Art Project and in later Federal Art Projects. In 1937 and 1939 Johnson returned to Chicago to fulfill commissions from the Treasury Section of Fine Arts for historical murals in the Morgan Park and Oak Park Post Offices.
1934: A New Deal for Artists exhibition label
Luce Center Label
J. Theodore Johnson painted his wife, Barbara Salmon Johnson, reading in a hotel room in Chicago. The young couple traveled to the Windy City frequently in the 1930s as Johnson's WPA murals were installed in the Oak Park Post Office. Barbara's rosy cheeks and the fur coat tossed casually near the radiator indicate that she has just come in from Chicago's bitter winter weather. Outside, a gray sky provides a backdrop for snow-dusted buildings. But Johnson's wife wears a short-sleeve top, suggesting that the artist painted this scene from memory, in a warmer season.