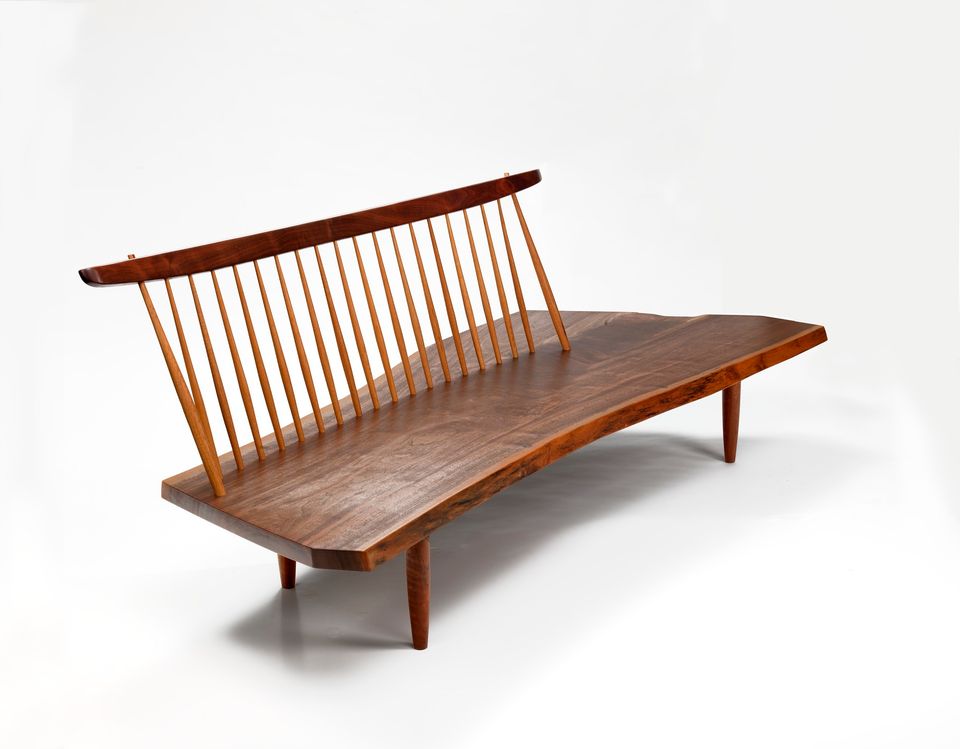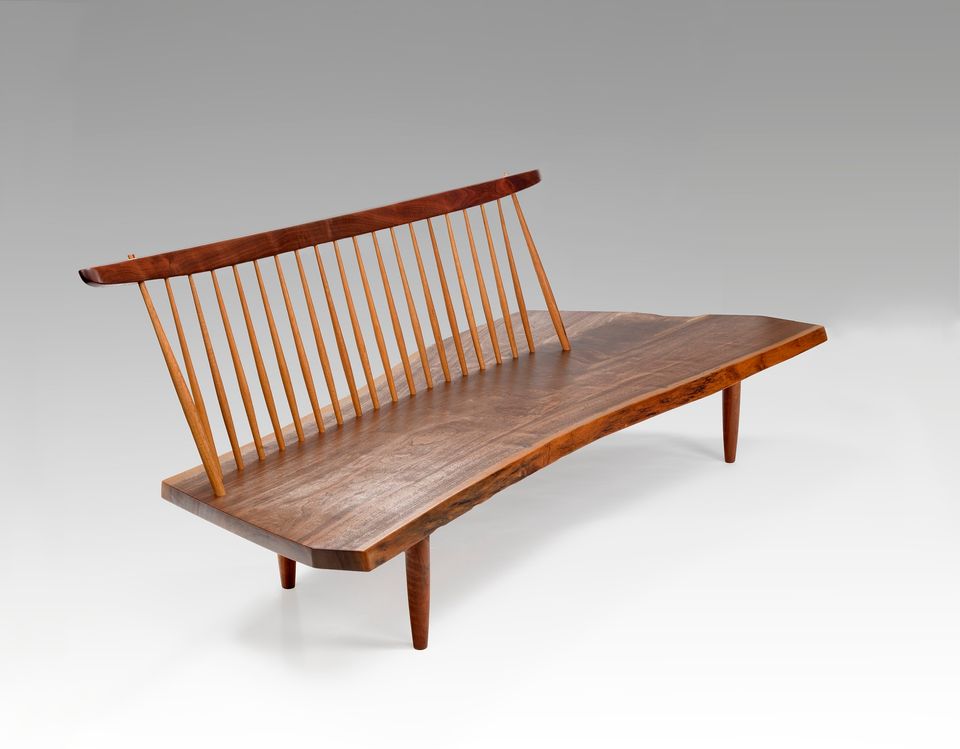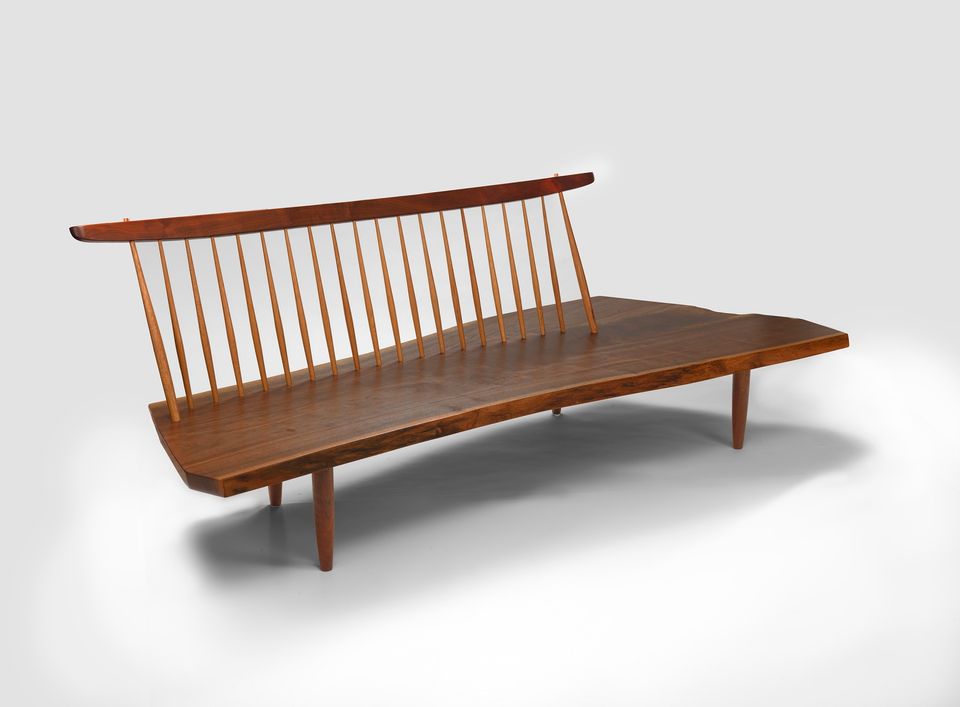 Copied
George Nakashima,
Conoid Bench
, 1977, black walnut and hickory,
31
1
⁄
8
x
84
1
⁄
2
x
35
5
⁄
8
in. (
79
.
1
x
214
.
6
x
90
.
5
cm), Smithsonian American Art Museum, Gift of Dr. and Mrs. Warren D. Brill, 1991.121
Title

Conoid Bench

Artist

Dimensions

31

1

⁄

8

x

84

1

⁄

2

x

35

5

⁄

8

in. (

79

.

1

x

214

.

6

x

90

.

5

cm)

Markings

bottom underside center in black ink: FLAVIN

Credit Line

Gift of Dr. and Mrs. Warren D. Brill

Mediums Description

black walnut and hickory

Classifications

Object Number

1991.121
The groundbreaking furniture of George Nakashima was included in the Renwick Gallery's first exhibition, Woodenworks, in 1972. Nakashima trained as an architect at the University of Washington and the Massachusetts Institute of Technology. He discovered woodworking while incarcerated at the Minidoka Detention Center in southern Idaho, where he was forcibly detained during World War II as part of the federal government's Executive Order 9066. Following his release, in 1943, he opened a furniture studio in New Hope, Pennsylvania. His artistic philosophy was simple: to maintain the beauty and goodness of a tree. This is an example of a conoid bench, a design first introduced in 1960, featuring the natural "free edge" of a black walnut tree.
This Present Moment: Crafting a Better World, 2022
A bench whose seat is one seven-foot-long smooth slab of wood with its natural, curving edges intact. Three feet deep, the right end of the seat is the widest, and its middle slightly narrows before widening again at the left end. About two and a half feet tall, it rests low on four thin, slightly tapered legs that stand perpendicular to the seat. A backrest is made up of twenty vertical wooden rods, each wider at center and tapered at the ends. The skinny rods connect to a smooth, wider, and slightly concave horizontal piece of wood at the top. While the backrest reaches to the left end of the seat, it doesn't stretch all the way across to the right, leaving the widest right edge empty. There are no arm rests.
The natural grain of black walnut varies in shades within the seat; the long edges of the slab are lighter, and the center is a mix of darker shades. The hickory wood of the legs and backrest are more uniform in color. Within the right edge of the seat, a natural notch in the wood slightly interrupts the smooth edge.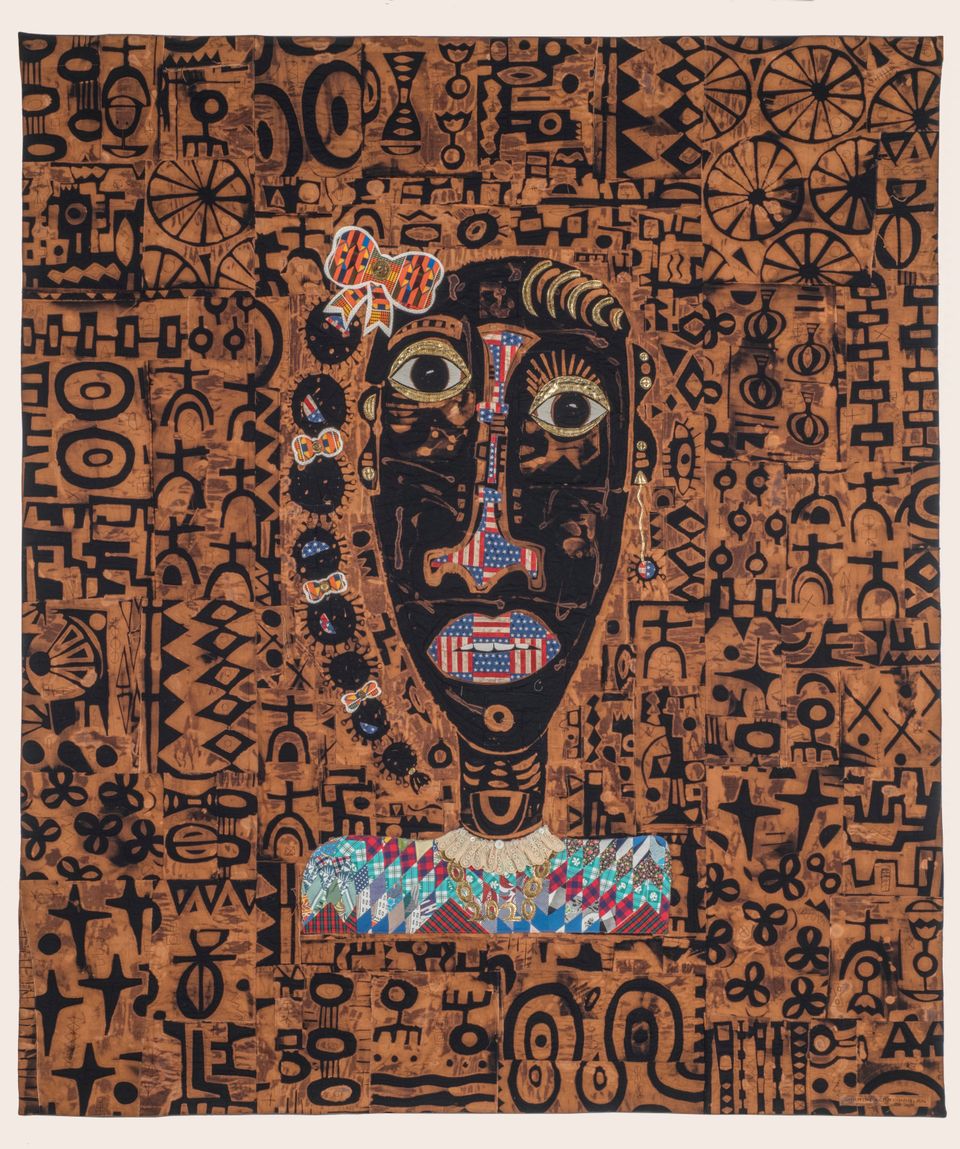 May 13, 2022
–
April 2, 2023
This Present Moment: Crafting a Better World showcases the dynamic landscape of American craft today.