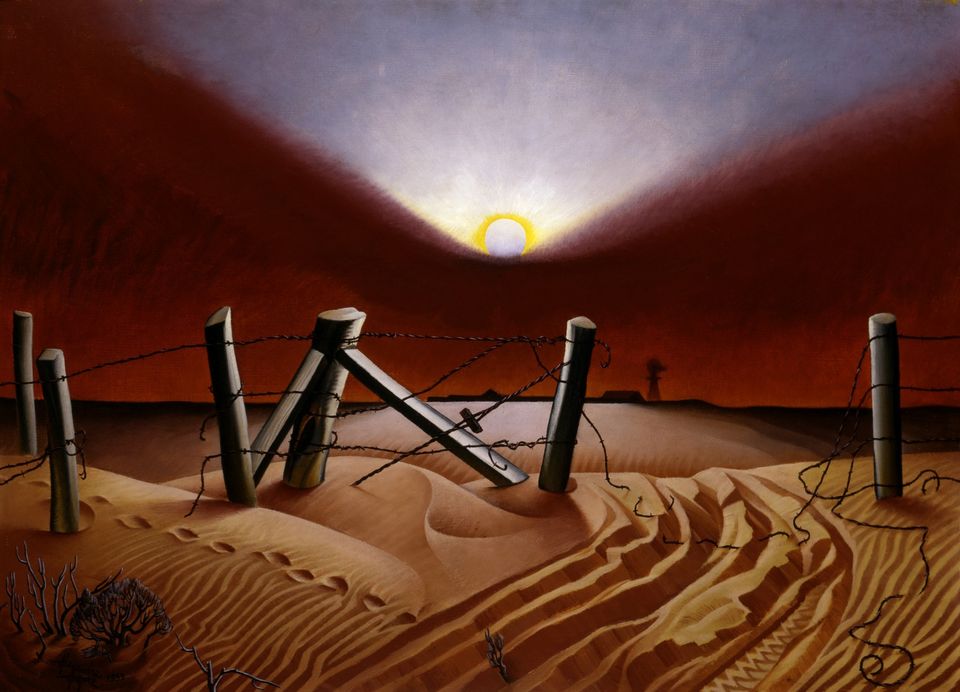 Copied
Alexandre Hogue,
Dust Bowl
, 1933, oil on canvas,
24
x
32
5
⁄
8
in. (
61
x
82
.
8
cm), Smithsonian American Art Museum, Gift of International Business Machines Corporation, 1969.123
Title

Dust Bowl

Artist

Location

Dimensions

24

x

32

5

⁄

8

in. (

61

x

82

.

8

cm)

Markings

lower left in oil: Alexandre/Hogue

Credit Line

Gift of International Business Machines Corporation

Mediums

Mediums Description

oil on canvas

Classifications

Keywords

Landscape
Western
Landscape — farm
Architecture — detail — fence
Disaster — drought
Landscape — desert
Architecture — farm — barn

Object Number

1969.123

Research Notes
The dust storms of the 1930s moved millions of tons of topsoil across America's heartland, wiping out farms and ranches that had stood for generations. Hogue was a young Missouri-born artist just making his reputation when the Depression and Dust Bowl ravaged the communities of the Southern Plains. He saw firsthand the mass exodus of families who packed what the banks had not taken and set out for California, hoping to find a better future. In Dust Bowl angular fence posts and spikes of barbed wire echo the malevolent wedge of blood-red earth obscuring the sky. Below the break in the fence, a single track of a truck tire leads away from the desolate farm, as if the family had just driven away and the dust moved to erase all traces of them.
Exhibition Label, Smithsonian American Art Museum, 2006