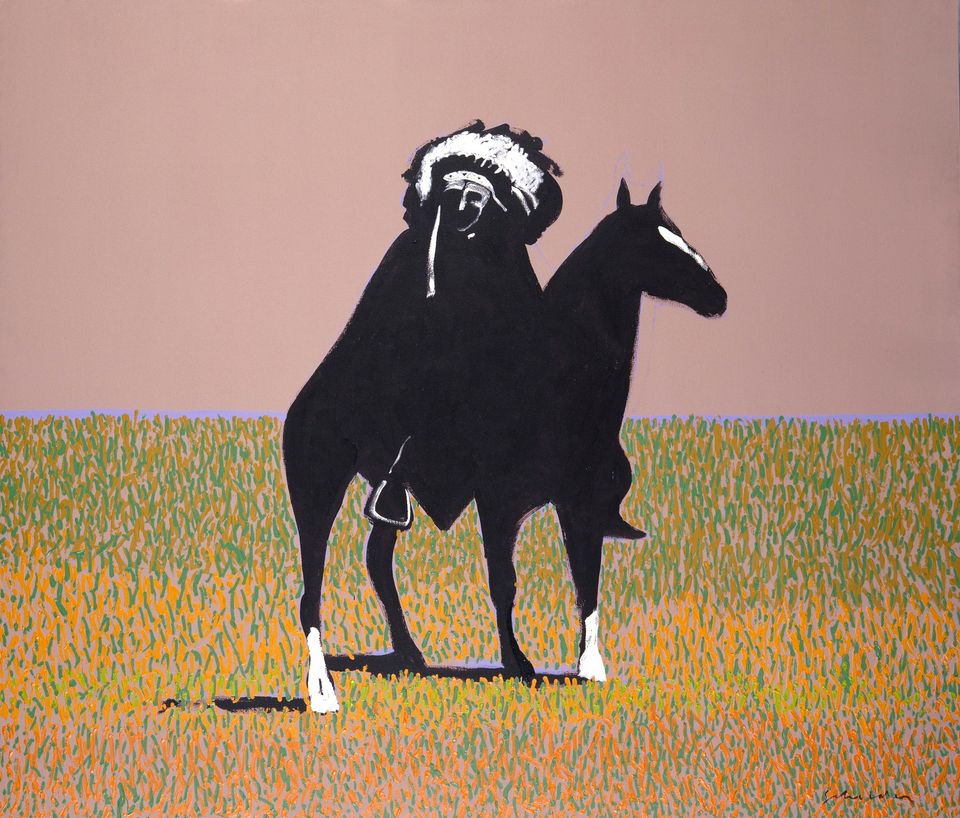 Copied
Fritz Scholder,
Indian Image
, 1972, acrylic on canvas, stretcher:
68
1
⁄
8
x
80
in. (
173
.
0
x
203
.
2
cm.), Smithsonian American Art Museum, Gift of the artist, 1973.151
Title

Indian Image

Artist

Dimensions

stretcher:

68

1

⁄

8

x

80

in. (

173

.

0

x

203

.

2

cm.)

Credit Line

Gift of the artist

Mediums

Mediums Description

acrylic on canvas

Classifications

Keywords

Indian
Equestrian
Landscape — plain

Object Number

1973.151
In the 1960s, Scholder helped invent a new Native American art, one that conveys the complexity of modern Native experience through a rich array of cultural sources and references. Enlivened by vivid color and energetic brushwork, his paintings of American Indians are pointedly contemporary in style, even when based -- as is
Indian Image
-- on a historical photograph. Scholder both did and did not identify as "Indian" (his ancestry was German, Luiseño, French, and English) and initially chose not to paint Native subjects, but changed his mind when confronted by "over-romanticized paintings of the 'noble savage'" prevalent in Southwestern art. When his students at the Institute of American Indian Arts in Santa Fe began painting what he called "pop Indian themes," Scholder joined them, later noting that "[Indians] had never been painted honestly before, and nobody, certainly, had painted the Indian the way he is today.