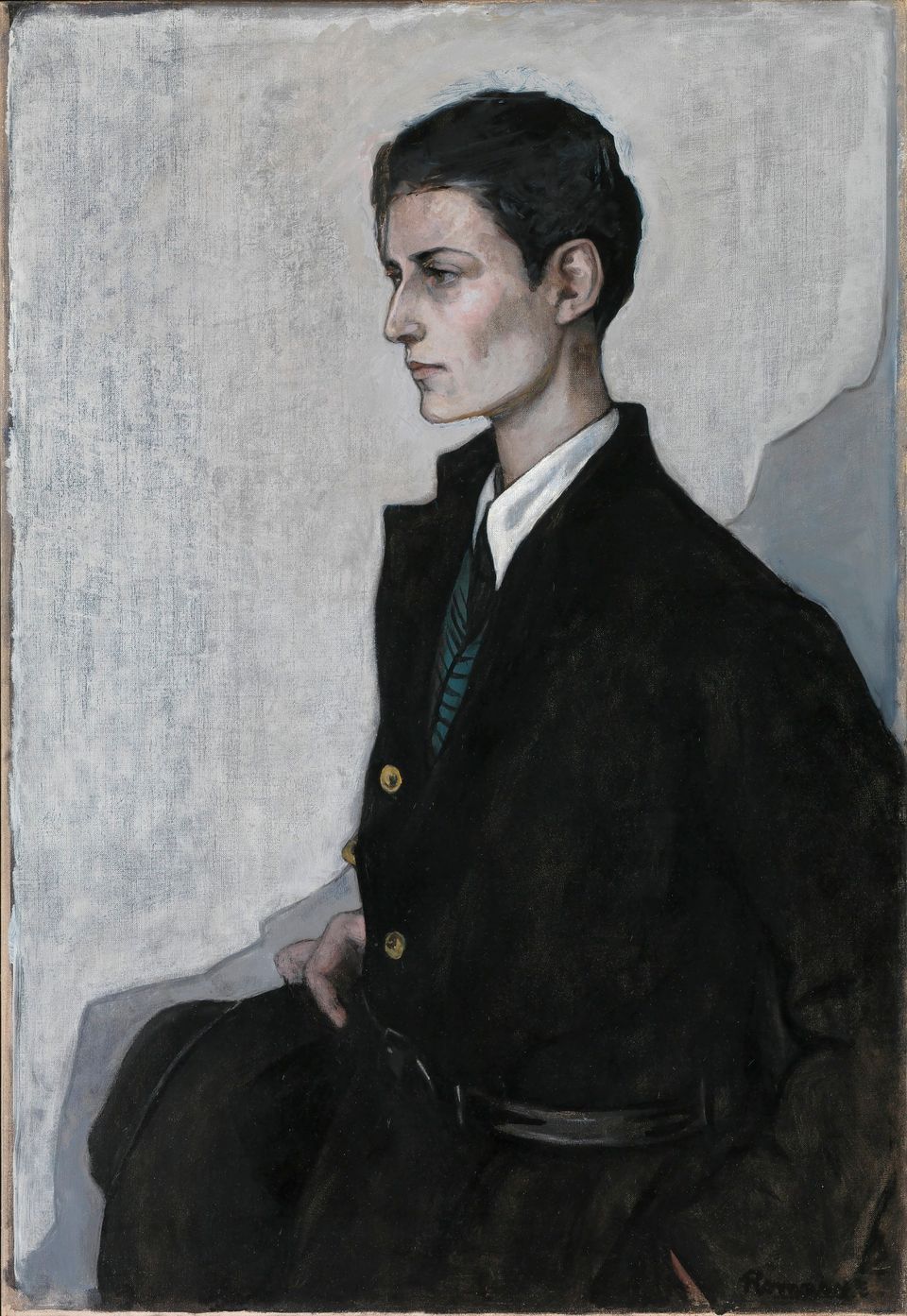 Copied
Romaine Brooks,
Peter (A Young English Girl)
, 1923-1924, oil on canvas, Smithsonian American Art Museum, Gift of the artist, 1970.70
Title

Peter (A Young English Girl)

Artist

Dimensions

36

1

⁄

8

x

24

1

⁄

2

in. (

91

.

9

x

62

.

3

cm)

Credit Line

Gift of the artist

Mediums

Mediums Description

oil on canvas

Classifications

Keywords

Portrait female — unidentified — Peter
English

Object Number

1970.70
Peter depicts British painter Hannah Gluckstein, heir to a catering empire who adopted the genderless professional name Gluck in the early 1920s. By the time Brooks met her at one of Natalie Barney's literary salons, Gluckstein had begun using the name Peyter (Peter) Gluck. She unapologetically wore men's suits and fedoras, clearly asserting the association between androgyny and lesbian identity. Brooks's carefully nuanced palette and quiet, empty space produced an image of refined and austere modernity.
The Art of Romaine Brooks, 2016
Luce Center Label
British painter Hannah Gluckstein (1895-1978) worked under the name Gluck but was known within her close circle of friends by her nickname, Peter. Gluck met artist Romaine Brooks in 1923, and the two agreed to sit for each other shortly thereafter, resulting in this portrait and an unfinished one of Brooks by Gluck. Like Brooks, Gluck frequently wore clothing inspired by men's fashions that concealed her feminine figure. This androgynous attire was popular among upper- and upper-middle-class women at the time. It allowed them to experiment with fashion, but it also provided an outlet for lesbians, like Gluck and Brooks, to question traditional gender roles. In a 1918 letter to her brother, Gluck wrote of her new look, "I am flourishing in a new garb. Intensely exciting. Everybody likes it," and went on to say, "I hope you will like it because I intend to wear that sort of thing always." Here, Gluck's striped waistcoat and silk tie, coupled with her closely cropped hair, help mask her gender, which is only confirmed with Brooks's title.