Artist
Romaine Brooks
born Rome, Italy 1874-died Nice, France 1970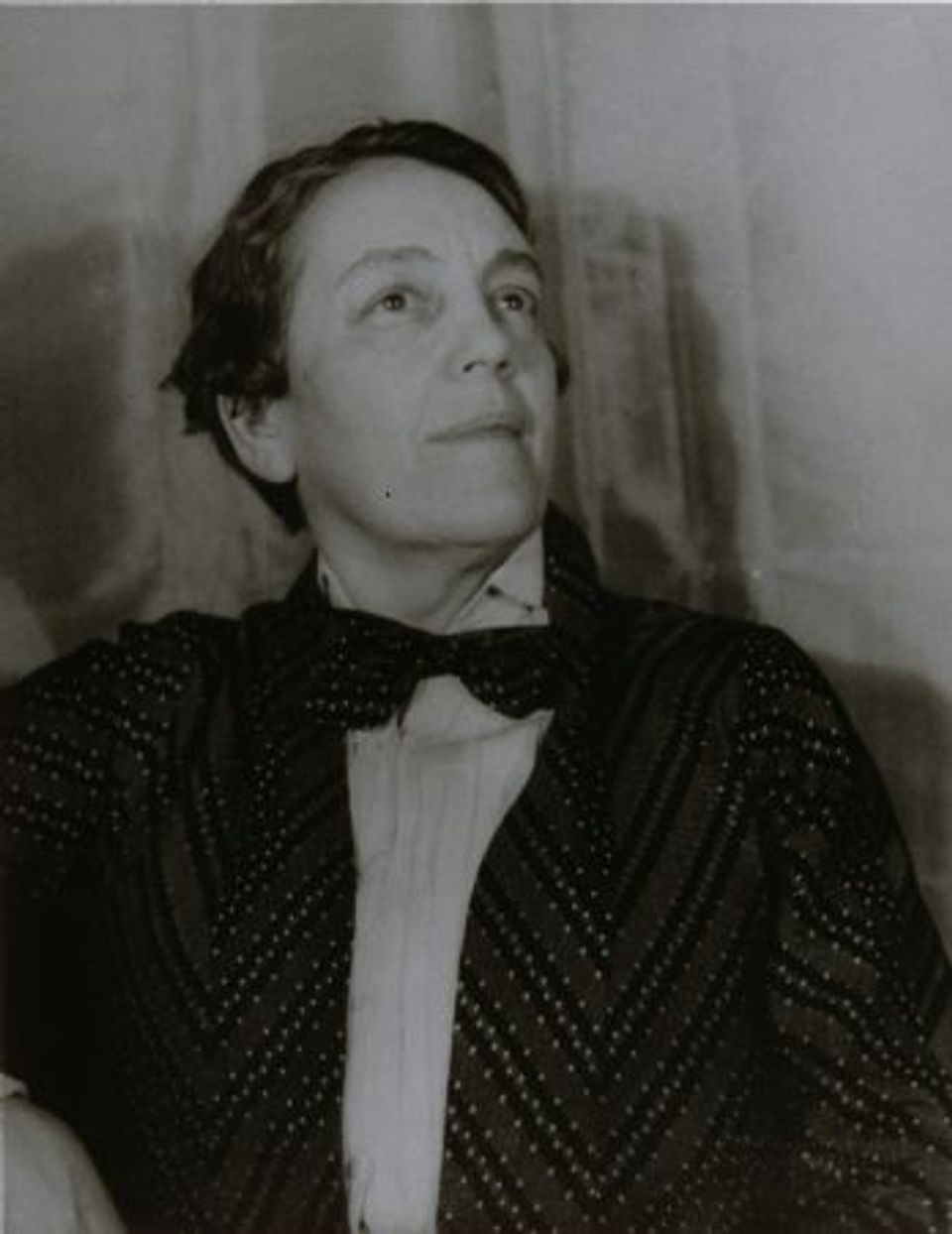 Also known as

Beatrice Romaine Brooks
Romaine Goddard

Born

Rome, Italy

Died

Nice, France
Biography
Romaine Brooks, the daughter of a wealthy, unbalanced woman estranged from her husband before Romaine's birth, had a miserable and unstable childhood. An insane older brother received mother's love and attention, leaving Romaine scarred from lack of affection and acceptance. Inheritance of the huge family fortune in 1902 granted her independence, but she remained enslaved by memories of her mother's cruelty. She studied in Rome, meeting an avant-garde group of artists, writers, and intellectuals with whom she associated in Capri, Paris, and the French Riviera.
Her Self Portrait depicts a steely figure attired in a riding habit, carrying herself confidently and with elegance. She stares relentlessly at us from beneath the brim of her hat, with eyes that could be either frightened or condemning. Her mouth, corners upturned, either smiles or sneers. The ruins behind her, as ambiguous as her expression, add to the air of uncertainty about where she is and what she is thinking.
Brooks remained aloof from all artistic trends, painting, in her palette of black, white, and grays, haunting portraits of the blessed and the troubled, of socialites and intellectuals. She moved in brilliant circles and, while resisting companionship, was the object of violent passions. When she painted her own portrait, she revealed her intensely contradictory nature: extreme confidence coupled with fear of vulnerability. Her story and her work reveal much about bohemian life in the early twentieth century.
Elizabeth Chew Women Artists (brochure, Washington, DC: National Museum of American Art, Smithsonian Institution)
Luce Artist Biography
Romaine Brooks was born in Rome to wealthy American parents. Her father abandoned the family soon after Romaine's birth, however, and her mother's emotional instability created an unhappy homelife. Brooks spent much of her childhood at different boarding schools around Europe, a miserable experience that she later recalled in an unpublished memoir titled "No Pleasant Memories."  When she was twenty-two, she returned to Rome to study at the Scuola Nazionale, where she was the only woman in her class. She had a studio on the island of Capri, and later established one in London, where she befriended artists and writers such as Aubrey Beardsley and Oscar Wilde. By 1905, she had made a name for herself in Paris as a painter of women, some of whom were her lovers. Her most visible and lasting relationship was with the American poet Natalie Barney, who also lived in Paris.