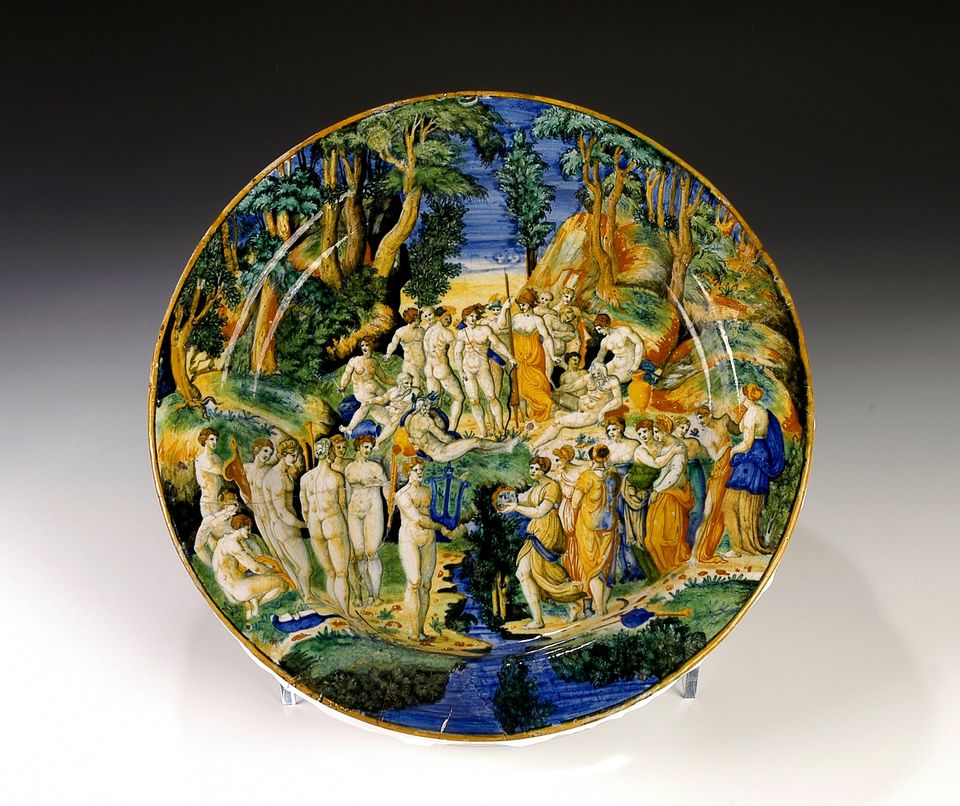 Copied
Unidentified, Orazio Fontana,
Plate with the Contest between the Muses and the Pierides
, ca. 1540-1550, maiolica, Smithsonian American Art Museum, Gift of John Gellatly, 1929.8.479
Title

Plate with the Contest between the Muses and the Pierides

Location

Dimensions

1

7

⁄

8

diam. ×

18

1

⁄

2

in. (

4

.

8

diam. ×

47

.

0

cm)

Credit Line

Gift of John Gellatly

Mediums Description

maiolica

Classifications

Keywords

Landscape — river — stream
Figure group — nude

Object Number

1929.8.479
Italian majolica ceramic ware was popular in the late fifteenth and early sixteenth centuries. Its name derives from the Spanish island of Majorca, a large trading center for vessels sailing the Mediterranean. The art of majolica was first brought to the Western world by Islamic potters in the twelfth century. Craftsmen in Italy could not replicate the lustrous finish used by the Spanish artists, so instead they concentrated on the detail of the painting and the clarity of the colors. Majolica was produced in pottery factories, in which the throwers, painters, and kilnmen all worked side by side. First, the thrown clay form was fired to produce bisque ware. This was then covered with opaque lead and tin oxides and painted with glazes. The glazes were a dull blue and gray until fired for a second time, when they fused into glasslike purples, blues, greens, yellows, and reds. The illustrations on the pottery would range from mythological images to copies of famous works of art. A Renaissance painting by Rosso Fiorentino inspired the design for the plate displayed here [see 1929.8.479].