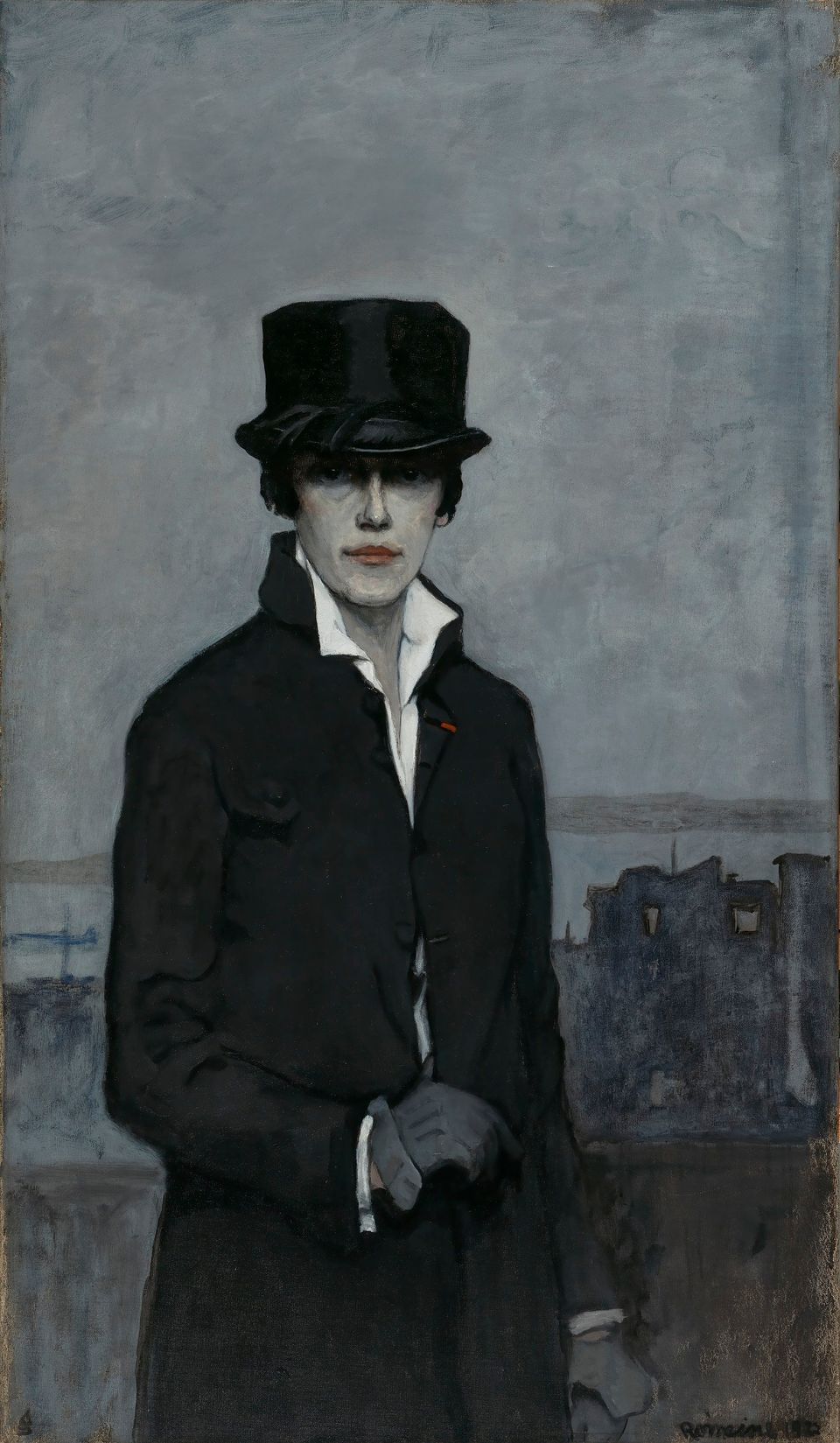 Copied
Romaine Brooks,
Self-Portrait
, 1923, oil on canvas,
46
1
⁄
4
x
26
7
⁄
8
in. (
117
.
5
x
68
.
3
cm), Smithsonian American Art Museum, Gift of the artist, 1966.49.1
Title

Self-Portrait

Artist

Dimensions

46

1

⁄

4

x

26

7

⁄

8

in. (

117

.

5

x

68

.

3

cm)

Markings

lower right in oil: Romaine 1923 lower left: (artist's monogram)

Credit Line

Gift of the artist

Mediums

Mediums Description

oil on canvas

Classifications

Keywords

Cityscape
Portrait
Dress — accessory — hat
Occupation — art — painter
Occupation — art — designer
Portrait female — Brooks, Romaine — self-portrait
Occupation — art — printmaker
Portrait female — Brooks, Romaine — waist length

Object Number

1966.49.1
With this self-portrait, Brooks envisioned her modernity as an artist and a person. The modulated shades of gray, stylized forms, and psychological gravity exemplify her deep commitment to aesthetic principles. The shaded, direct gaze conveys a commanding and confident presence, an attitude more typically associated with her male counterparts. The riding hat and coat and masculine tailoring recall conventions of aristocratic portraiture while also evoking a chic androgyny associated with the post--World War I "new woman." Brooks's fashion choices also enabled upper-class lesbians to identify and acknowledge one another.
The Art of Romaine Brooks, 2016
Luce Center Label
In this painting, Romaine Brooks portrayed herself in the dark colors of a man's outfit, her eyes veiled under the shadow of her hat brim. Brooks lived most of her life in Paris, where she crafted an androgynous appearance that challenged conventional ideas of how women should look and behave. The shadowed face in this portrait suggests that her true self is hidden behind a carefully constructed facade. The tiny flash of red on Brooks's lapel represents the ribbon of the Legion of Honor she received for her artistic achievements, but it might also hint at the secret passions of her personal life.