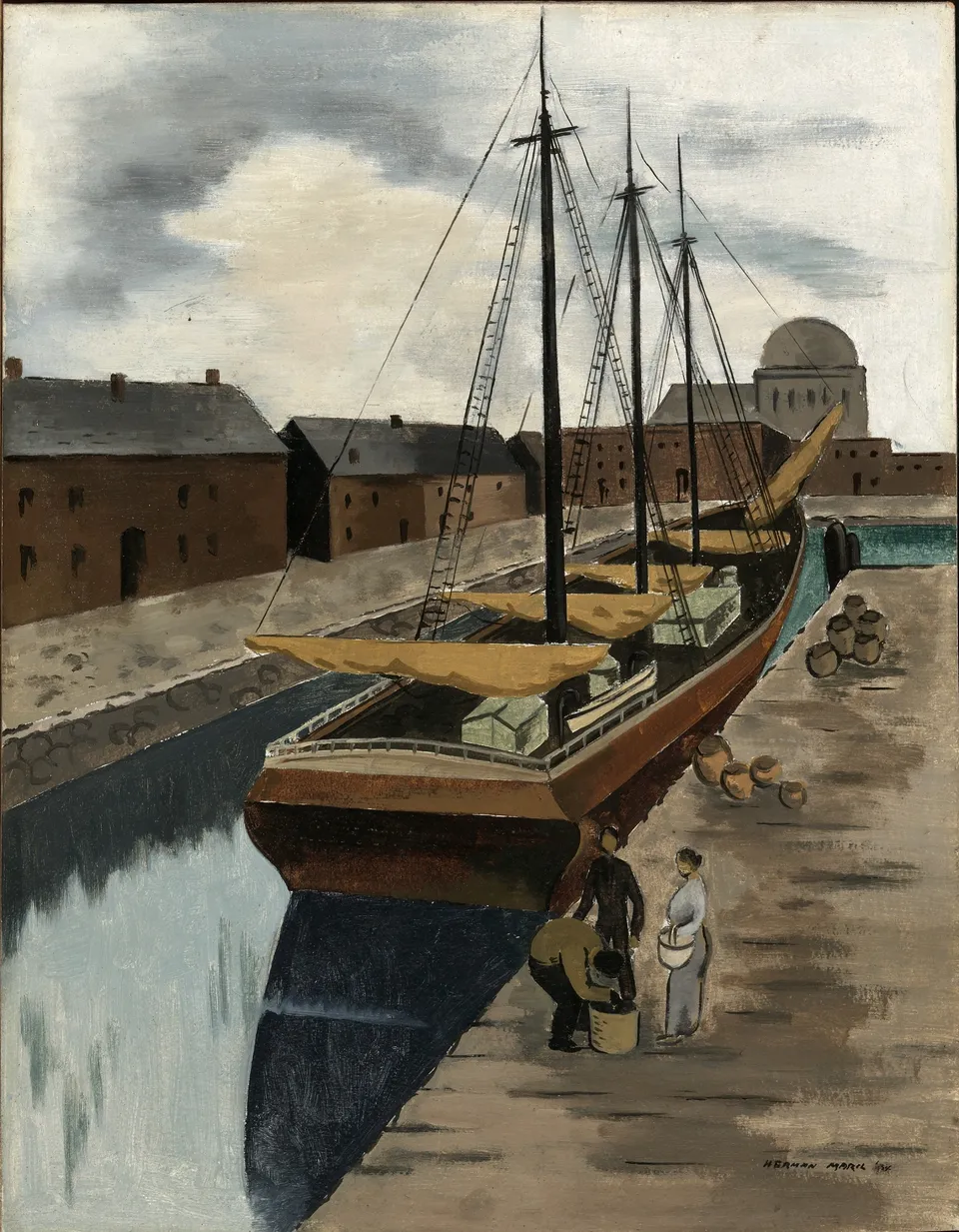 Copied
Herman Maril,
Sketch of Old Baltimore Waterfront
, 1934, oil on fiberboard, Smithsonian American Art Museum, Transfer from the U.S. Department of Labor, 1964.1.187
Title

Sketch of Old Baltimore Waterfront

Artist

Dimensions

18

1

⁄

8

x

14

1

⁄

8

in. (

46

.

0

x

36

.

0

cm.)

Credit Line

Transfer from the U.S. Department of Labor

Mediums

Mediums Description

oil on fiberboard

Classifications

Keywords

Architecture Exterior — commercial — warehouse
Cityscape — wharf
Architecture — boat — sailing ship
Cityscape — Maryland — Baltimore
Figure group
Study
Figure group — male

Object Number

1964.1.187
Herman Maril opened a window onto the history of his native city in this view of Baltimore harbor. Maril was a modernist painter who simplified the forms in the painting to make "the abstract structure . . . dominant," yet he retained enough details to situate the scene in a past era. A schooner typical of nineteenth-century shipping is tied up in the foreground, its sails furled after a journey that could have brought it from almost anywhere in the world. The domed Merchants and Exchange building visible in the background stood at the corner of Gay and Water streets in Baltimore's inner harbor from 1815 until it was razed in 1901.
This painting is thus set before Maril's birth in 1908, in an era cut off from the artist's life time by the disastrous fire of 1904 that destroyed Baltimore's inner harbor docks along with much of the city. Maril's wife recalled that the artist "took pleasure in looking at the architecture and changes in the city over the years," particularly enjoying "the harbor where he walked with his father." Baltimore's vanished past remained key to Maril's personal conception of the American scene.
1934: A New Deal for Artists exhibition label