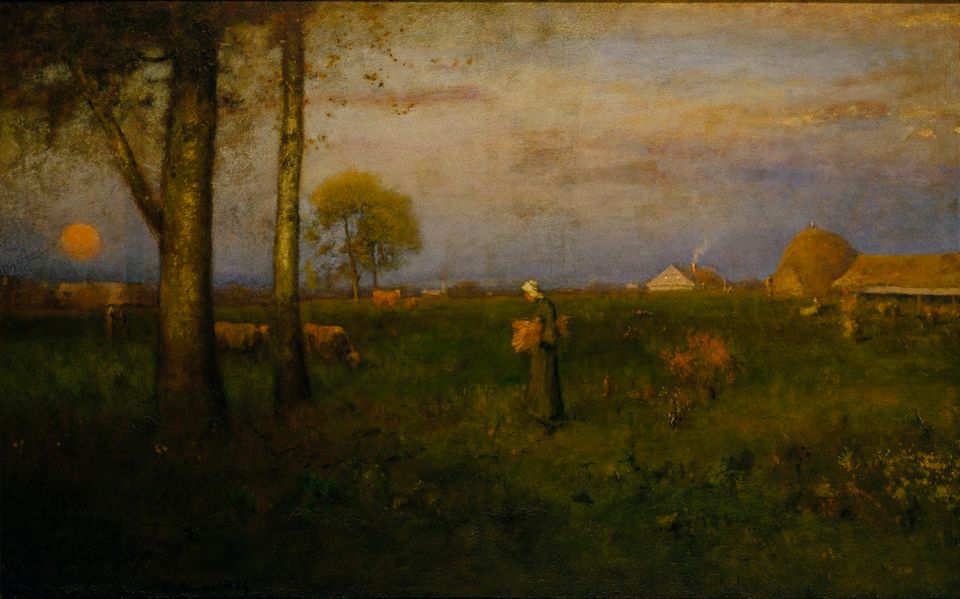 Copied
George Inness,
Sundown
, 1884, oil on canvas,
30
5
⁄
8
x
45
in. (
77
.
8
x
114
.
2
cm), Smithsonian American Art Museum, Gift of William T. Evans, 1909.7.32
Title

Sundown

Artist

Location

Dimensions

30

5

⁄

8

x

45

in. (

77

.

8

x

114

.

2

cm)

Credit Line

Gift of William T. Evans

Mediums

Mediums Description

oil on canvas

Classifications

Keywords

Landscape — farm
Landscape — time — sunset

Object Number

1909.7.32
George Inness painted peaceful views of the landscape in soft, glowing colors and often included people, animals, and buildings. Sentimental scenes like this of people enjoying nature were popular during the nineteenth century, as towns and industry gradually took over the landscape. In this image, Inness captured the moment just before sunset when everything is bathed in golden light. He painted the figures in the same rich tones as the landscape, underscoring his belief in the harmony between man, nature, and God.
Luce Object Quote
"The civilized landscape . . . can [communicate human sentiment]; and therefore I love it more and think it more worthy of reproduction than that which is savage and untamed." George Inness, "A Painter on Painting,"
Harper's New Monthly Magazine
, February 1878, reprinted in Quick,
George Inness
, 1985