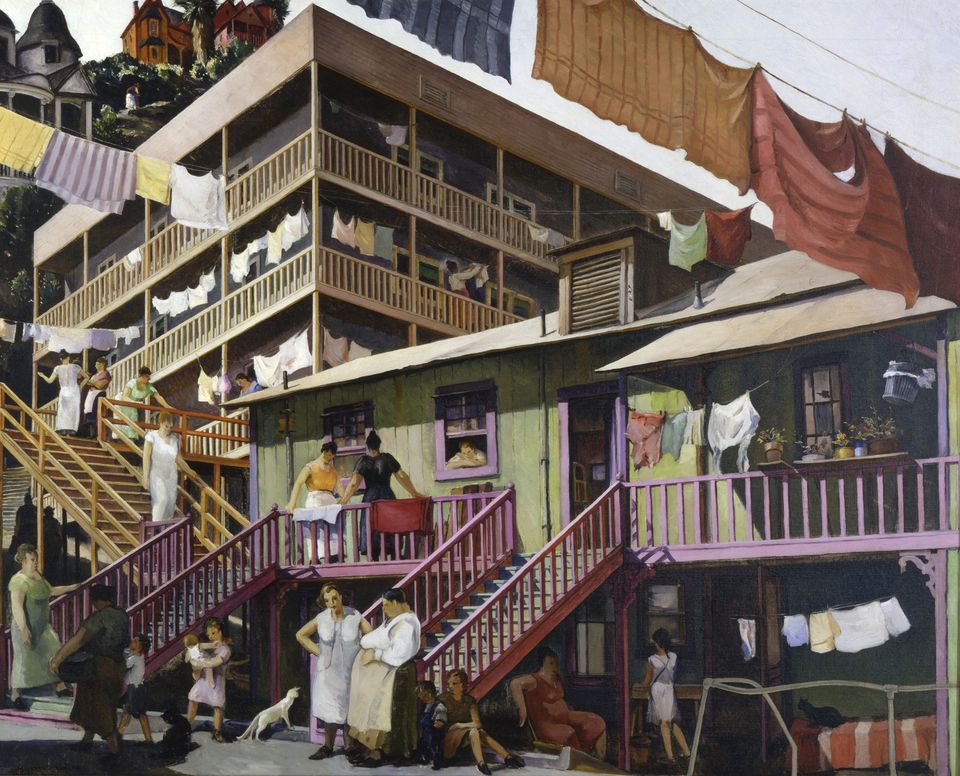 Copied
Millard Sheets,
Tenement Flats
, 1933-1934, oil on canvas,
40
1
⁄
4
x
50
1
⁄
4
in. (
102
.
1
x
127
.
6
cm.), Smithsonian American Art Museum, Transfer from the U.S. Department of the Interior, National Park Service, 1965.18.48
Title

Tenement Flats

Artist

Location

Dimensions

40

1

⁄

4

x

50

1

⁄

4

in. (

102

.

1

x

127

.

6

cm.)

Markings

lower left in oil: Millard Sheets

Credit Line

Transfer from the U.S. Department of the Interior, National Park Service

Mediums

Mediums Description

oil on canvas

Classifications

Keywords

Occupation — domestic — laundry
Animal — cat
Figure group — female and child
Recreation — leisure — conversation
New Deal — Public Works of Art Project — California
Architecture Exterior — domestic — apartment

Object Number

1965.18.48
These ramshackle tenements were home to poor families in the Bunker Hill neighborhood of downtown Los Angeles during the Great Depression. The artist failed to show that just to the left of this view a cable car line called Angels Flight offered a ride up the steep hill. In the painting a lone figure trudges up steps toward once elegant Victorian mansions that had degenerated into boardinghouses. Millard Sheets, an up-and-coming young California artist, enjoyed drawing and painting the people and houses of this colorful neighborhood. Here he shows women who have finished washing and hanging out their laundry in the days before electric appliances lightened these chores. Now the women stop to gossip while leaning on stair rails, or sit in the shade to avoid the hot afternoon sun.
Sheets, like many artist members of regional committees, proudly gave his painting as a gift to his country. The shabbily dressed women in Tenement Flats would be startled to discover that this painting would hang in the elegant surroundings of the White House. PWAP paintings like this one were displayed in reception areas to show President Roosevelt's commitment to art and to ordinary Americans across the country.
1934: A New Deal for Artists exhibition label
Luce Center Label
In Tenement Flats, Millard Sheets showed the urban poor of his native California, structuring the painting to suggest that working Americans provided the foundation for the lives enjoyed by the rich. The large houses looming on the hills above the tenements are reminders of the gulf between the classes during the 1930s. Sheets's sympathies are clear. He set up a poignant contrast between the silent, dark mansions and the sociable neighborhood of the tenements, where housewives sustain family and community against all odds. High on the hill above, a lone figure---perhaps a housekeeper---makes her way up the path toward a grand house. Sheets had a strong social conscience and in the 1930s served on the executive committee of the local Public Works of Art Project, the first New Deal art project providing work for artists during the Great Depression.