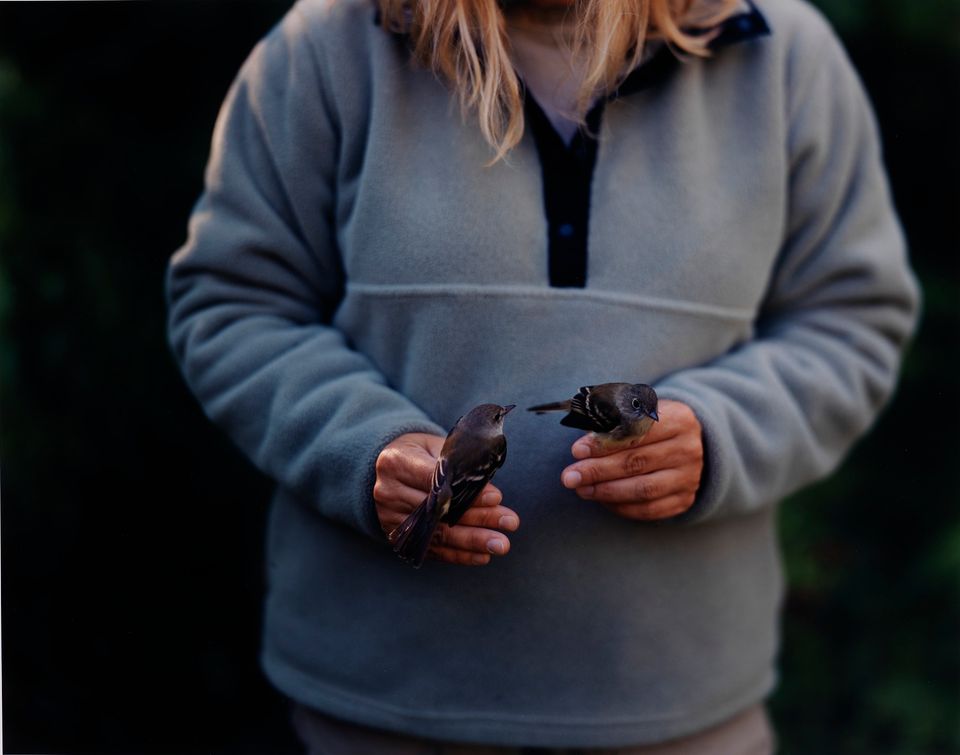 Copied
Barbara Bosworth,
Two Eastern Phoebes
, 2004, chromogenic print,
18
1
⁄
4
x
23
3
⁄
8
in. (
46
.
4
x
59
.
4
cm), Smithsonian American Art Museum, Gift of Haluk and Elisa Soykan, 2008.2.24, © 2004, Barbara Bosworth
Title

Two Eastern Phoebes

Artist

Dimensions

18

1

⁄

4

x

23

3

⁄

8

in. (

46

.

4

x

59

.

4

cm)

Markings

back of photo not accessible at time of cataloguing. back lower left in pen and ink: 04-211 (recorded on incoming condition report)

Copyright

© 2004, Barbara Bosworth

Credit Line

Gift of Haluk and Elisa Soykan

Mediums Description

chromogenic print

Classifications

Highlights

Keywords

Animal
Animal — bird — phoebe

Object Number

2008.2.24
As of 2008, Bosworth was working with researchers in Ohio and Massachusetts who capture and release songbirds during the spring migration. As with her champion tree photographs, these images seem at first to be concerned with classifying the natural world in systematic detail. Yet they are also part of an encompassing portrait of a complex and interconnected universe filled with wonder and metaphor. Birds have been long recognized as both literal and figurative messengers. Their regular migrations mark the change in seasons, with bluebirds foretelling the arrival of spring and long vees of geese the coming winter. And they are also swift couriers, arcing across the open sky to carry forward our desires. Bosworth discovered gestures in Renaissance paintings by Fra Angelico and Lorenzo Veneziano that resembled her own images: "I was amazed by a painting of a saint with his arms extended, releasing a bird towards heaven. It reminded me of the motion made when these captive birds are set free." In her photographs, we sense the quick pulse and energy of these delicate creatures, poised to take flight the instant they are released.
Earth and Sky: Photographs by Barbara Bosworth exhibition label