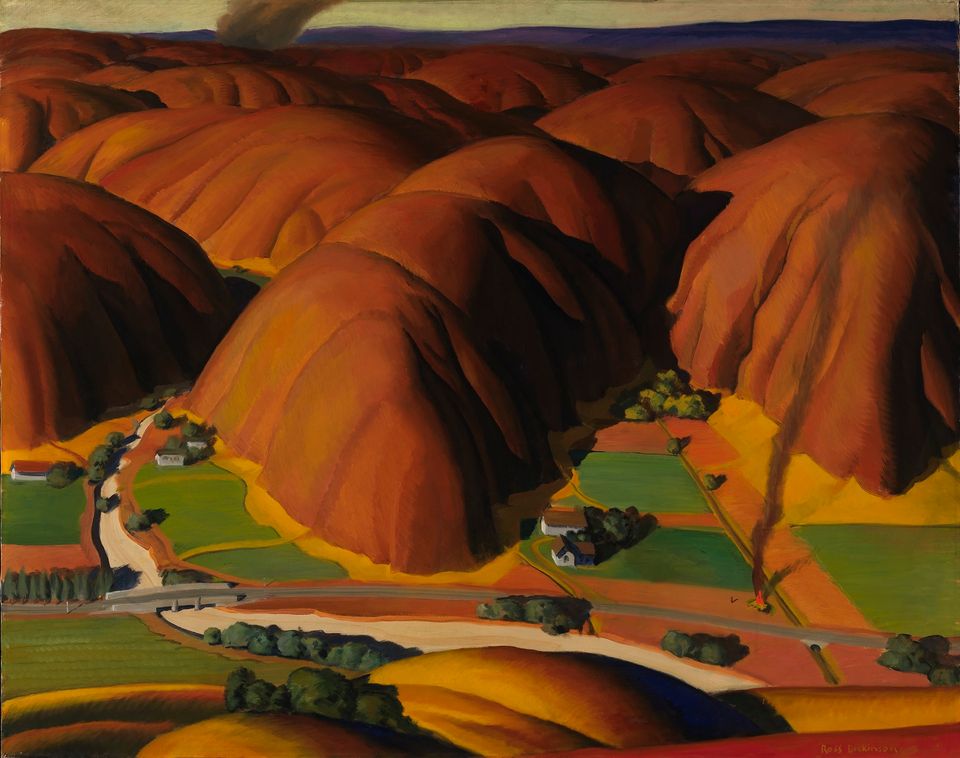 Copied
Ross Dickinson,
Valley Farms
, 1934, oil on canvas,
39
7
⁄
8
x
50
1
⁄
8
in. (
101
.
4
x
127
.
3
cm.), Smithsonian American Art Museum, Transfer from the U.S. Department of Labor, 1964.1.40
Title

Valley Farms

Artist

Location

Dimensions

39

7

⁄

8

x

50

1

⁄

8

in. (

101

.

4

x

127

.

3

cm.)

Markings

lower right in oil: Ross Dickinson stretcher in black crayon: Valley Farms Ross Dickinson Box 43 back in black crayon: 14th Region back in green crayon (twice): No 4

Credit Line

Transfer from the U.S. Department of Labor

Mediums

Mediums Description

oil on canvas

Classifications

Keywords

Landscape — mountain
Landscape — farm
Landscape — valley
New Deal — Public Works of Art Project — California
Architecture Exterior — domestic — farmhouse

Object Number

1964.1.40
Stark hills seem to threaten the lush farms at their feet in this vivid painting of a Southern California valley. Californian artist Ross Dickinson dramatized his home state's eternal confrontation of nature and man by exaggerating the steep slopes of the hills and the harsh contrast between the dry red wilderness and the green cultivated land. The artist stressed the centrality of water in California. A river, reflecting the pale sky, is a milky curve against the verdant valley. The irrigated farms are luxuriant, while the hills during the summer dry season are an arid brown. Dickinson reminded the viewer of the constant threat of fire by showing a farmer burning brush or trash in the foreground, with the red flame sending up a thin column of smoke. In the background, a larger plume of smoke suggests a chaparral fire going out of control, a potential threat to the little white houses in the valley. The danger parallels other stresses that faced the region during the Great Depression, as the homeless and hopeless from the drought-plagued Dust Bowl poured westward in search of agricultural work. The destitute hordes demanded far more jobs than California could offer.
1934: A New Deal for Artists exhibition label
Gallery Label
Dickinson was a young artist employed by the Public Works of Art Project when he created this magical image of California's farm country. Water, green grass and swelling earth conjure the promised land that John Steinbeck would describe in
The Grapes of Wrath
a few years later. But Dickinson introduced disquieting details, as if to suggest that danger exists even in paradise. The tiny fire in the field at lower right, probably set to burn dry brush, echoes a massive column of smoke across the hills in the distance. The hills themselves have the orange-red look of the rainless months, when California's mountains become tinderboxes, and fires can sweep down into the valleys. Dickinson's painting captures the fear underlying America's hopes for better days during the Depression.
Exhibition Label, Smithsonian American Art Museum, 2006