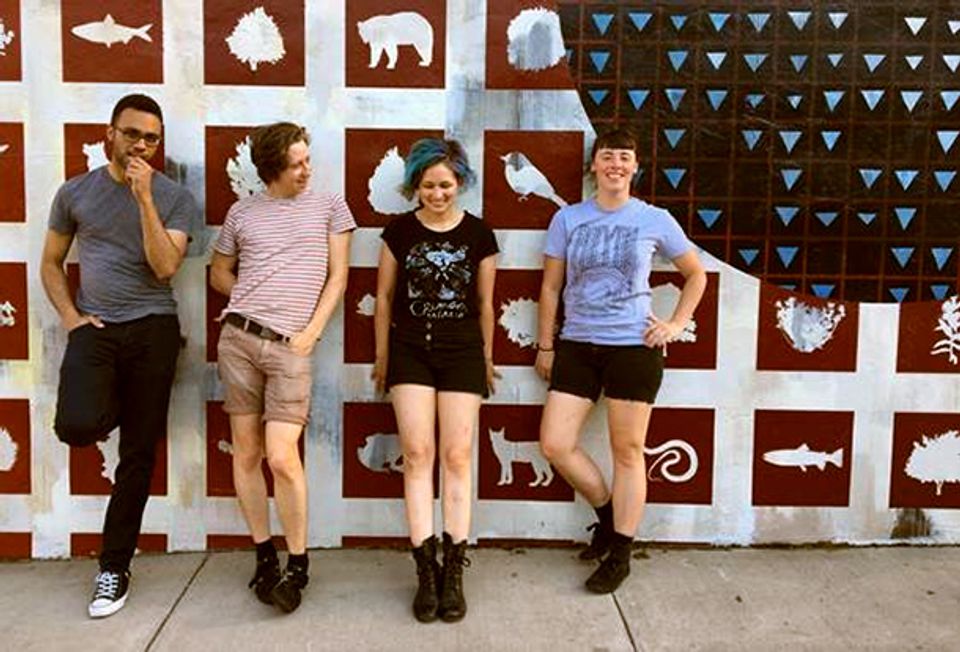 Bad Moves. Photo by Michael Cantor.
On Thursday, May 25, Bad Moves will perform in the Luce Foundation Center as part of Luce Unplugged, our free, monthly concert series presented with DC Music Download. This power pop quartet features members from well-known DC groups including The Max Levine Ensemble, Hemlines, Booby Trap and Art Sorority For Girls. In the spirit of collaboration and cautious optimism, Bad Moves creates music filled with tight drum beats, punk influence, and lyrics touching on their own personal DC experiences. We spoke with them to learn more about their creative process, and hear their perspective on the District's music scene.
Eye Level: Each of you come from different bands around the District. What is it like collaborating together as Bad Moves?
Bad Moves: We started the band wanting to play around with anonymity, and the idea of a back-and-forth conversation. All of our other projects are focused around one singer, with other voices playing a supporting role. If you listen to this band's recordings, you might not always be able to tell who's singing what. That's very much a choice. The focal point isn't an individual or even several individuals. It's all about the group.
EL: How would you all describe the DC arts scene? What about the District's music scene do you value most?
BM: DC has a storied history of political action and activism and that's been a strong vein in the city's music, and among the people who support that music, for as long as any of us have known it. In recent years, we've seen a good deal more femme and queer-identified artists populating the scene and taking leading positions, which is always good news. Also, local shows are all-ages more often than not.
EL: How do you all continue to stay inspired?
BM: Inspiration is hard to come by right now, but we do find it in our friends and peers. We toured this spring with our friends Nana Grizol from Athens, Georgia, and their unqualified earnestness and positivity on stage can shake a smile out of almost anyone. We've done a few incredibly fun shows with a newer DC band called Bacchae, and we share a practice space with Chill Parents. We also had our faces blown off at a label showcase this winter by Sammus, a super-engaging and inventive rapper who wears a robot arm cannon onstage (like the hero from Metroid!). They had a room full of indie-rock kids standing at rapt attention.
EL: Tell us a little bit about the origin of the band's name, Bad Moves.
BM: We are four indecisive people who overthink everything. And, we scrambled to come up with a name before our first show; Bad Moves is kind of a best case scenario. But once we found it, it rang true to us. Perhaps that's because so much of the songwriting is about just getting through the day in a terrifying world, and that battle is often waged one tough decision or one good or bad move, at a time.
EL: What advice do you have for aspiring musicians in the District?
BM: Stop aspiring, that isn't a thing! Skill and savvy have their place, but most bands worth being in are an answer to the question, "Who do I want to hang out with?" When the answer to that is less obvious, investigate the resources that exist to connect people who want to make stuff. For the past few years, Girls Rock! DC (one of many Girls Rock camps all over the country) has thrown a spring benefit event called Hat Band, in which participants submit their name and preferred instrument, are matched up into groups, and have a few months to practice and put together a 10-minute set. It's always fun and exciting, and some of those randomly assembled bands end up sticking together.
Hear Bad Moves play on Thursday, May 25, in the Luce Center after a staff-led art talk on Ad Reinhardt's piece, Red and Blue Composition. Performance details can be found on Luce's Facebook page and check out Bad Moves' music before the show. See you Thursday!