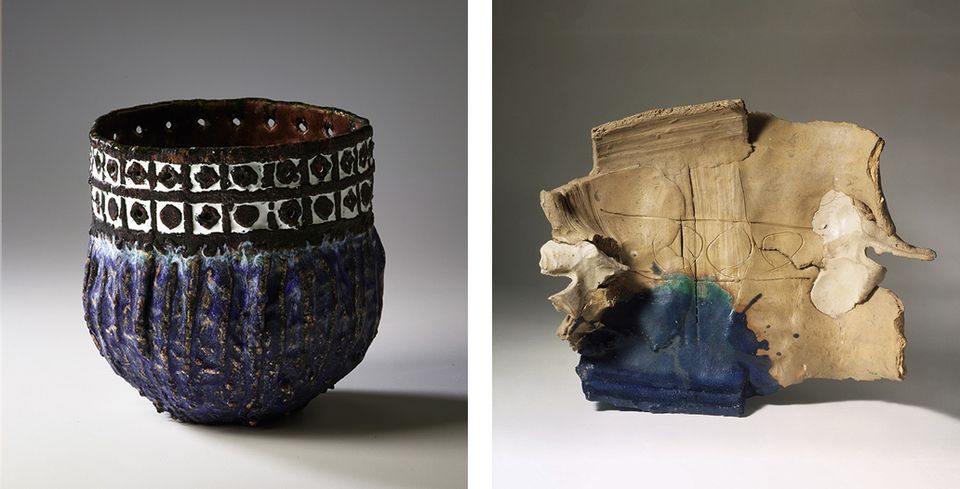 At first glance, the objects on display at SAAM's Renwick Gallery by June Schwarcz and Peter Voulkos couldn't be more different. Schwarcz's enamel work is precise and almost ethereal, while Voulkos's pots and sculptures are weighty and improvisational. But both artists had a powerful impact in the art world, defying convention and breaking all the rules of their traditional media.
Abraham Thomas, The Fleur and Charles Bresler Curator-in-Charge at the Renwick Gallery, said "Peter Voulkos and June Schwarcz are two mid-century artists who utterly transformed their disciplines, and in turn, modern craft. Both of them exuded a spirit of creative disruption through their groundbreaking experimentation with materials and process and by challenging what a handmade object could be."
Schwarcz was known for her inventive designs and technical innovations in her exploration and "re-mix" of the ancient medium of enamel. She was among the first to marry her art with electroplating and other industrial processes, beginning her pioneering experiments in the 1960s. She used the process to create more varied surfaces, build greater depth and eventually to construct three-dimensional sculptural forms unprecedented in the history of enameling. Her range of influences included Japanese art and design; African, Pre-Columbian, and Oceanic art; Romanesque architecture; and costuming and textiles. These all found expression in her often abstract surfaces and virtuosic use of color and form. June Schwarcz: Invention and Variation is the first retrospective to cover the entirety of her career.
In contrast to the sweep of the Schwarcz presentation, Voulkos: The Breakthrough Years, focuses on the fifteen-year span beginning in the early 1950s when the artist was redefining his craft as well as reshaping the possibilities for the field of ceramics. Voulkos began his career as a traditional potter, but gradually began to experiment with increasingly unconventional techniques, pursuing a range of ideas that were entirely new to the medium. He broke things down into their component parts then reconfigured them in a new visual language of built monumental sculptures. Also included are three paintings that show the influence of Abstract Expressionism on the artist's work, as he developed his ideas concurrently in painting, sculpture, and pottery. His cross-disciplinary approach was ahead of its time, and, in that way, anticipated the habits of many of today's artists.
Schwarcz and Voulkos not only helped to redefine their respective crafts, but were also part of a circle of artists for whom the status quo was meant to be investigated and ultimately broken. Their radical attitudes toward rules and boundaries more than fifty years ago is something that is just as relevant to artists working today.
Voulkos: The Breakthrough Years is on view at the Renwick through August 20, 2017 and June Schwarcz: Invention and Variation through August 27, 2017.