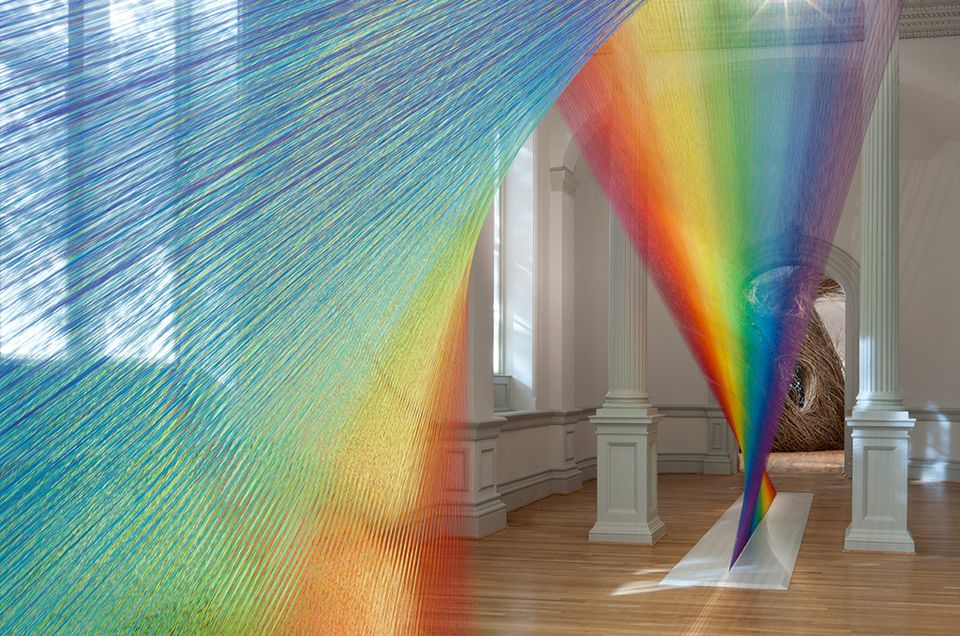 The final program in the WONDER series of artist talks featured Gabriel Dawe in conversation with Nora Atkinson, the Lloyd Herman Curator of Craft at the Renwick Gallery. Dawe's Plexus A1, one of the nine room-filling installations commissioned for the exhibition, spins a new riff on the theme of alchemy: it turns thread into light. The work of art is comprised of nearly sixty miles of sewing thread, yet in Dawe's hands, the end result is a tactile rainbow prism that has delighted hundreds of thousands of vistors during the exhibition's run.
Dawe's work also has a deeper biographical resonance, stemming from his boyhood in Mexico, and calls into play gender and identity issues. (for bonus points, "plexus" is defined as a branching network of vessels or nerves within the body). His grandmother would teach his sister to embroider, but because he was a boy in a macho society, he was not taught. In his twenties, Dawe learned how to embroider, and began to work with textiles and thread. His artworks, which he refers to as "ethereal structures that [are] reminiscent of light," are meditative installations that entice visitors to take a closer look.
WONDER, including Plexus A1, closes this Sunday, July 10, 2016. In case you missed Dawe's talk, you can watch our archived webcast.
We now have a robust library of WONDER videos featuring the artists talking about their works and often giving us a behind-the-scenes look at their process. Check out the nearly two dozen WONDER-related videos on our YouTube Channel's playlist.