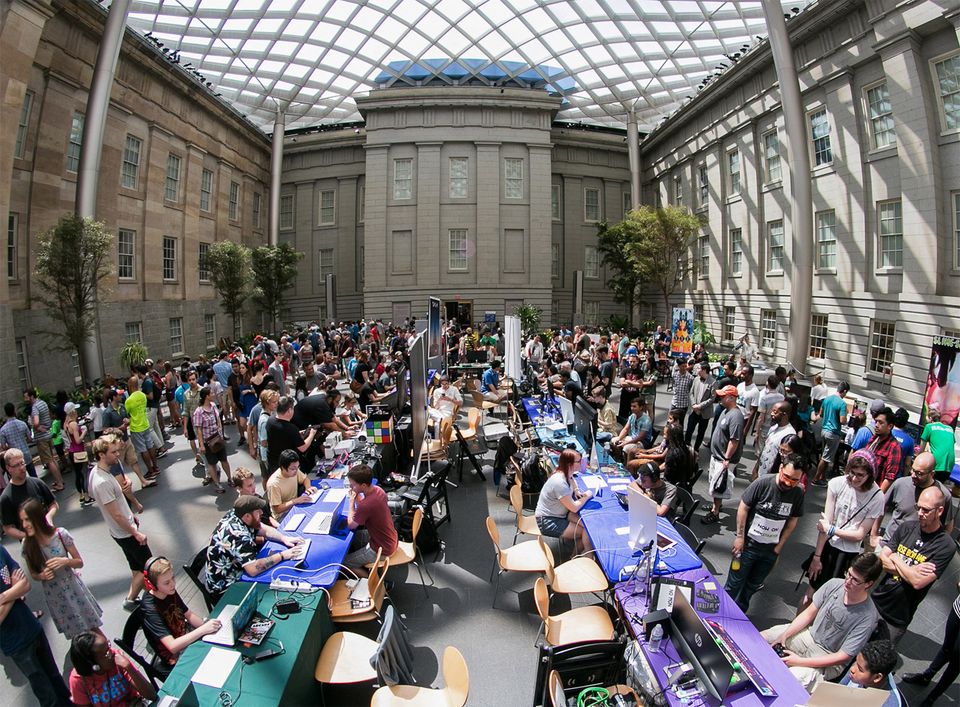 Indie developers held court in SAAM's Kogod Courtyard. Photo by Daniel Schwartz.
This past weekend, SAAM celebrated all that is good about video games when it hosted its annual SAAM Arcade. Almost 20,000 attended the two-day event held in the museum's Kogod Courtyard and throughout the museum. This is the third year SAAM has held this event as part of an ongoing initiative to showcase video games as an important part of our visual culture as well as study at the museum.
More than 40 student and professional developers participated in our "Indie Showcase" and visitors got to play classic games such as pinball, "Centipede," "Asteroids," "Pac-Man," and "Donkey Kong." Game-building and coding workshops were conducted by Boolean Girl and the Scholastic Art and Writing Awards. Meanwhile, in the museum's McEvoy Auditorium, musical groups Bit Brigade and Triforce Quartet performed songs inspired by classic video games. Here are some photos from the event:
The Entertainment Software Association (ESA) Foundation supported SAAM Arcade. Arcade cabinets, pinball machines, and consoles were provided by MAGFest, Death by Audio Arcade, Arcades4Home, and CrabTowne USA. The Washington City Paper was the official media sponsor for this program.