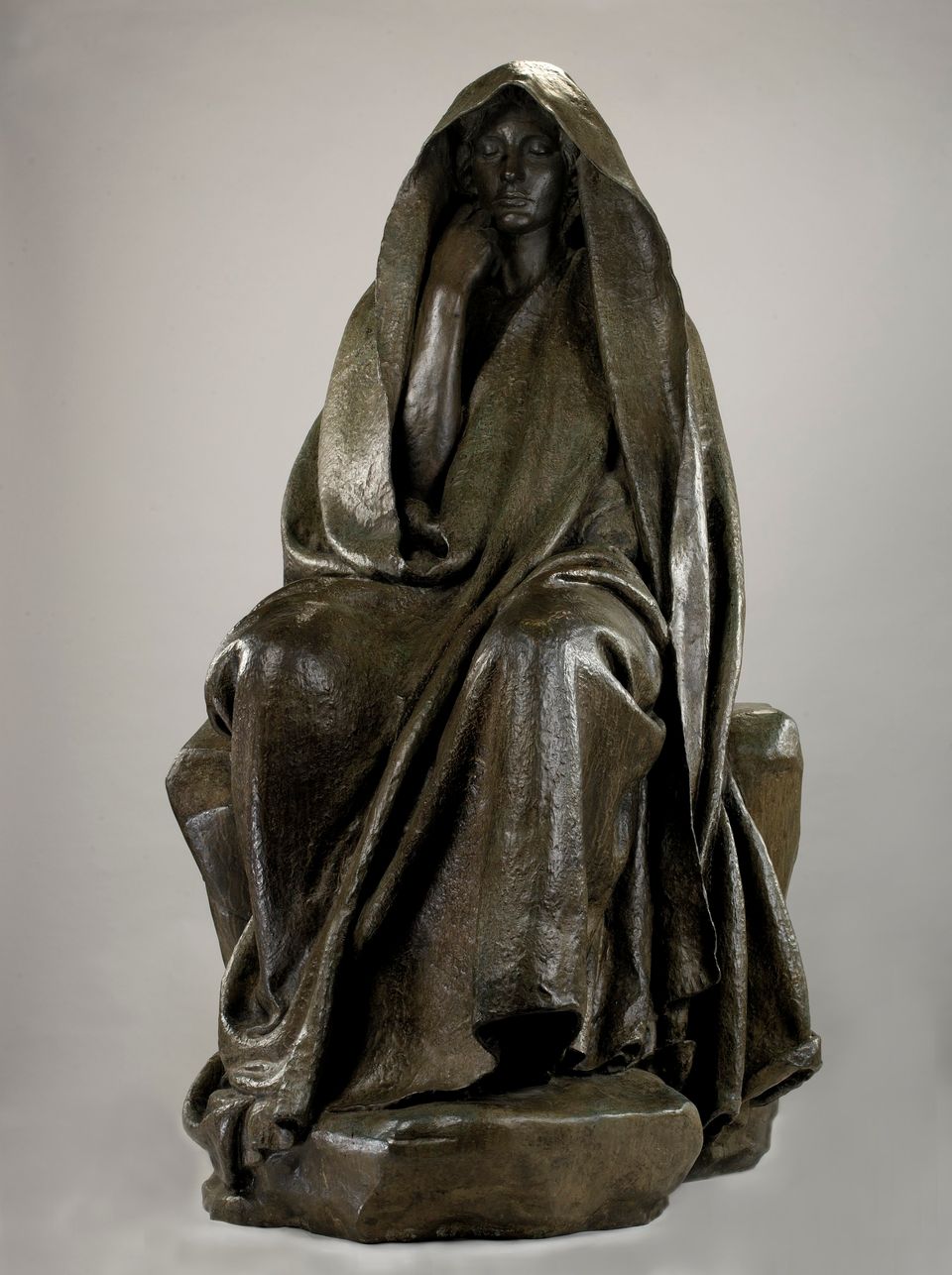 Adams Memorial by Augustus Saint-Gaudens, modeled 1886-1891, cast 1969
This post is part of an ongoing series on Eye Level: The Best of Ask Joan of Art. Begun in 1993, Ask Joan of Art is the longest-running arts-based electronic reference service in the country. The real Joan is Kathleen Adrian or one of her coworkers from the museum's Research and Scholar's Center. These experts answer the public's questions about art. Earlier this year, Kathleen began posting questions on Twitter and made the answers available on our Web site.
Question: Can you tell me more about Eleanor Roosevelt's connection to Augustus Saint-Gaudens's Adams Memorial?
Answer: Eleanor Roosevelt began to visit Rock Creek Cemetery in Washington, D.C., and sit by the Adams Memorial after learning of her husband's affair with Lucy Mercer, her social secretary. When Mrs. Roosevelt died, a poem titled "Grief" by Sir Cecil Spring-Rice was found at her bedside. The memorial inspired these lines:
O steadfast, deep, inexorable eyes
Set look inscrutable, nor smile nor frown!
O tranquil eyes that look so calmly down
Upon a world of passion and of lies!
Davis W. Houck writes in his book FDR and Fear Itself: The First Inaugural Address: "Eleanor obviously felt a deep, abiding kinship with Saint-Gaudens's figure. No doubt she also felt a certain kinship with the vicissitudes born by Clover Adams. But she did not, and would not, succumb to them. . . . Rather, she would draw no small measure of strength from the solitary statue in the enclosed holly garden where she would sit by herself for hours."
Henry Adams asked Augustus Saint-Gaudens, the leading American sculptor of the late nineteenth century, to create a memorial to his wife, Marian ("Clover"), a prominent hostess and photographer who committed suicide in 1885, despondent over the death of her beloved father.
In The Outdoor Sculpture of Washington, James Goode writes that the design of the statue was left to Saint-Gaudens's discretion. To create this sculpture, he studied iconic Buddhist devotional art, including photographs of Buddhas. The six-foot-tall bronze figure, neither male nor female, is seated on a rock, dressed in a full-length robe, knees parted. A hood deeply shadows the face. The eyes are lowered. The figure seems to contemplate a life beyond the grave. Mark Twain's remark that it embodied all of human grief led to its most commonly used name, "Grief," which Adams disliked.
Saint-Gaudens's original sculpture (modeled in 1886--1891) can still be seen resting on a boulder in the Rock Creek Cemetery. American Art's sculpture is a "surmoulage" of this piece (a molding of the casting), which includes the rock as part of the sculpture. The museum's casting was made in 1969, at the same time that one was cast for the Saint-Gaudens National Historical Society in Cornish, New Hampshire. Ours can be found in the museum's east wing on the second floor.
For more in-depth information on this subject or to ask your own question, please visit Ask Joan of Art!