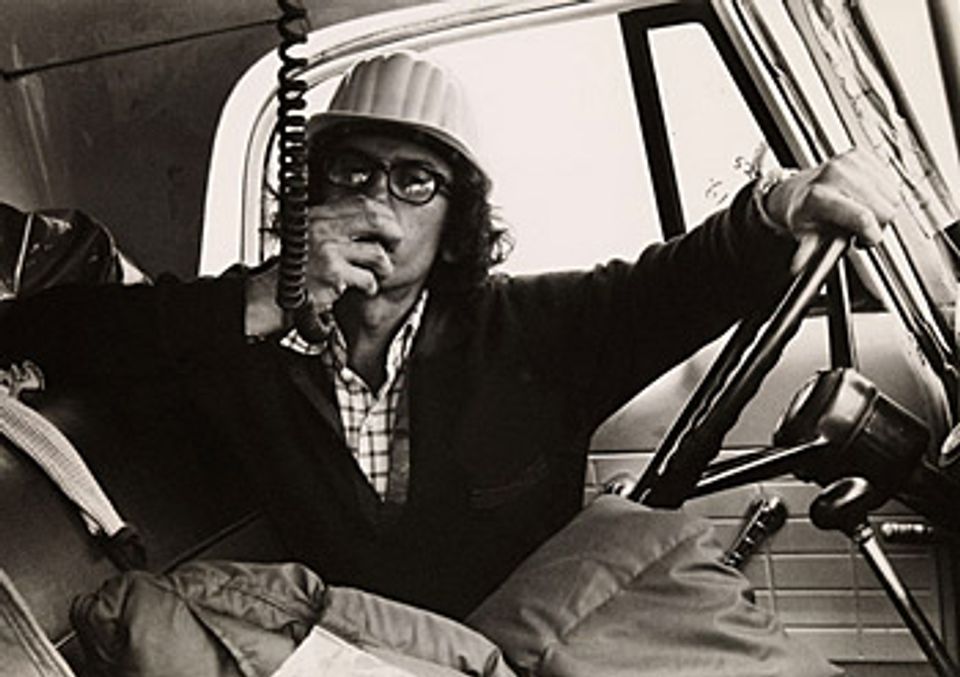 Christo and Jeanne-Claude Running Fence, Sonoma and Marin Counties, California, 1972--76, ©Christo, Photograph by Wolfgang Volz, Christo on intercom in cab of truck, mid-August 1976, black-and-white photograph, Smithsonian American Art Museum
Filmmakers Albert Maysles and his brother, David (who died in 1987), are recognized as masters of "direct cinema," the American cousin of French "cinéma vérité." They first met Christo and Jeanne-Claude in the early 1960s and filmed many of their works over the decades, including two that will be screened at American Art's McEvoy Auditorium on April 29, at 6:30 pm: Valley Curtain (1973) and Christo in Paris (1986). Albert Maysles will introduce the program and shed light on his work and long-term relationship with Christo and Jeanne-Claude, in honor of the exhibition Christo and Jeanne-Claude: Remembering the Running Fence on view at the museum. In advance of the screening, Eye Level had a chance to speak with Maysles from his office in Manhattan.
Eye Level: When I spoke to Christo recently, he said that he met you and your brother in Paris in 1962. Do you have any recollection of meeting Christo and Jeanne-Claude nearly fifty years ago?
Albert Maysles: My brother and I were in Lyon where there was a celebration of direct cinema, and we met a guy who was an engineer. It turned out he was an engineer for Christo and Jeanne-Claude. When we went on to Paris, we invited him to see our film, and he invited Christo and Jeanne-Claude. That's how we met.
EL: When did you first start to film their works?
AM: The first film we made was the Valley Curtain.
EL: That was a twenty-eight-minute film. Were you there for a couple of weeks or months in order to get those twenty-eight minutes?
AM: I can't be sure, but most likely not more than a week.
EL: The project Running Fence, Sonoma and Marin Counties began in 1972 and was realized in 1976. Did you record it for four years? The film takes us into various locations---the hearings, the ranchers' houses, and Christo and Jeanne-Claude's studio in New York.
AM: Whenever something was about to take place, we would be there.
EL: When Christo and Jeanne-Claude first told you about this project, did you immediately say yes, or did you think, "Wow, twenty-four plus miles in California . . ." What was your reaction?
AM: We got excited about the project.
EL: In terms of the Running Fence, there are so many characters---the ranchers, officials, and local artists--- who seemed to be against Running Fence. Was there one moment in the film that's most memorable for you?
AM: I love the scene where one of the rancher's sheep crosses through the fence. That was a beautiful shot. I also remember the very last scene on the hilltop, where Christo and Jeanne-Claude are in silhouette.
EL: Did you go up in helicopters to shoot the amazing aerial scenes?
AM: Oh yeah. We very much wanted to do it. It added something important to the film, and it was quite exciting.
EL: There's a score to the film. How did you decide to add music?
AM: That's interesting because we don't usually have music.
EL: I found it very interesting because one song that played was "Take It to the Limit" by the Eagles. You can't get much more California than their "Hotel California."
AM: "Take It to the Limit" is so characteristic of the work of Christo and Jeanne-Claude.
EL: When I spoke to Christo, I asked him about the sound the curtain and hooks made in the wind---a very soft, but persistent clinking. Of course, I only have this from the DVD; I wasn't there. Christo said that either you or your brother said that it reminded him of the bells of Buddhist monasteries.
AM: That was David. It was a bit odd because that was a forecast of what was to come. Several years ago, I met the Dalai Lama and filmed him.
EL: Most recently, you worked with Christo and Jeanne-Claude on The Gates in Central Park.
AM: Yes, we made a Gates film.
EL: Speaking of Buddhist monks, the orange fabric of each gate reminds me of the saffron color of their robes.
AM: In fact, when the project was over, because of my contacts with the Dalai Lama, we were told that he would love to have a piece of the Gates' fabric to cover a holy Buddha.
EL: That's amazing. Thank you, Albert Maysles, for sharing your stories with us. We'll see you on the evening of the 29th.
AM: Thank you.
Next month, on Thursday, May 27, at 6:30 pm in the McEvoy Auditorium, the museum will screen the Maysles brothers' film Umbrellas, a close look at Christo and Jeanne-Claude's project Umbrellas: Japan-USA, 1984--91 (81 minutes, 1994).