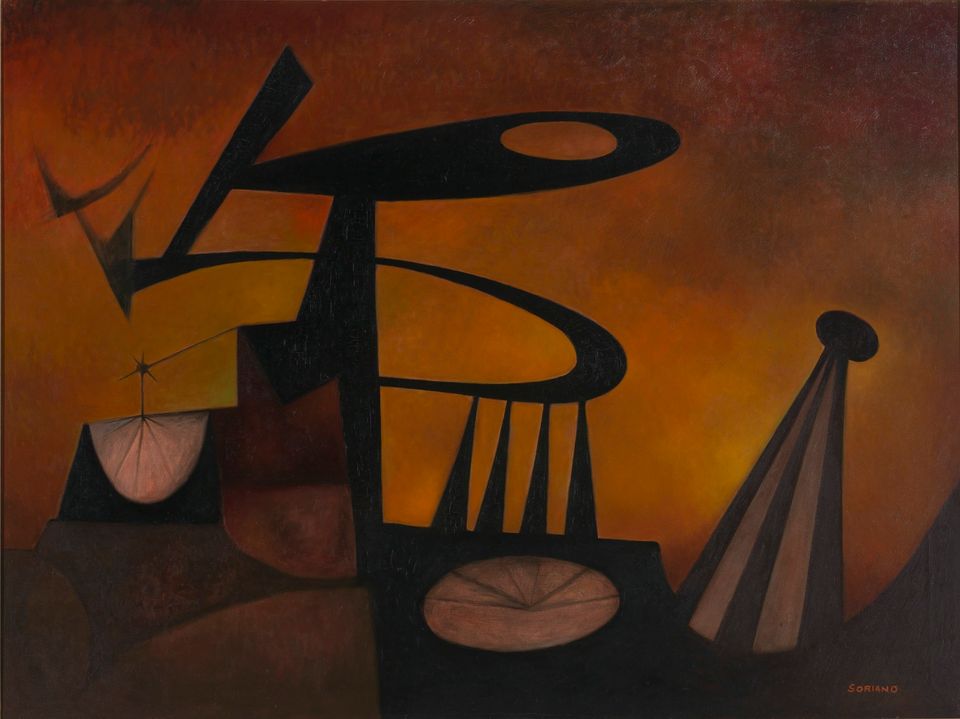 Florencia Bazzano-Nelson recently joined the Smithsonian American Art Museum. A scholar of Latin American and Latino art, Bazzano-Nelson is assisting in the preparation of the upcoming exhibition Our America: The Latino Presence in American Art, opening October 25, 2013. In this blog post Bazzano-Nelson considers the paintings of Rafael Soriano, who like other Cuban American artists, actively explored the theme of exile. Our America will include Soriano's Un Lugar Distante (A Distant Place) along with works by other artists that explore the complexities of immigrating from one country to another.
How do artists visualize being separated from their homeland? I repeatedly ask this question as I assist with the exhibition Our America: The Latino Presence in American Art. The subject of exile is especially strong among Cuban American artists who began arriving on our shores in the wake of the 1959 Cuban Revolution. In works ranging from the personal to the political, historically engaged artists like Ana Mendieta, Maria Brito and Carlos Alfonzo creatively tackled their inability to return to the Cuba they left behind. Some, like Mendieta, visited Cuba but others refused to return, even temporarily, until the political status of their homeland changes. This summer, the museum acquired two paintings by the artist and elder statesman Rafael Soriano. Soriano chose to confront his traumatic break from Cuba through a series of imaginary journeys that led him to find safe haven in a spiritual realm dense with cosmic undertones.
Soriano visualized a transcendental reality "by virtue of an exaltation of the spirit that leads him to a kind of 'altered state,'" to use the words of his Cuban compatriot the writer Alejo Carpentier. In his well-known prologue to The Kingdom of This World, Carpentier contrasted what he considered the disillusioned iconography of the Surrealists to "the marvelous real" that pervades the Americas. The marvelous real requires a leap of faith that allows us to perceive miracles in everyday life or to experience rare moments of enlightenment when reality reveals its untold richness.
Soriano found solace in the wondrous realities he painted every night in his studio. His imagination took flight into the cosmic vastness and roamed freely among biomorphic shapes that shine like gems in darkness. In Candor de la Alborada (Candor of Dawn) of 1994 Soriano displays his full-blown signature style--a symphony of glowing colors that curve through space to reveal a hidden knot of living matter.
Soriano favored abstraction since the late 1940s, but the rational and optimistic worldview that underpinned his geometric paintings was shattered after he arrived in Miami in 1962. Soriano found his way back to art by creating a new visual vocabulary infused with the three-dimensional qualities he had learned in his early training as a sculptor. By the early 1970s, these liminal spaces became inhabitable landscapes.
In Un lugar distante (A Distant Place), a painting from 1972 that will be included in Our America, Soriano finds the perfect jumping point to his later signature style. This landscape, suspended between the past and the future, functions both as a memory of a lost land and as a gateway to new imaginary adventures. Here Soriano handles painting with renewed sensuality as he animates the surface of the canvas with loose brush strokes and subtle impastos. The fiery yellows, radiant oranges, and rich browns suggest the warm atmosphere of the tropics. But Soriano also shows a flair for the fantastic. Futuristic forms populate Rafael Soriano's marvelous landscape, which along with the glowing sky, invite viewers to take a leap of faith and join the artist in his cosmic journeys.