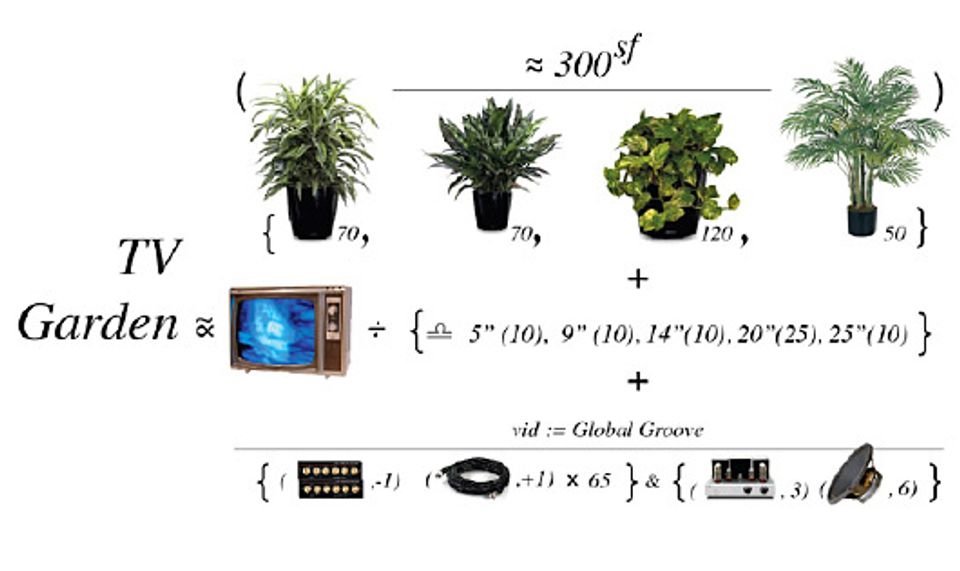 This blog post begins a series of pieces about our film and media arts initiatives here at American Art. First up, Michael Mansfield, associate curator of film and media art, fills us in on our upcoming exhibition Nam June Paik: Global Visionary, which opens December 13 and runs through August 11, 2013.
Next month we will install 310 living plants in our gallery. An unruly mix of Warneckii, Aglaonema, Pathos, and Areca Palms, potting soil and planters will welcome visitors to our exhibition, Nam June Paik: Global Visionary. The plants are part of Paik's groundbreaking installation titled TV Garden, on loan from the Solomon R. Guggenheim Museum in New York. Paik's garden also includes sixty-five cathode ray tube televisions sets (CRTs), multiple video and audio amplifiers, speakers, cables, 2x4s, green paint, and the pioneering, single channel video Global Groove from 1973. But don't get too distracted by the flickering green spectacle. There is a great deal more to this beneath the topsoil.
The subject of the exhibition is the artist Nam June Paik. He died in 2006 but his art and legacy continue to inspire generations. We speak very fondly of him around the museum. Our senior curator of media art, John Hanhardt, was a friend of the artist and worked with him for many years. In 2009 we acquired his complete estate archive, which helps shape the foundation of our Film and Media Arts program. Nam June Paik's contributions as an artist cannot be overstated. He democratized technology and transformed video into an artist's medium. He redefined art making globally.
Normally, we would not place living plants in our gallery space. Paik was constantly challenging those conventions. Trained as a musician and acting as a performance artist in the early 1960s, he was an important part of the Fluxus network, an international art movement that exploded various disciplines and sought to mash-up high and pop cultures. Fluxus founder George Maciunas authored a manifesto stating that, among a host of other goals, Fluxors aimed to "PURGE the world of dead art" and "promote living art". In response and collaboration, Paik incessantly broke things, from musical scores and violins, to TV sets and robots. As an avant-garde artist, he mangled the mechanics of pianos, intervened in scores for performances, and manipulated the circuitry of CRTs. By doing so, Nam June Paik fused some humanity with our techno-cultural progress and changed the way we see art and ourselves.
It is from this practice that TV Garden grows. The first installation of TV Garden took place at the Everson Museum of Art in 1974. It has since been re-rooted in numerous museums and galleries around the world. A truly living artwork, each new installation assumes a slightly different form. Compositionally, the artwork takes its shape from a loosely arranged script organized by Paik: powered TVs playing Global Groove with sound interspersed with live plants. Beyond this script, the installation is flexible. The space and the material are more or less open to interpretation. The plants are locally grown, (if our museum was in Brazil, the plants might be more tropical). The televisions are merely what are available in an array sizes. Paik called this "maximum decontrol." "Surprises and disappointments are built in the machine."
Conceptually, the artwork is much more than the sum of its parts. Beyond the simple math of adding plants to TVs, Paik has rather optimistically added life to electronics. He invokes an array of compelling ideas about technology and humanity and possibilities for our ever-expanding global culture. Quoting my friend and mentor John Hanhardt, the growth of our media environment "is echoed in the plants, as the videotapes flicker like glowing electronic flowers."
Nam June Paik: Global Visionary opens December 13 and runs through August 11, 2013. Please join us for a stroll around the garden.