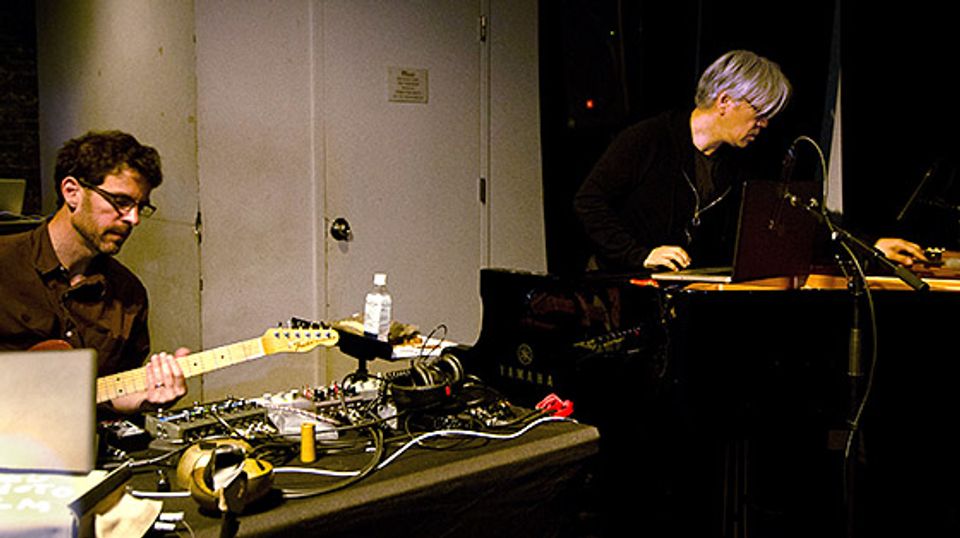 Stephen Vitiello (left) and Ryuichi Sakamoto (right) collaborate in a studio recording session.
Stephen Vitiello, electronic musician and media artist, interviewed Academy Award- and Grammy Award-winning musician and composer, Ryuichi Sakamoto, before they perform their tribute Strange Music for Nam June Paik, part of the Art & Process program on Sunday, April 14.
Stephen Vitiello: When we first met, you told me that as a young man (or maybe, even a teenager?) in Japan, you were aware of Nam June Paik. Can you talk a bit about your early impressions of Paik?
Ryuichi Sakamoto: When I was a teen in the '60s, I loved looking at the modern art magazines and I found a handsome Asian artist. That was Nam June, who was one of a few Asian artists active in New York then. Naturally, he became one of my idols.
SV: At the time, did you know about Nam June's musical past? Or do you think there was anything about the musicality of his images or editing that you responded to?
RS: I liked his visual side. I got to know his musical background later. But thinking of the rhythm of his video editing, his musical background must have worked into his visual work in some way and I must have sensed that instinctively. By the way, I saw his piano play along with Joseph Beuys' performance in the '80s in Tokyo. It was wild.
SV: You collaborated with Nam June on the video, All Star Video. I believe you also appeared in one of the satellite broadcasts (Bye Bye Kipling from 1986). Do you have any memories or anecdotes about the nature of the collaboration? How did that project come about?
RS: I met him for the first time when he had the big retrospective in Tokyo. I cannot forget what he said at that moment. He said something like "Here comes a friend from the distant" which is an excerpt of an old Chinese poem. The meeting was coordinated by Sony which was a big supporter of him for decades and they also arranged the collaboration for the video. I'm not sure that was really Nam June's intention or not.
SV: I'm sorry if this is a long lead-in. The first time I worked with Nam June was in 1991. Paik asked me to help organize a concert in which he performed with the great hardcore band, the Bad Brains, while projecting images of Joseph Beuys. Beuys had passed away about five years earlier. After the concert, Nam June told me that his interest in staging the event was to cross time and space. He was bringing Beuys back from the past and into the concert hall. Nam June was working with a band of a younger generation, and also hoping to expose the Bad Brains' audience to the work of Beuys, and the more art world oriented audience members to the Bad Brains' music. It occurs to me that there are some similar aspects to the performance you and I are playing together. We'll be performing together while projecting images of Paik that date back to the 1960s. You and I certainly come from different backgrounds. We are slightly separated in age (I was born in 1964). In any case, does that point about crossing time and space have any resonance for you?
RS: That reminds me that last year was the 100th anniversary of birth of John Cage who was obviously Nam June's biggest mentor, and also it was the 80th anniversary of Nam June's birth. They were 20 years apart and I and Nam June are 20 years apart (I was born in 1952). I don't know if that means anything...
SV: I think of you as such a singular and influential figure, but like Paik, you are also an amazingly open and frequent collaborator. As with Nam June, you have worked with such a diverse list of musicians, filmmakers, and artists. Can you talk a bit about your interest and perhaps approach to collaboration?
RS: I wouldn't collaborate with someone who has the same skill and imagination as I have. I always want to meet someone who is very different from what I am, someone who has skills and imagination I can't have and I can't think of. That is exciting and thrilling.
Strange Music for Nam June Paik begins at 7 p.m. on April 14. Admission is free and tickets will be distributed on a first come, first served basis from 12:30 to 1 p.m. and again from 6:30 to 7 p.m. in the museum's G Street lobby. This performance of Nam June Paik's film and music has been selected by musicians and composers who knew him well: Ryuichi Sakamoto; Stephen Vitiello; and Steina Vasulka, video artist.
American Art's Public Programs Coordinator, Laurel Fehrenbach, arranged for this interview.