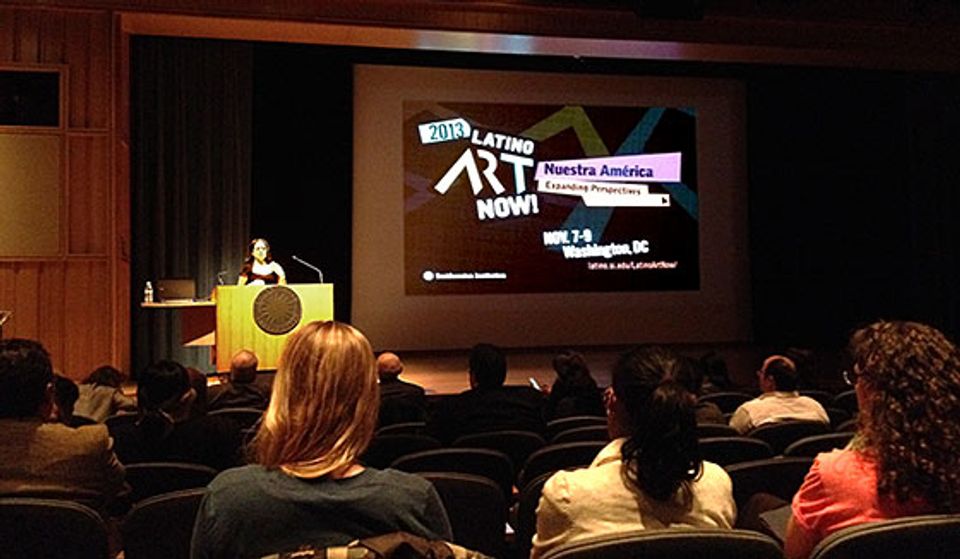 Curatorial assistant Florencia Bazzano-Nelson recaps Latino Art Now! Nuestra América: Expanding Perspectives in American Art, a conference held on November 7-9, 2013 at the Smithsonian American Art Museum and the National Museum of the American Indian. Presented in conjunction with the exhibition Our America: The Latino Presence in American Art, on view at American Art until March 2, 2014, the program fostered dynamic exchanges along multiple axes of inquiry.
Curator for Latino Art E. Carmen Ramos opened Latino Art Now! Nuestra América: Expanding Perspectives in American Art, a conference that explored the links between Latino art and artists and their U.S. artistic context. In one quote from her keynote address "What is Latino about American Art?," Ramos lay forth a key idea that pulses through Our America: "Latino artists should not be viewed as isolated figures solely embroiled in an intragroup conversation with themselves, but as peers dialoguing with other American artists and their national context."
LAN offered a great opportunity to learn about the artists included in Our America. A key moment in this regard, was "Defining and Defying Latino Art: A Conversation with Five Artists," a panel moderated by Ramos and featuring artists in the exhibition. Elia Alba, Maria Martinez-Cañas, Miguel Luciano, Amalia Mesa-Bains, and Jesús Moroles, artists of different generations and regions across the United States, spoke of their own efforts to shape the public discussion of their work. Several of the panelists engaged the reality of their being a part of the contemporary American art scene, but also being excluded from its historical accounts.
Many speakers addressed works by artists featured in Our America. Abigail McEwen discussed abstract expressionist Olga Albizu, suggesting that Albizu's painting was "defined in different ways by three art-historical narratives—Puerto Rican, Latin American, and American—and yet not fully assimilated into any one." Professor Marisa Lerner considered the criticism surrounding Luis Jiménez's Mustang, a major public sculpture installed at the Denver International Airport in 2008. She believes Mustang may join a long "history of sculptural works that the public first rejected, only to become one of the most beloved public art [projects] in the world."
Other participants offered interpretative methodologies for the study of Latino art. Professor Karen Mary Davalos spoke of the need to explore the transformative experiences of Chicano artists in Europe, while National Portrait Gallery Curator Taina Caragol considered the challenges and possibilities of using a category such as portraiture when presenting the contributions of Latinos to all areas of American culture.
The conference is over but the discussion about how to frame Latino art continues. An upcoming panel discussion at the Smithsonian American Art Museum on February 6, 2014 will explore more ground, particularly among artists such as Freddy Rodríguez, María Magdalena Campos-Pons and Wanda Raimundi-Ortiz, who invoke and explore Afro-Latino themes and concerns in their work.