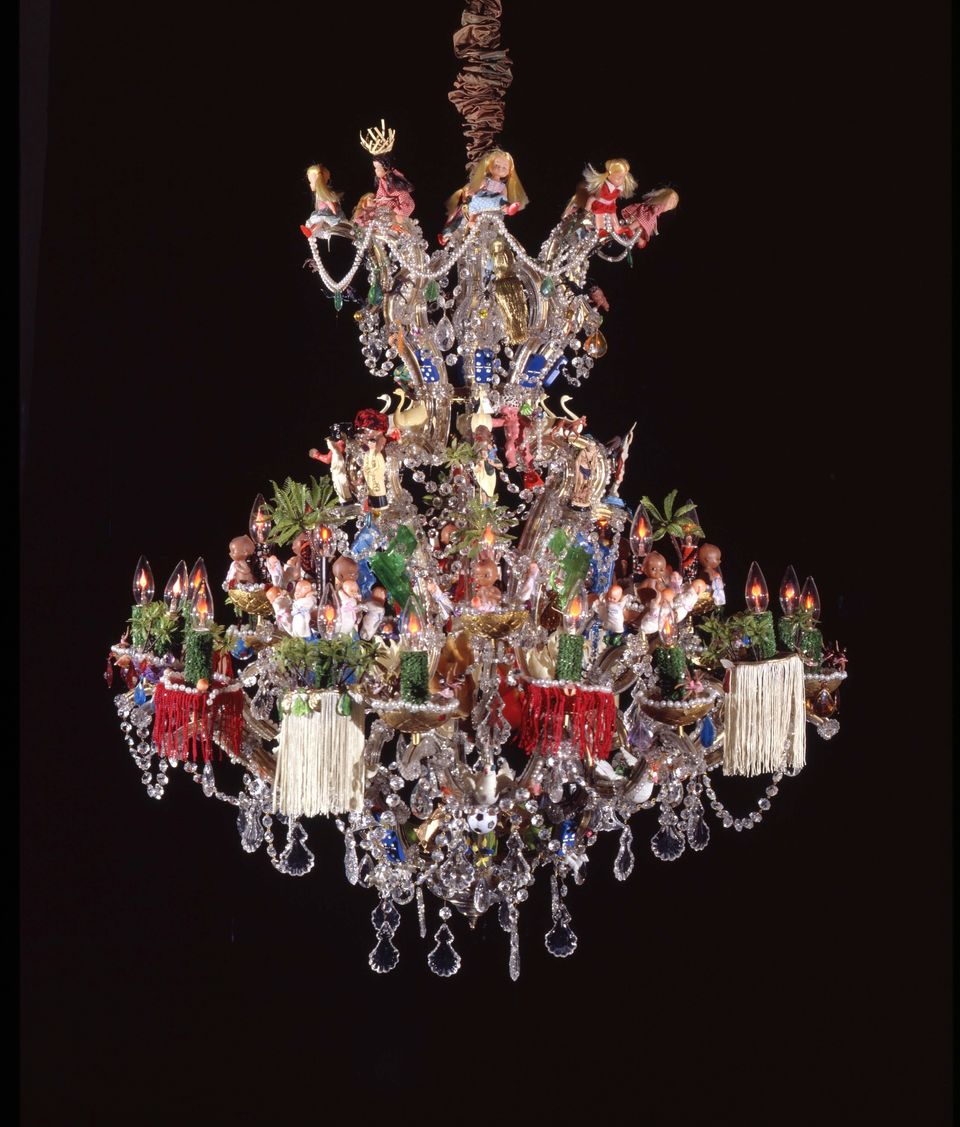 Dawn Planas, a graduate conservation student at Buffalo State College, and an intern in the Lunder Conservation Center's objects lab, recently assisted with a treatment of Pepón Osorio's El Chandelier. The sculpture will be featured in the exhibition Our America: The Latino Presence in American Art. Planas gives us some insight into how she prepared the chandelier for the show.
Pepón Osorio is a sculptor and installation artist from San Juan, Puerto Rico. After moving to the South Bronx in New York City he worked as a social worker within the Latino community. His early assemblages and installations, composed of dense displays of inexpensive trinkets and popular culture, explored the cultural and class dimensions of the Latino experience in the United States. El Chandelier was brought to the Lunder Conservation Center before going on exhibit in our upcoming exhibition Our America: The Latino Presence in American Art. To convey a better understanding of the work, Osorio spoke with conservation and curatorial staff, giving us insight into both the material construction and his intent. His input helped us with our conservation treatment of his piece.
El Chandelier is a functional electrical chandelier featuring plastic dolls, figurines, pearls, and toys attached by hot melt adhesive. Most items hold special meaning to both Osorio and the Latino community, such as green frogs representing coquis, the small frog found throughout Puerto Rico. Many of the chandelier's branches are adorned with swans, doves, and small cherubs that are used as wedding cake decorations, influenced by his mother's job in a bakery.
Most of the pieces attached to the work are made of various types of plastics that can deteriorate with age, so wet cleaning and solvents were not used as they could hasten this process. Soft brushes, cosmetic sponges and microfiber cloths were used to remove the surface dust, keeping in mind the delicate attachment of many items. The strings of hot glue, which are seen throughout his piece, required special attention. Osorio likened these strings to "webs" of the many spiders placed throughout the chandelier. Special care was taken to preserve them during cleaning.
At first, the chandelier looks chaotic, but there is an order the artist chose and conservators wanted to respect his intent during the conservation. In preparing to reattach loose items such as pearls, gems, and toys, a diagram of the chandelier was created to map out the location of each attached item and document its condition.
By combining the background history, examination of the artwork, dialogue with the artist, and archival documentation, conservators are able to preserve El Chandelier for the upcoming exhibition and for years to come.