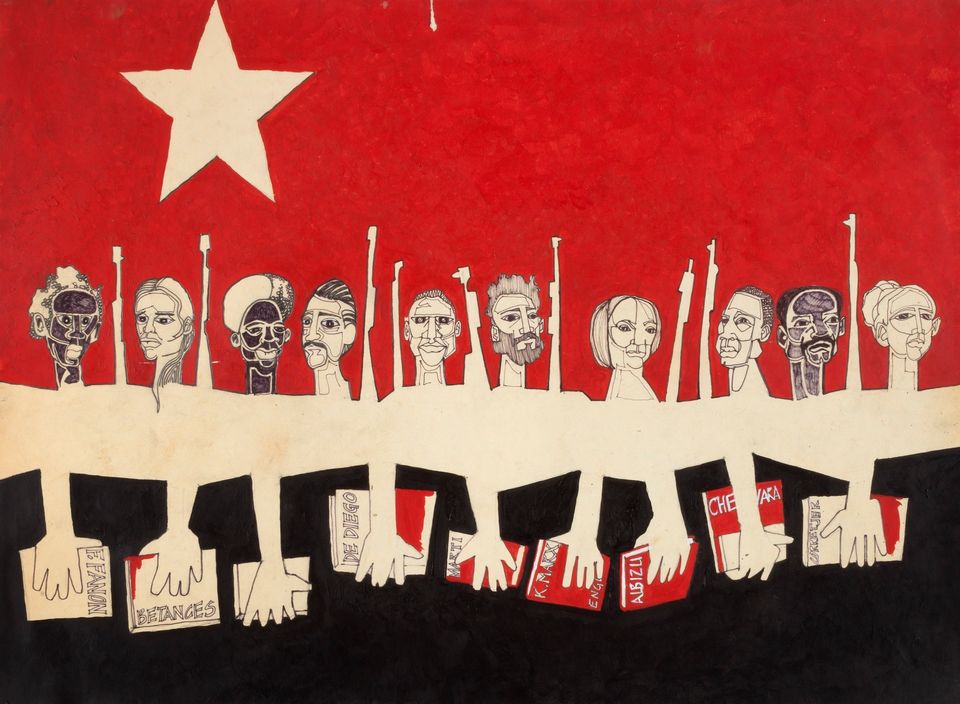 Michelle Sullivan is a second-year graduate fellow in Winterthur/University of Delaware Program in Art Conservation and spent this summer at the Lunder Conservation Center. She recently treated this untitled work by Jorge Soto Sánchez for the exhibition Our America: The Latino Presence in American Art, which will open on October 25, 2013.
Jorge Soto Sánchez (1947-1987) was an artist of Puerto Rican descent who lived and worked in New York City. He was a prominent member of the Nuyorican Movement—a movement initiated by Puerto Rican artists, musicians, poets, and writers in East Harlem and the South Bronx during the 1960s and 70s—that aimed to affirm the Puerto Rican experience in the United States. Soto Sánchez also served as an educator at El Museo del Barrio and was a member of the artists' collective Taller Boricua. The artist's Untitled seems to draw upon the artist involvement with these groups and demonstrates his unique blend of African and Pre-columbian iconography, speaking to the multicultural nature of Puerto Rican heritage.
When a curator selects a painting, sculpture, or drawing for exhibition, the artwork's first stop is always the conservation lab. Our job as conservators is to closely examine the work to determine if it will need treatment before going on view and if it will require any special conditions to ensure safe display. This investigation also gives us an opportunity to better understand an artist's technique, how an object was constructed, and the materials used. Examination of this drawing by Soto Sánchez began with a microscope. With the naked eye, we could see that the artist used acrylic paint, graphite, and some sort of felt-tipped pen to create this drawing, but with the aid of magnification, we could gain insight into the artist's practice. Soto Sánchez began by lightly sketching the composition in graphite and then using a black felt-tipped pen to strengthen some areas of the design. It can be a bit difficult to see, but he also used what appears to be light blue colored pencil to enhance the names that appear on the books held by the figures. Next, he applied red and black acrylic paint to create broad fields of color and, if you look closely, you can even see an impasto brushwork in areas of thickly applied paint. Finally, the artist added highlights to the eyes and book edges with a white material resembling correction fluid and reinforced some lines with heavily applied graphite. In the close-up image above, you can see how hard the artist must have pressed his pencil into the paper to create those final lines!
To prepare this drawing for exhibition, it received some TLC at the Lunder Conservation Center. First, the front and back of the drawing were lightly cleaned. We also strengthened a section at the top edge and the top-right corner with thin (but strong!) Japanese papers and wheat starch paste to make it safer to handle. The Japanese paper used was colored with acrylic paint to match the surrounding area of drawing. All materials applied to the drawing during conservation are reversible so that, if needed, they can be removed in the future.
Take a look a closer look at Jorge Soto Sánchez's work in our exhibition Our America: The Latino Presence in American Art, running through March 2, 2014.