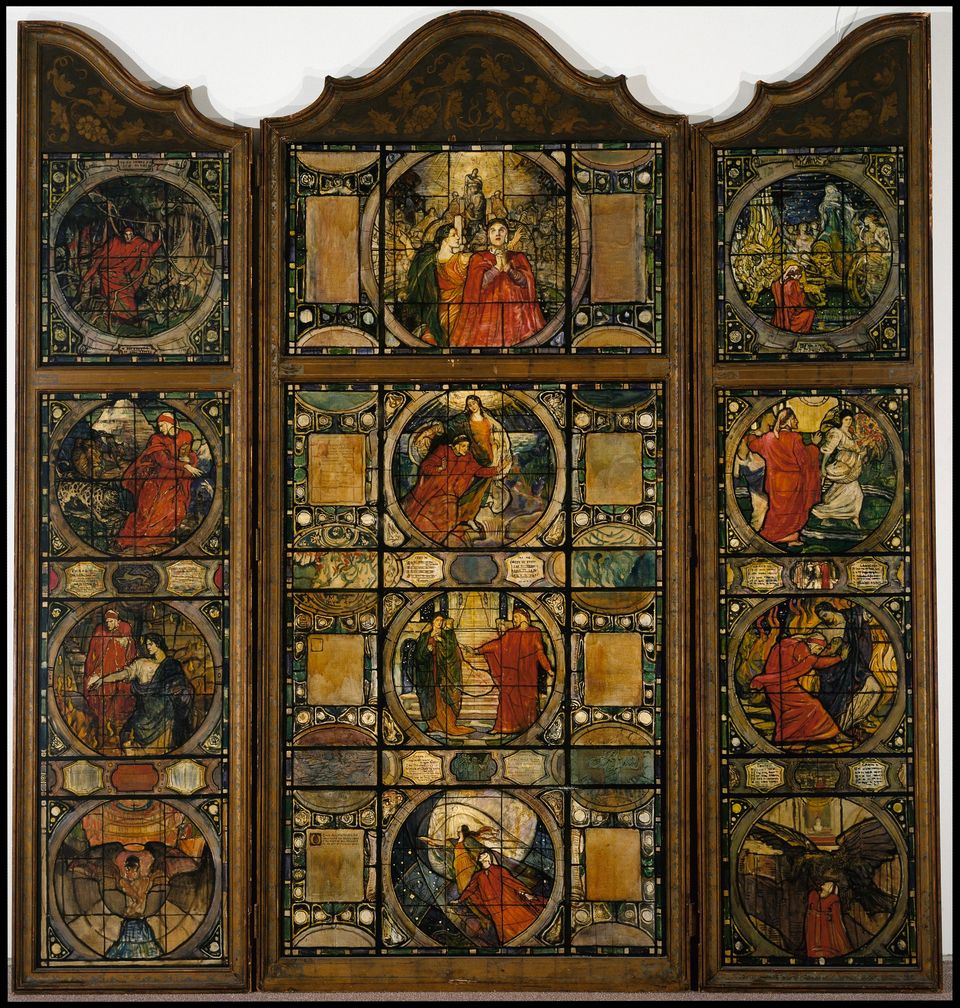 Recently, the Smithsonian's Archives of American Art opened an exhibition of archival photographs and documents dedicated to the untold stories of artists' models. Elizabeth Botten, who curated the exhibition, Artists and Their Models, points out that models are "too often given short shrift in art history, their names and stories left unknown unless their fame came by way of scandal."
In addition to giving these overlooked mortal muses their due, the exhibition highlights some of the many delightful compliments that researchers can discover between the Archives' collections and the works found in the American Art Museum. One example comes in the form of photographs and records from the Papers of Violet Oakley in the Archives of American Art. Oakley was a Philadelphia-based artist known for her murals and stained glass window designs.
The Smithsonian American Art Museum holds dozens of Oakley's studies and works on paper, as well as a scale model of her stained glass masterpiece The Divine Comedy of Dante Alighieri, commonly known as the "Dante Window." This stained glass window was commissioned by the publisher Robert Collier for the library of his private New York residence. Taken together, the museum objects and archival documents present a fuller picture of how Oakley composed her prize-winning stained glass window (now owned by the Apostolic Nunciature of the Holy See to the United States).
The "Dante Window" features three panels depicting the Inferno, Purgatorio, and Paradiso, with figures enacting twelve key moments from the literary text. Among the Violet Oakley papers are photographs of model Mills Thompson posing in Renaissance costumes, which Oakley used for reference when rendering her design. In an in-depth post on the Archives of American Art Blog, "Models and the Making of Violet Oakley's Dante Window", Botten uses the archival documents and photographs to introduce us to Thompson, who was an illustrator and artist in his own right. Learning a bit more about Thompson, and seeing the source materials that Oakley left behind, leaves us not just with a sense of the artist's process, but also helps reveal the social circle in which she moved.
The exhibition Artists and Their Models is on view until August 27, 2014 in the Fleischman Gallery, on the first floor of the Donald W. Reynolds Center for American Art and Portraiture in Washington, D.C. There will be two free gallery talks in the space, June 20 at 4:30 p.m. and July 11 at 1:00 p.m. The June 20 gallery talk will precede Drawing at Dusk!, an American Art Museum program offering the opportunity to sketch from a live model in the Luce Foundation Center.