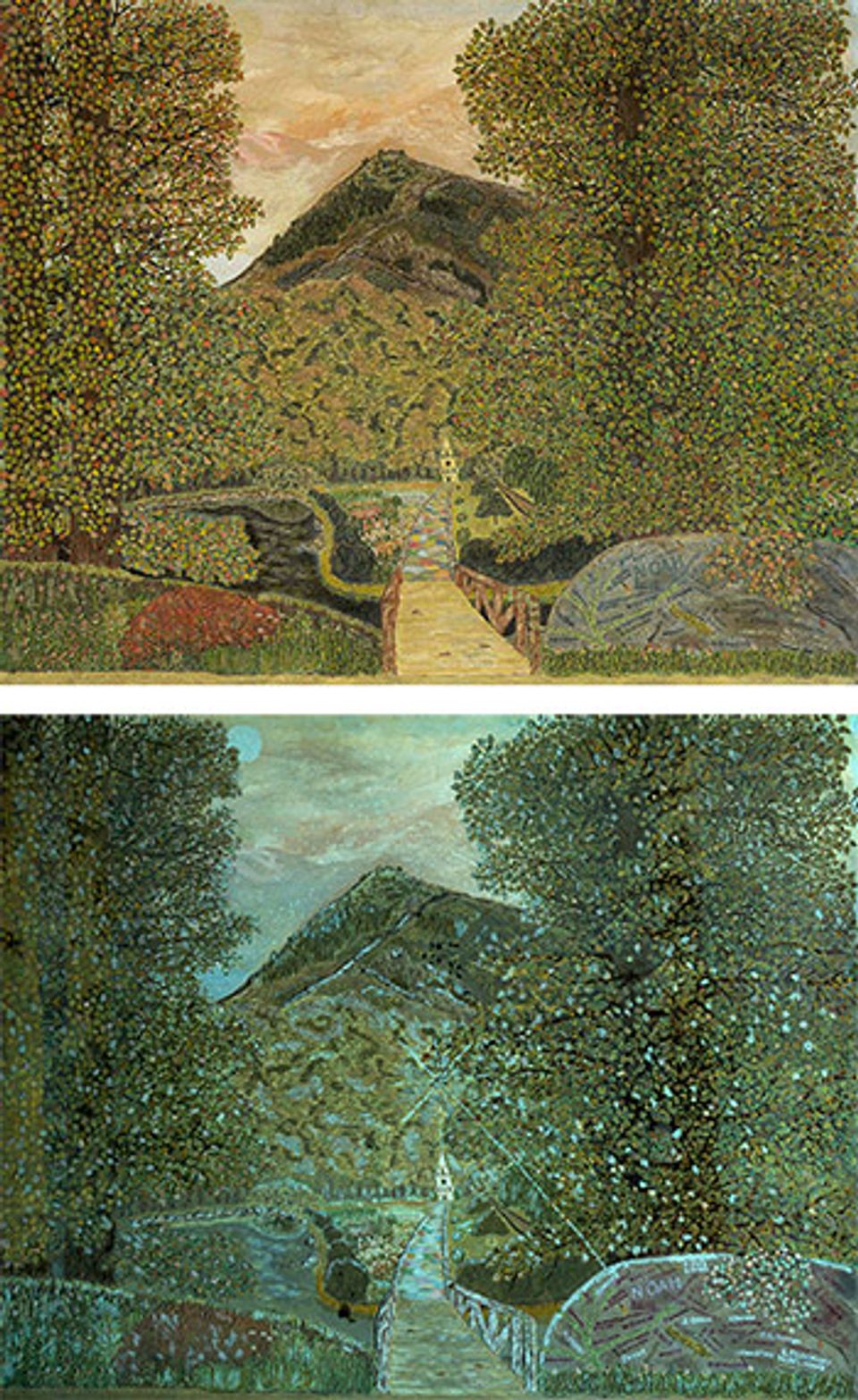 Top: Chapel In-the Fall-Wood by Maceptaw Bogun. Bottom: Same painting with no ambient light, showing the night sky with a full moon.
Desi Peters recently completed her graduate internship at the Lunder Conservation Center, Smithsonian American Art Museum, in paintings conservation. She describes her conservation treatment of Chapel In-the Fall-Wood by Maceptaw Bogun.
At first glance Chapel In-the Fall-Wood, by self-taught artist Maceptaw Bogun, depicts a somewhat unassuming scene: a sun sets behind a small chapel nestled amidst trees and mountains. However, when the lights are off and the painting is viewed underneath ultraviolet radiation, a different scene emerges. The sun lit sky transforms into a starry night with a full moon. Dangling leaves glimmer in the moonlight. A brilliant star hovers over the steeple and shines on the bolder in the foreground.
Bogun used phosphorescent (better known as glow-in-the-dark) paint to depict an alternate nightscape atop the day lit landscape. When speaking of this painting, he explained, "When you turn out the lights, you see the moon." Phosphorescence is a lesser known cousin of the more familiar fluorescence: the bright glow materials give off when placed under ultraviolet radiation. Phosphorescence can generally be distinguished from fluorescence by its afterglow: a phosphorescent material will continue to emit light after the source of energy has been removed, while a fluorescent material will not.
For this treatment, one of the main questions was identifying what type of pigment is responsible for the phosphorescence. From her research, Desi Peters, a graduate intern at the Lunder Conservation Center, determined that the two most likely pigments were zinc sulfide and strontium aluminate. Different phosphorescent materials have different afterglow durations. Zinc sulfide has an afterglow of minutes whereas strontium aluminate has an afterglow of hours. To explore this, the painting was placed under ultraviolet radiation in a dark room and the afterglow was timed. The paint glowed for over two hours! This experimental finding, combined with other forms of analysis including x-ray fluorescence, helped conservators determine the pigment responsible for the phosphorescence is strontium aluminate. This information will inform the painting's treatment and display conditions in the future.
Desi Peters has an MA in Art History and an Advanced Certificate in Conservation from the Conservation Center, Institute of Fine Arts, New York University. She is interested in Modern and Contemporary materials and working with artists.