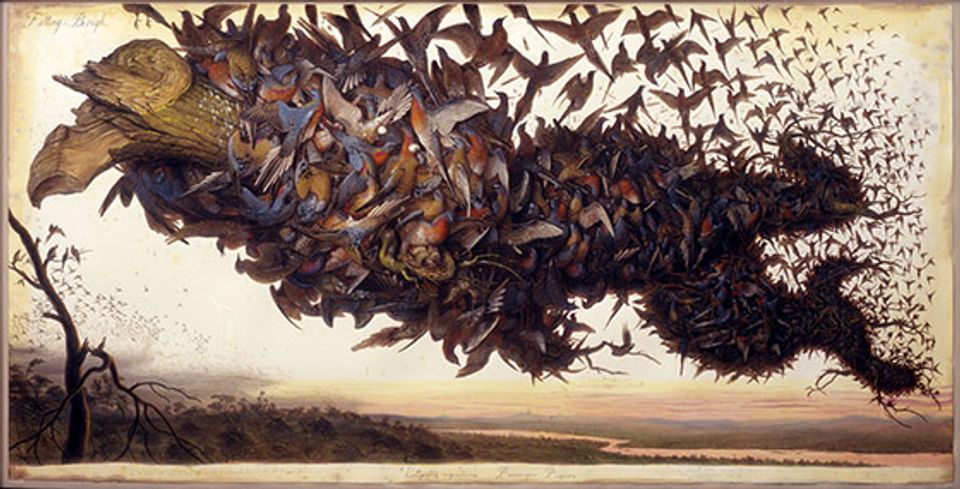 On Tuesday, January 13 American Art will present a gallery talk about the overlap between art and nature as part of our exhibition The Singing and the Silence: Birds in Contemporary Art. Former public programs assistant, Laurel Fehrenbach, had a chance to speak with participants Joanna Marsh, American Art's James Dicke Curator of Contemporary Art and the curator of our show and Pete Marra, head of the Migratory Bird Center at the National Zoological Park.
Eye Level: Pete, can you first tell us a little bit about the Smithsonian Migratory Bird Center (SMBC) and the type of work you and the researchers there do?
Pete Marra: The Smithsonian Migratory Bird Center is dedicated to understanding, conserving and championing the grand phenomenon of bird migration. Founded in 1991, we are located at the Smithsonian's National Zoological Park in Washington, D.C. We seek to clarify why migratory bird populations are declining before the situation becomes desperate. Our programs help raise awareness about migratory birds and the need to protect diverse habitats across the Western Hemisphere. Our team uses state of the art tools to track, study and protect migratory and resident birds.
EL: Joanna, it isn't often that a curator of American art gets to work with a colleague at the Zoo! How did working with the SMBC help you in the process of curating The Singing and the Silence: Birds in Contemporary Art?
Joanna Marsh: One of the things that I love about working at the Smithsonian is the opportunity to collaborate with colleagues from other units who work in very different disciplines. The Singing and the Silence was actually born out of conversations with colleagues at the Smithsonian's National Museum of Natural History. As I began to conduct research for the show, I realized this project presented the perfect occasion to connect with Pete. I was particularly inspired by his work on the 2014 State of the Birds Report, which is referenced in the exhibition wall text. Pete's passion for both art and science made him an ideal collaborator.
EL: Pete, is there a work in the exhibition that particularly speaks to your ornithological interests? How so?
PM: This is really tough and I can't choose one because I love them all. But if I were to choose three or four: James Prosek's mural, What once was is no more: Passing like a thought, flight into memory because of its size, message, and black and white imagery reminiscent of the Peterson field guide I grew up with, Walton Ford's Falling Bough because of the flock size of the passenger pigeons, the extinction they represent, and also the "Audubon" style with which they are painted. All of Fred Tomaselli's work I find mesmerizing because of the way he mixed materials to construct the pieces and how they come together to flawlessly illustrate such bird diversity. And finally, I can't resist but stare at Tom Uttech's Enassamishhinjijweian and imagine myself in the boreal forests of northern Canada identifying all of the gorgeous birds he's painted.
EL: Since 2014 is marking the 100th anniversary of the passenger pigeon's extinction, what lessons are scientists and artists taking from this environmental milestone?
PM: The passenger pigeon is symbolic of extinction and the fact that we can't let this happen again and unfortunately we are. Species are declining at horribly rapid rates right before our very eyes. We could see another species go extinct like passenger pigeon in our lifetimes.
JM: The artists in this exhibition are not only concerned with the passenger pigeon's extinction but the disappearance of many of bird species and the loss of biodiversity more generally. The 100th anniversary was an excellent opportunity to raise awareness about those issues, but it can't be the only occasion we talk about species extinction. This is an ongoing preoccupation for many of the artists in The Singing and the Silence, and their goal is to make it a priority for museum-goers too.
EL: How do you hope the exhibition and the work of the Migratory Bird Center will inspire visitors to react to their own environment?
PM: I am constantly challenging myself to come up with ways to get people excited about birds and the environment. Integrating art and science allows us to try and grab people's interest in multiple ways. Beauty truly is in the eye of the beholder. And by presenting birds through artistic impression, people may see birds through a different lens and learn to appreciate them more than they previously did. My hope is that this will inspire citizens to not only listen and observe birds more than before, but also to think about how they can make the world a better place for birds and other wildlife.
JM: While Pete's job is to help get people excited about birds, my job is to help people connect with contemporary art: to show how art can be a tool for addressing and understanding issues of our time. This is the second exhibition I've curated for the American Art Museum that confronts environmental concerns (Alex Rockman: A Fable for Tomorrow was the first). It may sound idealistic, but I believe that art has the power to effect change, if only on a very small scale. I hope this exhibition encourages art-lovers to take greater notice and care of the natural world, and I hope it inspires bird-watchers to look beyond the end of their binoculars to discover the artistic, cultural and environmental significance of birds.