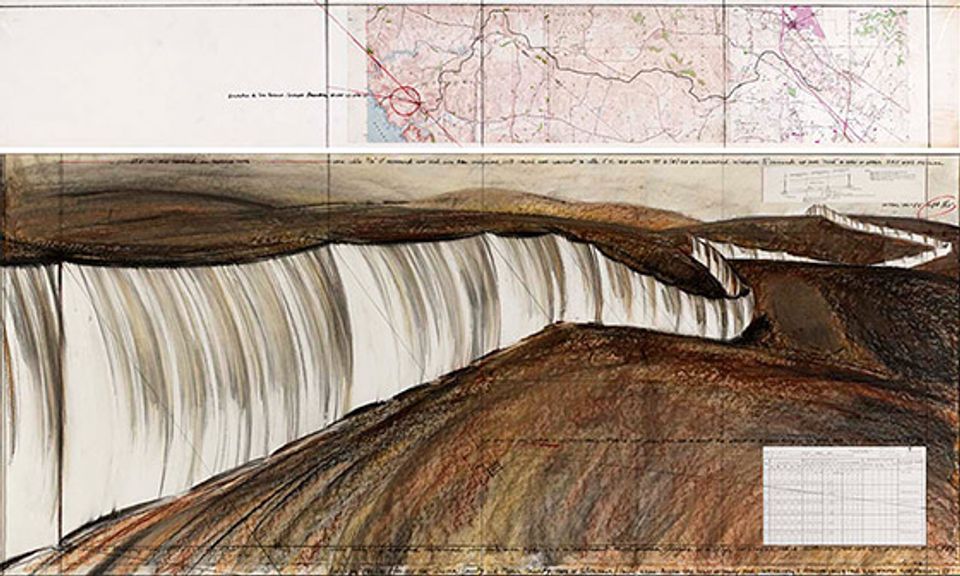 Christo's sketch for Running Fence
This is the fourteenth in a series of personal observations about how people experience and explore museums. Take a look at Howard's other blog posts about seeing things.
On the third floor of American Art, two works by Christo hold a kind of silent dialogue, and frame his journey from solo artist in the early 1960s to his becoming one-half of the creative powerhouse couple, Christo and Jeanne-Claude. Together, they created memorable, environmental projects such as The Gates, in New York's Central Park, and the Running Fence (Project for Sonoma and Marin Counties, State of California), whose archive and documentation were acquired by American Art a few years back. Package, 1961 is a solo work that evokes the tale of the artist's migration from his homeland of Bulgaria. It is a cloth construct, tied with rope, from which semi-familiar shapes bulge. Across the room is part of the documentation of the Running Fence project from 1976, a beautiful fabric work that literally ended in the Pacific Ocean. They were about as far west as one could get.
One fact I always remember about Christo and Jeanne-Claude is that they were born on the same day: June 13, 1935. A wonderful detail in the lives of a creative couple. A few days ago, on June 13, Christo turned 80. Sadly, Jeanne-Claude died in 2009. In honor of "their" birthday, we invite you to the museum to take a look at these two works of art and imagine the dialogue between them and the world the artists created.
Read more about Christo and Jeanne-Claude on Eye Level.