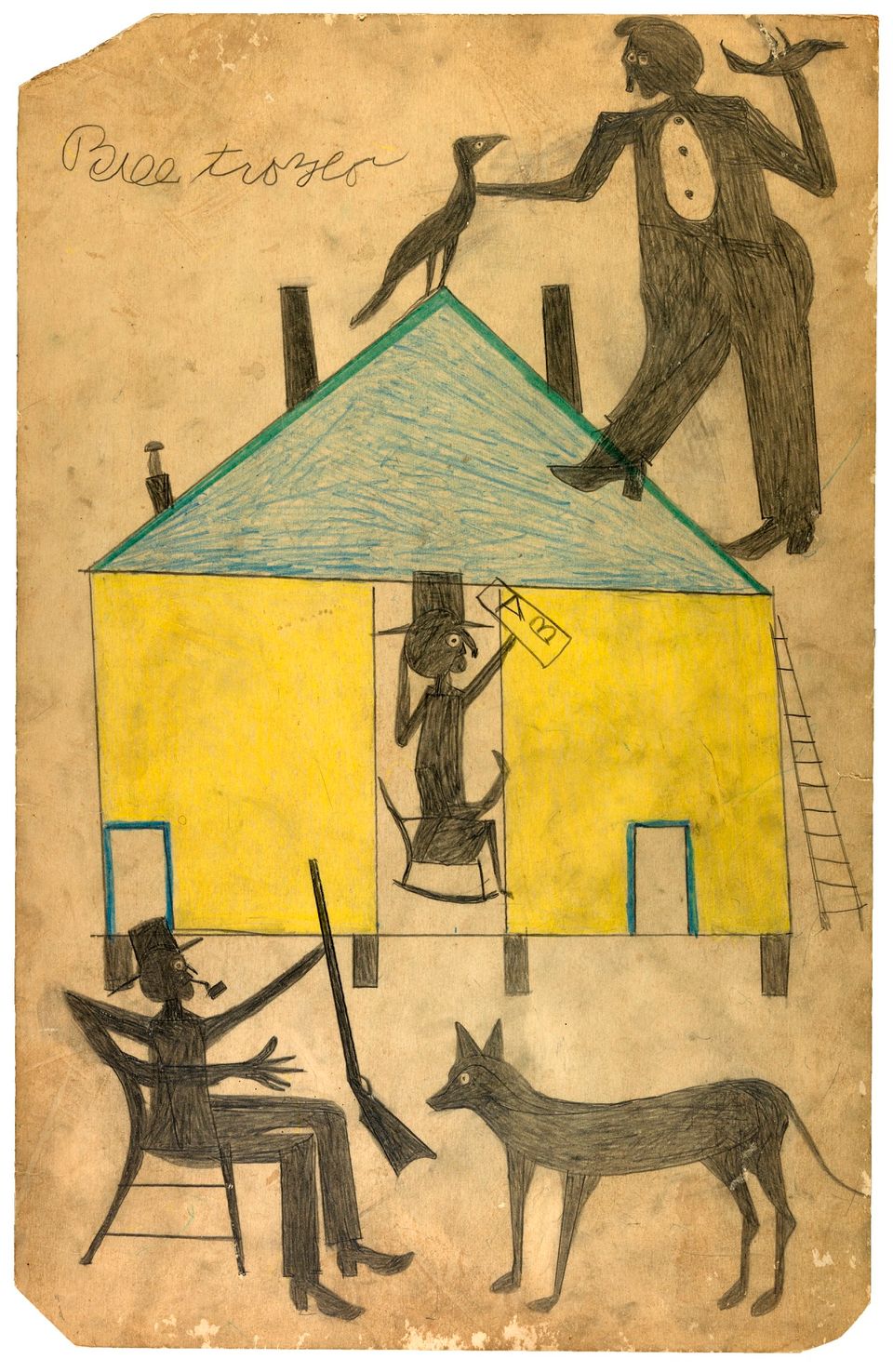 Bill Traylor, Untitled (Yellow and Blue House with Figures and Dog), July 1939, pencil and colored pencil on paperboard. Smithsonian American Art Museum; Museum purchase through the Luisita L. and Franz H. Denghausen Endowment © 1994, Bill Traylor Family Trust. Photo by Gene Young
[Updated October 4, 2018]
The Smithsonian American Art Museum recently acquired several major works by Bill Traylor (ca. 1853–1949), an artist who was born into slavery, and first began his creative life as an elderly man, after living and working primarily as a sharecropper. His life spanned slavery, Reconstruction, Jim Crow and the Great Migration. Traylor preferred to draw on discarded pieces of cardboard and left more than one thousand works by the time of his death. He spent most of his last years homeless and living on the streets of Montgomery, Alabama. His drawn and painted images, often seemingly simple, ruminate on larger themes of struggle and freedom, and, in keeping with many folk practices, employ animals as allegorical stand-ins for humans. They contrast the world of the Southern plantation with that of urban Montgomery and comprehensively reflect a man coming to grips with a world of radical change.
According to Leslie Umberger, curator of folk and self-taught art at SAAM, "Traylor's works balance narration and abstraction and reflect both personal vision and black culture of his time." Traylor's nearly one-hundred years limns the history of African Americans in the 19th and 20th centuries. He was among the first generation of blacks to become American citizens. Traylor's work was first seen by the art world in the 1940s, but it was not until the 1982 exhibition Black Folk Art in America at the Corcoran Gallery of Art that his work garnered critical enthusiasm and popular appeal.
The recently acquired works will join those already in the museum's collection. They will be featured in the first museum retrospective on Traylor's remarkable work, now being organized by Umberger for 2018.