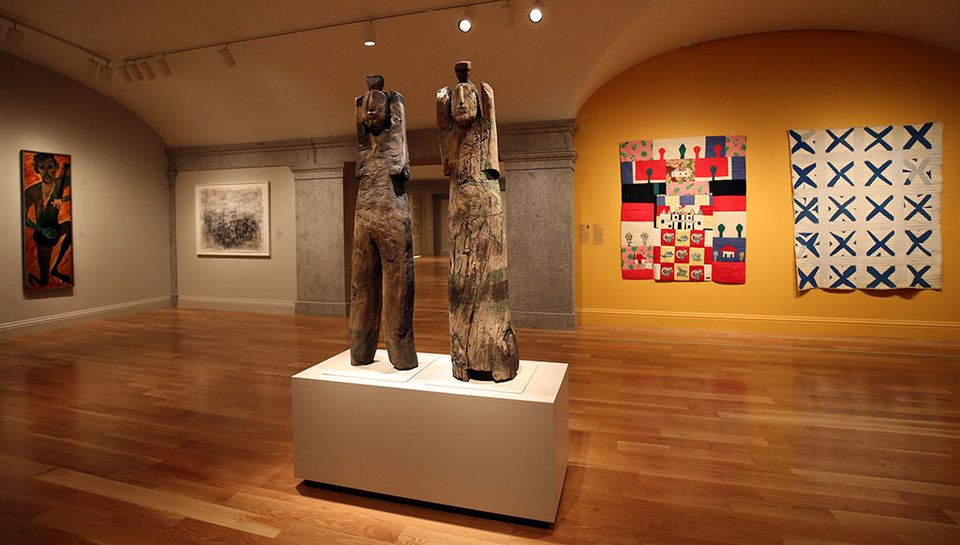 The Smithsonian American Art Museum's ground floor galleries of Folk and Self-Taught Art reopen today with a compelling, new installation that features more than 120 objects, including 59 new acquisitions. These include works by artists such as Emery Blagdon, Ralph Fasanella, Clementine Hunter, Eddy Mumma, and Achilles Rizzoli. These join visitor favorites by Thornton Dial, Lonnie Holley, Martín Ramírez and Jon Serl.
"The first-floor galleries for folk and self-taught art should have a powerful impact on visitors, conveying not only the museum's commitment to diverse American narratives and manifesting the tremendous quality, depth and power that art by untrained artists can have, but also affirming its rightful position in a museum of great art," said Leslie Umberger, the museum's curator of folk and self-taught art.
The artists in the exhibition grapple with themes both ubiquitous and personal, from the secular to the sublime. Emery Blagdon's Healing Machine is a display of more than 60 sculptures and paintings that represents his efforts to create an environment that harnessed energies from the earth to alleviate pain and illness. James Hampton's Throne of the Third Heaven of the Nations Millennium General Assembly has been reinstalled in an expanded presentation that includes Hampton's personal journal, written primarily in an asemic, or unreadable script, and a chalkboard still showing some of Hampton's sketched plans for the Throne. Both are on public view for the first time; the journal will be on display for a limited amount of time.
On Saturday, October 29, at 5:30 p.m. please join experts in the field of folk and self-taught art as they discuss the advance of non-mainstream art and the importance of fostering an appreciation for these complex and highly personal works. The folk art galleries will be changing periodically, so please stop by from time to time to see what's new!