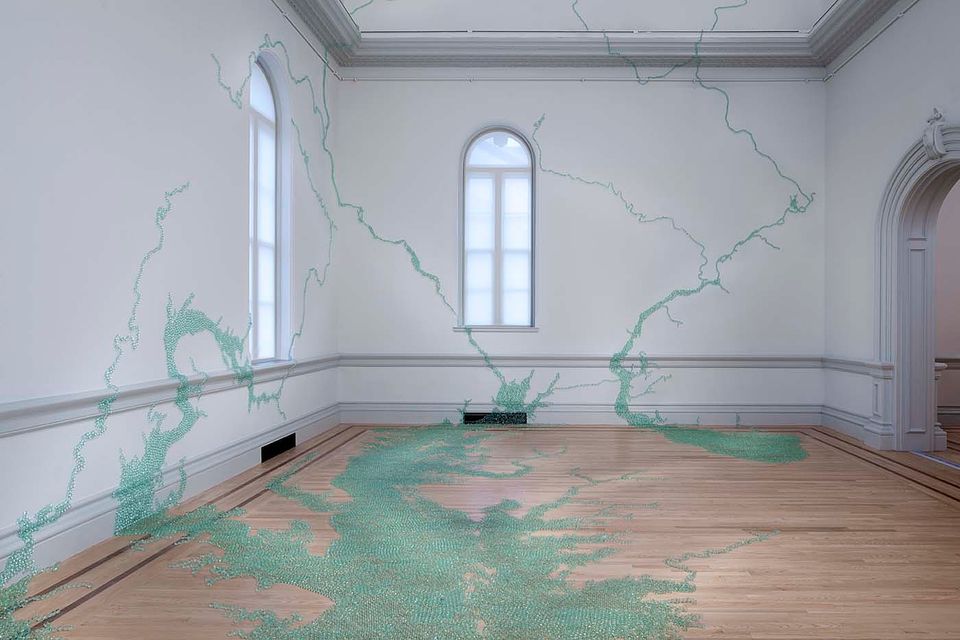 Maya Lin, whose Folding the Chesapeake, is one of nine room-filling installations in the exhibition WONDER, spoke the other evening in the Renwick's Grand Salon about the three streams of her creative life: art, architecture, and memorials. Her work is often a response to the environment and the world we live in and frequently offers a dialogue between the natural and manmade worlds. It's been more than thirty years since Lin designed the Vietnam War Memorial—a stone's throw from the Renwick, and the project that first brought her to prominence. The memorial, in black, reflective stone, literally sinks into the earth like a black wing. In the decades that followed, Lin has continued to find inspiration in the natural world, including her Earthworks series, where large fields of undulating landscapes address both mountains and sea. They seem like environments to be both lost and found, helping us to rethink our place in the natural world. "I kind of disappear as an artist in these places," Lin told us, "I'm not attempting to 'make art' per se, I'm attempting to get you back to nature, and disappear, and leave you out there connected to the natural lands."
Throughout the hour-long program, Lin showed more examples of her site-specific works "revealing aspects of the natural world that you might not be thinking about." These include installations that reference lakes and bodies of water such as Folding the Chesapeake that bring the immersive experiences Lin has explored out of doors, inside. Lin referred to herself as "obsessed" with the Chesapeake not only for its importance and magnificence, but also for its beauty—she likened its shape to a ginger root. In the Renwick, Lin wanted the wall-climbing sculpture to have the same freedom of movement as water and not be restricted by both the building's physicality and weighty history. "I wanted it to flow wherever it could."
After a discussion of her architecture and memorials, Lin spent the last third of the evening talking about her latest project, What Is Missing, what she has referred to as her "final memorial" and comes from her life-long concern for the environment. People have sometimes made a mess of the world, but nature is resilient. The project sounds ecological alarms to tell us what is missing—species, places, and habitats—but it is "also about action and about hope." It even includes Lin's beloved Chesapeake. Once brimming with oysters and sturgeon in the 19th century, it become a eutrophic estuary in the 20th. Then, on the verge of 'dying' it has begun slowly to make a recovery thanks to the Chesapeake Clean Water and Ecosystem Restoration Act of 2009. It is now a natural resource whose story once again continues to unfold.
Watch the webcast below and learn more about Lin and her work.