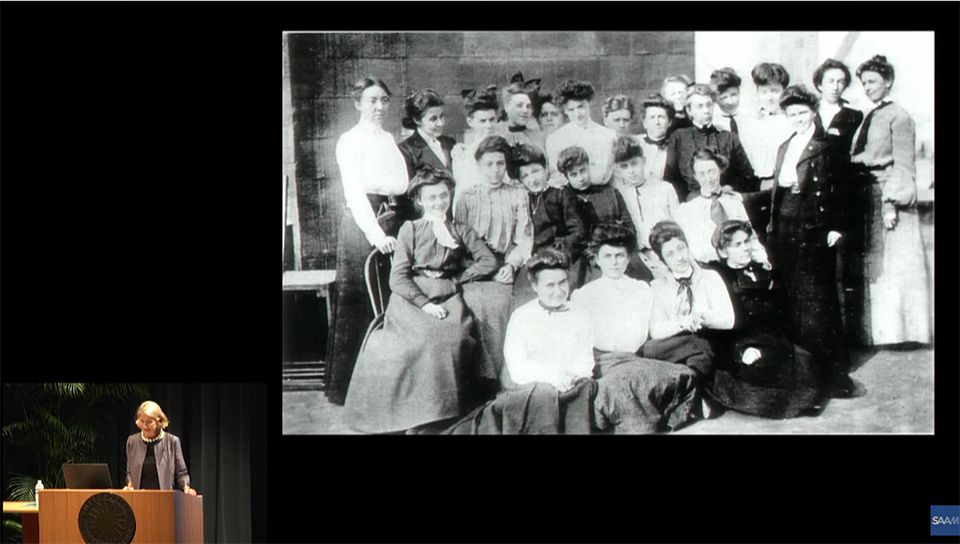 To kick off the 2016 season of the Clarice Smith Distinguished Lectures in American Art, scholar Alice Cooney Frelinghuysen, Curator of American Decorative Arts at the Metropolitan Museum of Art, brought us into the close circle of Louis Comfort Tiffany's art glass studio. Frelinghuysen illuminated the roles of women in this male-dominated field, focusing on the life of designer Agnes Northrop, one of the "Tiffany Girls". In spite of her prominent role at the time, her significance has been long overshadowed by Tiffany himself as well as other women in the studio.
Agnes Northrop was born in Flushing, Queens, in 1857 and died in 1953 in the Gramercy Park Hotel in Manhattan at age 96. She was most likely introduced to Tiffany in the late 1880s and by the 1890s had, according to Frelinghuysen "forged an independent role for herself within the studio." Tiffany was an artistic polymath whose creative output ranged from paintings to photography to furniture and garden design. Tiffany's great contributions to art glass were twofold: development and use of an opalescent glass and employing landscape as its sole subject. The Tiffany Girls played a crucial role in the art glass studio by selecting the glass pieces and cutting them into shapes that would be used to make the designer's signature windows and lampshades. And it's in creating landscapes made of glass that Northrop distinguished herself. "Designing windows," Frelinghuysen told us, "was her enduring passion."
With resources from the Tiffany archive housed at the Met, Frelinghuysen was able to piece together Northrop's contributions to the studio by viewing signed watercolor renderings as well as a memoir Northrop drafted in her last years. Her painted landscapes were translated into glass and featured beautiful floral renderings and often a central stream to represent "the voyage of life." Among her important windows, Northrop created a set for her family's place of worship, the Reformed Church of Flushing, where her grandfather became pastor in 1865.
Frelinghuysen also told us about the blossoming artistic and environmental movements of the late 19th and early 20th centuries that ran parallel to the interest in landscape windows. The borough of Queens, was not just the site of the Tiffany glass studio and Northrop's family, but the home of many public gardens and nurseries. In fact, during Northrop's time, Flushing was dominated by the horticultural industry, and, at the turn of the century, it was "the nursery capital of New York and surrounding areas."
In a shoutout to Northrop's birthplace during the Q and A, two women who were born and raised in Flushing, thanked Frelinghuysen not just for telling us the story of Northrop and the Tiffany Girls, but for allowing them to rethink their hometown as a place of beauty and creativity.
The Clarice Smith series continues on October 19 with artist Deborah Butterfield and concludes on November 2 with critic Edward Rothstein.