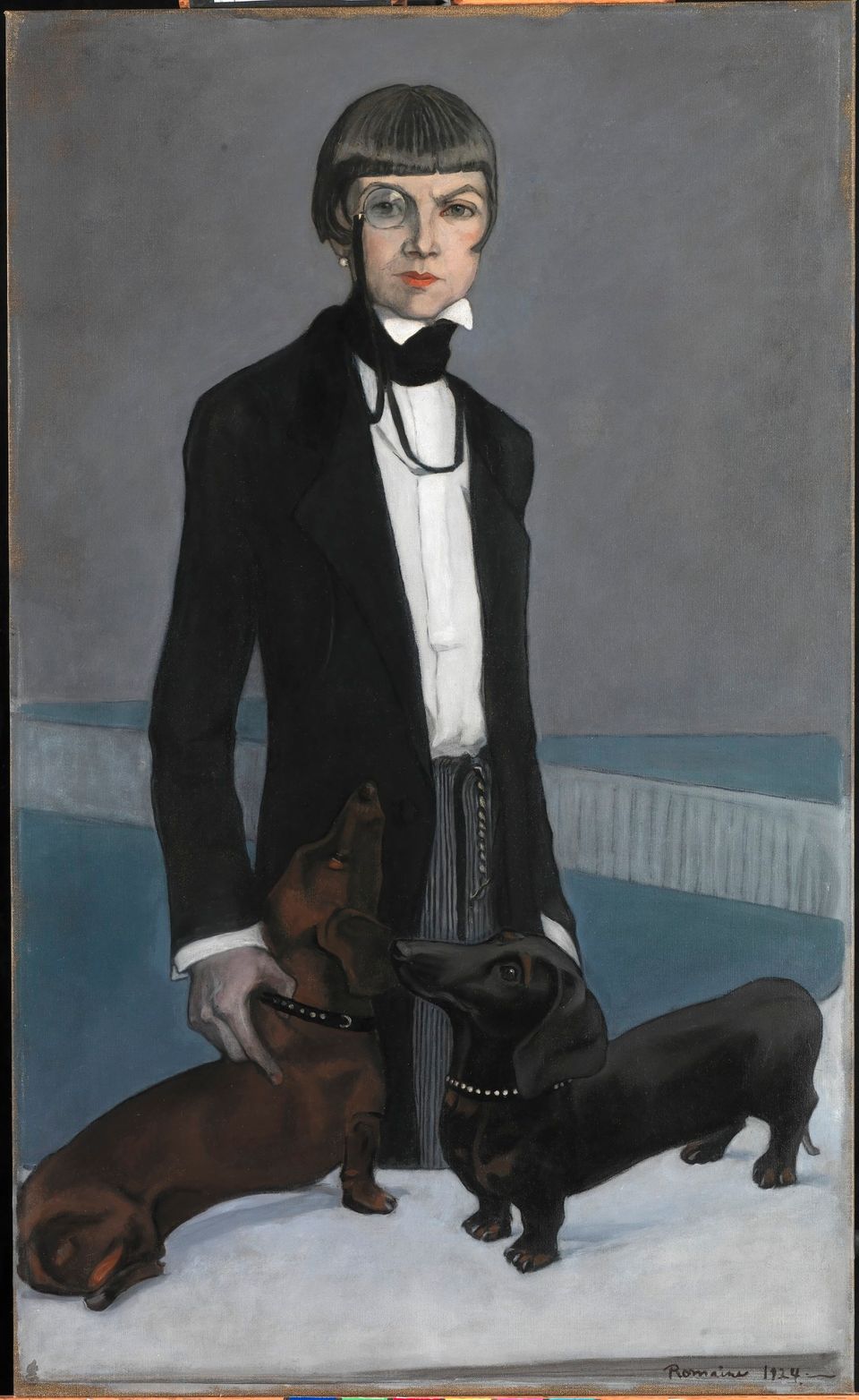 Joe Lucchesi, the consulting curator for SAAM's exhibition, The Art of Romaine Brooks, is Associate Professor of Art History and the Women, Gender, and Sexuality Studies Program Coordinator at St. Mary's College of Maryland. Joe gives us a look at the humor and wit of Romaine Brooks. He will be leading a tour of the show on Thursday, September 29 at 6 p.m. The Art of Romaine Brooks is on view until October 2, 2016.
Most commentaries on Romaine Brooks' work focus on its seriousness. This is hardly surprising, since there is a quiet weightiness to her work that is palpable in person and pervades the mood of the galleries when walking through SAAM's current exhibition, The Art of Romaine Brooks. Her carefully modulated palette of subtle grays and neutral tonalities lends to this muted emotional tenor while her sitters, placed alone in spare planar spaces, carry themselves with a psychological gravity that verges on isolation. These formal choices can initially give the appearance of works wreathed in melancholy. Beyond that, Brooks produced much of the work within a historic context of emerging lesbian subcultures in a homophobic culture of early 20th century Europe. And the artist herself titled her autobiography No Pleasant Memories. But this consistent characterization of Brooks' artwork (and the artist herself) as moody, somber, or even gloomy can obscure notes of humor and wit shot through many of the portraits and drawings. Brooks' incisive wit and somewhat sardonic observations bring richness to the works' emotional texture and sharpen the overall insights her works have to offer.
Brooks' humorous undertones emerge most often through deadpan juxtapositions that seem to offer sly satiric commentary on some aspect of her sitters. For example, in her portrait of Madam Errazuris, the influential interior designer appears nearly engulfed by her ostentatious outfit with its giant ostrich plumes and voluminous cloak. But she gazes confidently and somewhat condescendingly out of the picture, in command of both her outsized fashions and the viewer's attention. Or in Una, Lady Troubridge, the sitter's prized dachshunds in the artist's play on the traditional portrait with hunting dogs threaten to shift the painting's tone into a mocking observation of her aristocratic pretention. That note of stinging humor is there, yet the dogs also enhance Troubridge's sense of calm and control, and her level engagement with the viewer.
Similarly, Brooks' pairing of La Barrone Emile Erlanger and an ocelot brings distinct undercurrents of sensuality and exoticism to what initially appears to be a motif intended to underscore and mimic her static, aloof attitude. In Chasseresse, the artist uses the animal-figure juxtaposition to different erotic ends. The mountain goat's inclusion seems to amplify the icy, mythological dignity of the female protagonist, with her placid expression and neutral gaze. But a shrewd, playful eroticism infuses the scene when one notices the goat's carefully strategic placement opposite her midsection, its pink tongue barely protruding toward her bare knee while her forearm grazes the animal's face.
Even Brooks' drawings have some of these same elements of mordant humor. Although they're steeped in weighty emotional themes of imprisonment, struggle, and exile consistent with the artist's autobiography manuscript, in writing about the drawings she noted that they were "...inspired by laughter, philosophy, sadness, or death..." A drawing like Primitive Coquetry (La Coquetterie Primitive) captures this unique balance of humor and horror, with its lumpish, animal-like figure standing absurdly upright on its wide feet in a cheesecake pose, smiling coyly over its shoulder at the viewer. Or the The Organ Grinder (L'Orgue de Barbarie), in which a wispy, meandering yet vibrant line transforms into a whimsical figure casting a world-weary look heavenward. Within what Brooks called the "inevitable encircling line" of her drawings, these subtle notes of humorous fantasy add depth to the psychological perspectives they offer. The artist's wry quips and visual puns thread the exhibition and fill the galleries with echoes of Brooks' knowing laughter.