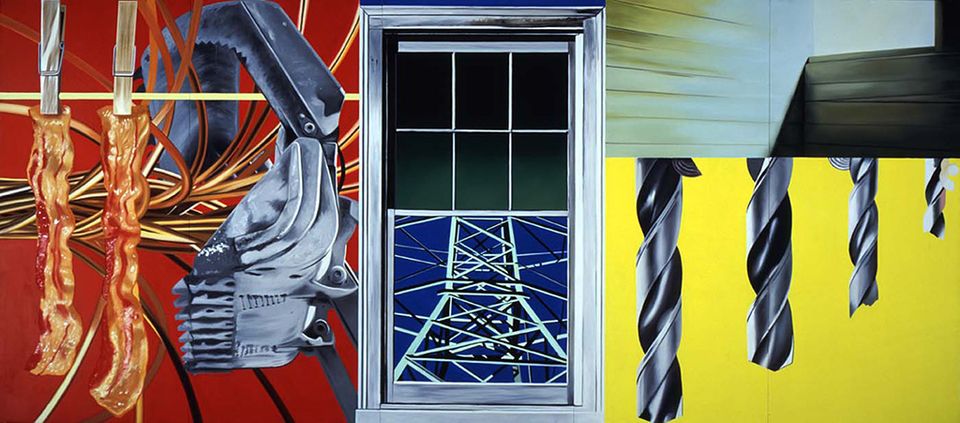 James Rosenquist's Industrial Cottage ©1977, James Rosenquist
Pop artist James Rosenquist, who died last week at the age of 83, created large canvases that were influenced by his early years as a sign painter in Minnesota and New York City. (A contemporaneous article referred to him as "the billboard Michelangelo who spills paint on tourists below"). In his commercial work, he was tasked with making foods "delicious" and cigarettes "smokable." In his prints, Rosenquist continued to use an airbrush, a tool of the advertising trade, to give his forms a seamless look. He also continued creating representations of food, including canned spaghetti, bacon, and whipped butter. Along with his Pop peers Roy Lichtenstein and Andy Warhol, he mined the image-heavy worlds of advertising and media to create works that broke down the separation between the artistic, the commercial, and the industrial.
When Rosenquist spoke at SAAM ten years ago as part of the Clarice Smith Series of Distinguished Lectures in American Art, he titled his rousing talk, "Fine Art is Not a Career" (view his talk below). He recalled the heady atmosphere of post-World War II Manhattan, complete with colorful portraits of his friends and teachers. Chief curator at SAAM, Virginia Mecklenburg, has described Rosenquist's works as "provocative and sometimes enigmatic. Irony and humor and beauty are all characteristics." The museum featured a retrospective of his work in 1987. The opening party remains a bit of museum lore: it featured a rock 'n roll band and quintessentially "American" foods: hotdogs, popcorn and beer (alas, no canned spaghetti). And apparently, Rosenquist danced the night away.
At SAAM we have about a dozen works by Rosenquist in the collection, including two that are currently on view, The Friction Disappears and Industrial Cottage. In the latter, Rosenquist divided the canvas into three zones, populating each with large forms that reflected his years as a billboard painter. In each section, there is a contrast between steely machinery and softer forms and warmer colors. The artist called the paintings from these years his "self-portraits," even referring to himself as a "cottage industry" due to the professional pressures of earning a living.
Unexpected relationships between objects are often at play in Rosenquist's works and help us to rethink how we see the world. And though he titled his talk at SAAM, "Fine Art is Not a Career," we look back on his singular career and respectfully disagree.