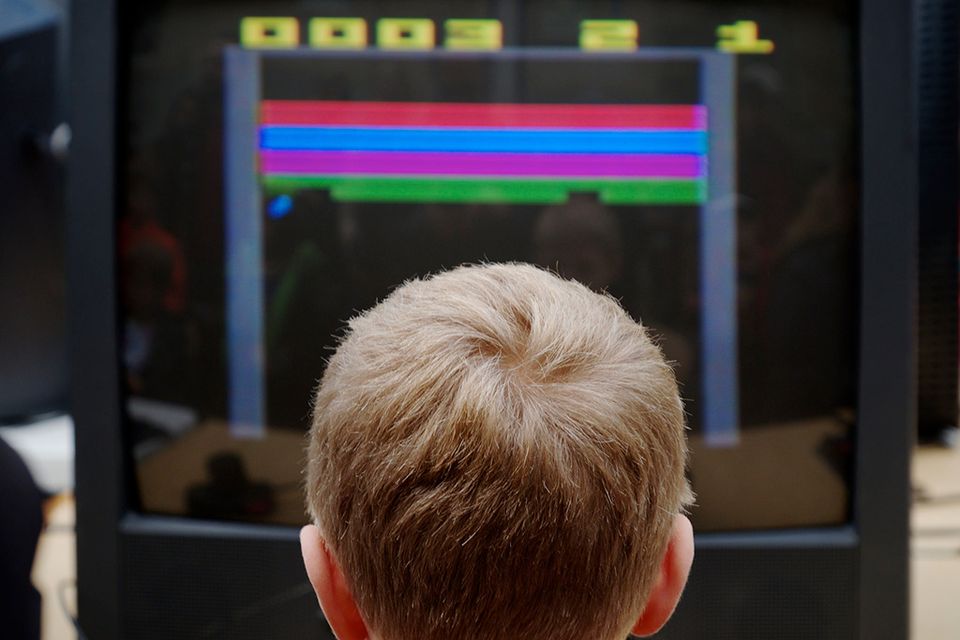 SAAM's Indie Arcade (now SAAM Arcade), Darren Milligan, 2014
Time's running out to submit your game to the Smithsonian American Art Museum's SAAM Arcade. The deadline for submission is April 15, 2017. Below, Dorothy Ann Phoenix of the International Game Developers Association's DC Chapter discusses the great opportunities available to gamers and game developers in DC.
As fans, gamers in DC have a lot of great local titles and events they can enjoy. Independent game developers have a network of experience, support, and play-testing they can tap into as they work on their own games. All of these things come together at the Smithsonian American Art Museum's SAAM Arcade. Organized by SAAM, ESA, IGDA DC, American University Game Lab, and MAGFest, the 2017 SAAM Arcade builds on the success of previous events with two days full of free gaming and education. Developers from DC and all around the country will be stopping in to show off their games, while retro classics and game-inspired bands fill SAAM's Kogod Courtyard with fan-favorite sights and sounds. What better way to dive head-first into the DC gaming scene?
When most people think about cities that are prominent video game culture hubs, they probably don't think of the Washington, DC area. However, the DC and Baltimore metro regions are home to not only prominent game studios, but also great events for people looking to get their arcade fix. Maryland's Bethesda Game Studios continues to give us hits like the blockbuster Fallout and Elder Scrolls series. Electronic Art's former studio in the region, Mythic Entertainment, has likewise spun off into spiritual successors Broadsword Games, which continues to support the popular massively multiplayer online (MMO) game, Dark Age of Camelot, and City State Entertainment's, Camelot Unchained. Meanwhile, Baltimore is home to studios such as BreakAway Games (a recognized leader in educational and simulation games) and Firaxis Games (home of Sid Meier's Civilization series) in addition to a vibrant community of independent developers and small studios.
All of this has made the Washington area a destination for game players and makers alike. Throughout the year, fans and developers gather at IGDA meetups, local pop-up arcades such as the District Arcade, Baltimore's Artscape street festival, and other local events to play home-grown games. Likewise, the region is home to the Music and Gaming Festival (MAGFest, now in its 15th year), which features panels by industry leaders, live shows by game-inspired bands, an indie game showcase, and one of the largest collections of classic gaming consoles and arcade cabinets in existence. DC-based developers and studios such as Molecular Jig Games (Immune Defense), SmashRiot (Dr. SpaceZoo), and The Dirigiballers (TumbleWeed Express) have built up a local following and even been featured on the Steam game distribution platform. Upcoming games by Pie for Breakfast Studios (Dead Man's Trail) and Philosoplay (That Rock Paper Scissors Game!) are on the horizon, and schools such as American University, George Mason, and Montgomery College offer game-making programs: all factors that will sustain this community for years to come.
If you have a game you'd like to showcase at SAAM Arcade, the deadline to submit is April 15. If you're a player or interested in finding out more about video games and the gaming community, mark your calendars for the SAAM Arcade. The action takes place August 5-6, 2017.