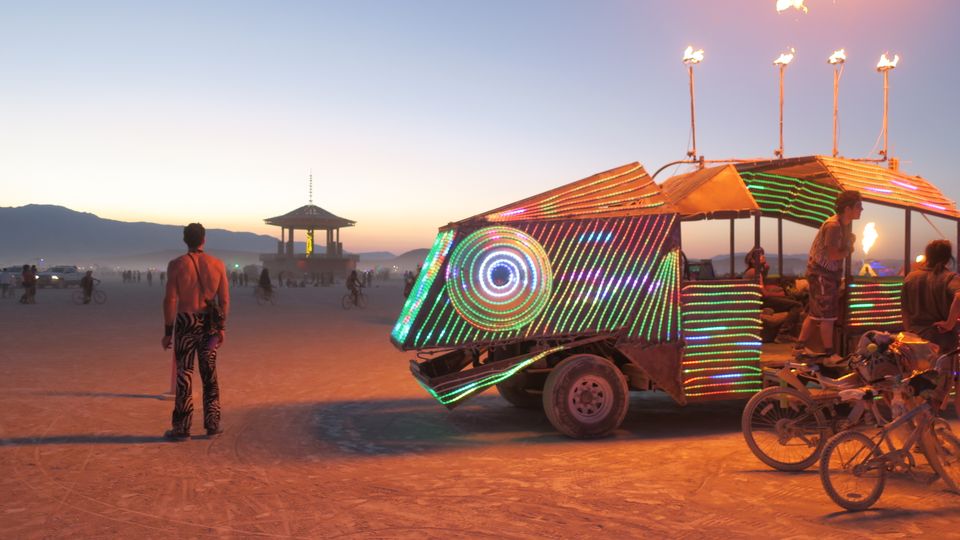 Encountering art on the Playa, Burning Man, 2017. Photograph courtesy of Nora Atkinson.
Eye Level spoke with Nora Atkinson, the Lloyd Herman Curator of Craft at the Smithsonian American Art Museum's Renwick Gallery, to learn more about her upcoming exhibition No Spectators: The Art of Burning Man, opening at the Renwick on March 30, 2018. Cutting-edge artwork created at Burning Man, the annual desert gathering that has become one of the most influential events in contemporary art and culture, will be exhibited in DC for the first time. No Spectators: The Art of Burning Man takes over the entire Renwick Gallery building, exploring the maker culture, ethos and creative spirit of Burning Man.
Eye Level: What inspired you to do an exhibition on Burning Man?
Nora Atkinson: For the last ten years or more, I've watched as the artwork coming out of Burning Man has grown in scale and complexity, and has developed into a truly unique artistic genre in this country. Many of the works are really intriguing, particularly to me, from the perspective of craft. Like traditional craft, this work exists outside the mainstream art market—largely uncommercialized as one of its core principles—and much of it has strong roots in the handmade and maker culture. Maturing now, as we enter the digital era, I see it having a resonance with the history of craft and its utopian philosophies. At the core of the modern craft movement in the industrial age, was a belief that hand-making was somehow essential to the human spirit, that it created community and humanized a world growing colder and more mechanized.  Today, I see an interesting parallel in the information age, and I think it's no surprise that so many burners come from Silicon Valley—the two sides seem to go hand-in-hand.
EL: What are you most excited about by this exhibition?
NA: While I've studied Burning Man from the outside for years, I've never been able to attend before this year. In almost every way I came to Playa knowing what to expect, yet being there was like nothing I could have imagined. Riding out into deep Playa and being surrounded by such an incredible level of human creativity overwhelmed me. The thumping music that dissipates into the emptiness of the desert on all sides, and lights that extend as far as the eye can see was enough to make me break out into spontaneous childish giggles at times. It's incredible that something like this can exist in such an ephemeral way for literally one week before disappearing into nothingness.  I hope we can translate some of that joyful spirit to those who will never have an opportunity to experience it in person. 
EL: What is the biggest misconception about Burning Man?
NA: Many people think it's a music festival. (It's not. Though there is a lot of music, there are no headlining bands.)  Or people think it's a bunch of hippies in the desert, but actually, it's a remarkably organized city, an entire cultural movement, more about community and personal interaction than anything else.  Over the years, the spirit of Burning Man has been codified into ten guiding principles, like gifting, radical inclusivity, radical self-reliance, participation, and de-commodification, which make it a place where people can freely explore who they want to be, outside the confines of the everyday 'default' world. What I took away from it is that it's not one thing – the experience is unique for every participant.  But its main focus is to be generous of spirit, to try to make your community better for you being there.  It's also worth noting that Burning Man has been around for a little over thirty years, so there's a much wider range of participants than people expect, from infants to people in their 80s and 90s.
EL: What are you most excited about bringing the art of Burning Man to DC?
NA: I'm excited about the positive values of Burning Man, about getting people into the museum and allowing them to feel like they are creative collaborators in the experience. The artworks themselves are mind-blowing, and with this exhibition I hope to bring recognition to this talented group of artists, many of whom have been largely overlooked by the mainstream art world. At the same time, I'm excited to explore Burning Man's Ten Principles which are beautiful ideas for society in general, through the works. Whether visitors will ever make the pilgrimage to the desert or not, I want them to better understand the vital energy and creative force of this annual event, to appreciate its widespread influence on industry and thought leaders, and to feel like they can be part of the Burning Man culture.
EL: Tell us about the title No Spectators.
NA: No Spectators is a long-standing saying on Playa. You are encouraged to fully participate. It's all about being there, being fully present, and not just observing. Two of the ten tenets are radical participation and inclusivity, meaning that there are no outsiders. Everyone is part of the experience. It's a sort of tongue-in-cheek title for an exhibition, but we want that same kind of engagement here at the museum.  Everyone has something to contribute!