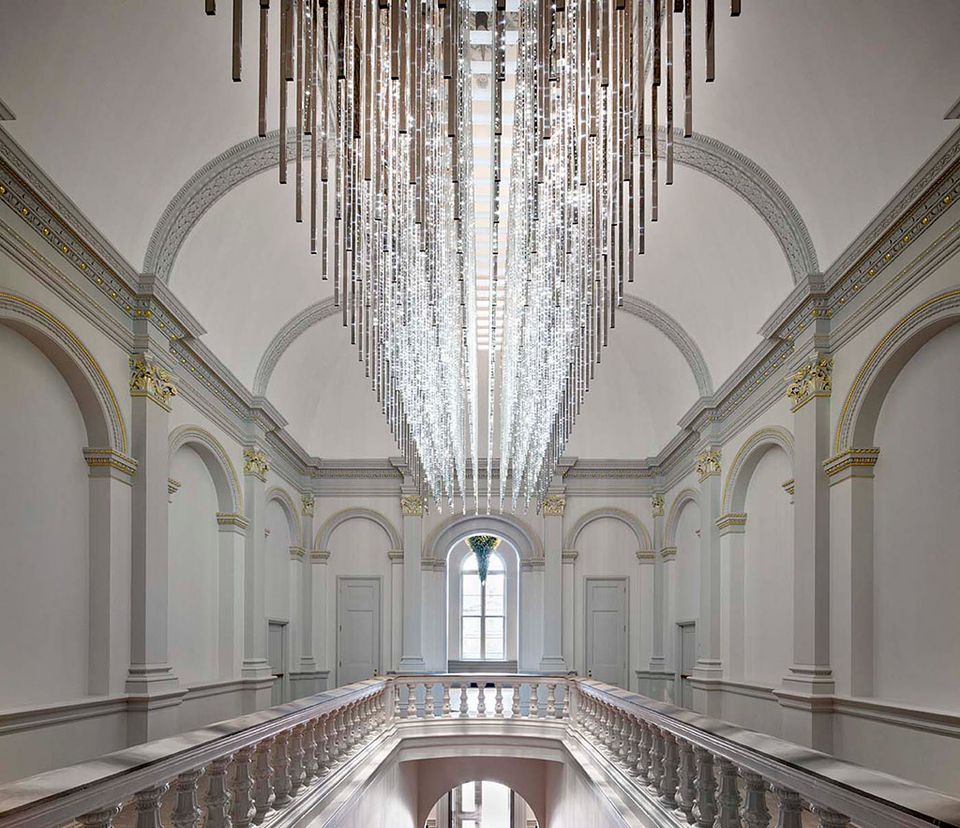 Leo Villareal's Volume (Renwick)
Abraham Thomas recently joined the museum's staff as The Fleur and Charles Bresler Curator-in-Charge at the Renwick Gallery. Thomas writes about the intersection of American craft, the Renwick, and his interests.
I've always been a big believer in dissolving boundaries between artistic disciplines. The most interesting conversations often happen when you bring objects together from disparate fields, and this sense of interdisciplinary dialogue is what makes contemporary craft so exciting. This zeal for hunting out areas of permeability was probably ingrained in me during my curatorial "youth," learning my trade at the Victoria and Albert Museum in London. There, I was the curator responsible for the V&A's vast design drawings collection, which ranged from the Renaissance to the present day, and spanned architecture, furniture, ceramics, graphic design, fashion, and everything in between. These sketches and drawings (and models and maquettes) really felt like the engine room of the museum. They represented a microcosm of the V&A's wider collections, but they also offered a unique insight into the working process and design thinking behind these objects. They revealed a trajectory of decision-making which included those areas of risk, failure, experimentation, and play which are often hidden from view when looking at finished pieces in a gallery. Working with this diverse collection allowed me to see what might connect a 19th-century Staffordshire bowl, a 1960s lounge chair, and an Italian Baroque funerary monument.
Similarly, at the Renwick Gallery we have the opportunity to explore how contemporary craft has a profound ability to be nimble across different forms of creative practice. In recent years we've moved beyond narrow definitions of craft, and engaged with broader ideas around making, materials, skill, and process. My predecessor, Nicholas Bell, and colleagues Nora Atkinson and Robyn Kennedy, have all done a brilliant job exploring these increasingly expansive definitions. The tremendous success of the WONDER exhibition has created a wave of momentum which allows us to prod and poke even further. For example, I'd love to explore the presence of craft in worlds as diverse as architecture, design, performance, fashion—even mathematics, science, and technology.
A good example of this is Leo Villareal's Volume (Renwick), an artwork where what's visible is simply an armature for the actual crafted "object," that is the complex algorithm which programs thousands of LEDs to create infinite dancing patterns of light and shadow. It's a poetic exercise visualizing the ephemeral nature of lines of code, the invisible 1s and 0s. As someone who worked as a coder in a former life, this is an artwork which particularly resonates for me on a personal level.
Similarly, our 3D-printed copy of the Greek Slave by Hiram Powers is a physical manifestation of millions of digital scan points taken from the plaster original in SAAM's collection. I've always believed in the huge potential of understanding the past through the lens of the contemporary, and vice versa, to use historical objects to contextualize creative practice today. Our 2015 Greek Slave "redux" offers a fresh perspective on how Powers used the 19th-century techniques of molding, casting, and pointing to create copies, and how that compares with today's technologies such as 3-D modelling and rapid prototyping, processes which open new areas of debate for contemporary craftsmanship.
Some of our upcoming exhibitions reflect these new intersections of craft, art, design, technology, and science. This summer we are commissioning architects to build a spectacular new installation for the Grand Salon, and later in the year our exhibition about the "Nutshell Studies of Unexplained Death" (intricate dollhouse-style dioramas of crime scenes) will examine craft through the context of forensic science; and our major exhibition in 2018 takes over the entire building and will explore thirty years of the art (and craft) of the Burning Man festival.
I love the fact that whether we're talking about lines of code, 19th-century sculpture, dollhouse miniatures, or a community of thousands gathering in the middle of the Nevada desert, here at the Renwick Gallery our collections, exhibitions and public program can play a vital role in that ongoing debate and discussion as we continue to explore future definitions for contemporary craft.