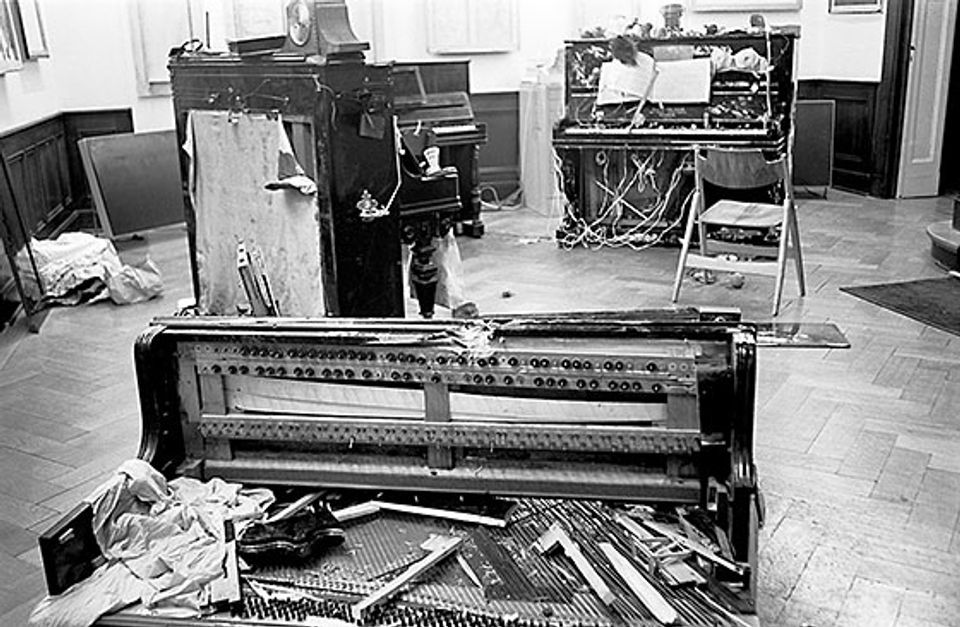 Piano Integral: View from entrance hall with the Ibach Piano destroyed by Joseph Beuys, at Exposition of Music—Electronic Television, 1963. Photo by Manfred Montwé © Manfred Montwé.
It's Throwback Thursday! Here at Eye Level, we have decided it's a great opportunity to bring back some of our interesting posts from the past. Today is video art pioneer Nam June Paik's birthday. To celebrate, we're reposting former associate curator of film and media art, Michael Mansfield's post about our 2012 exhibition Nam June Paik: Global Visionary. Tonight, to share in the festivities in what would have been Paik's 85th birthday, Barbara London, Yale University's media arts critic and MoMA's former associate curator in the department of media and performance art, will give a talk, "What's Technology Got to Do With It?" The talk starts at 5:30 p.m. in SAAM's MacMillan Education Center and is free.
Against one wall in the Nam June Paik: Global Visionary exhibition, there stands a piano. It is an Alzinger-Brice upright piano, the evolution of a high culture instrument constructed for the middle class home. This one is disheveled, to say the least, exhibiting missing keys, protruding nails and broken wood; evidence of an enormous struggle. It is one of a number of artworks by Nam June Paik titled Prepared Piano from the 1963 exhibition Exposition of Music - Electronic Television. It appears to have been attacked, but it might be an injustice to read it simply as your average artist's struggle against cultural traditions. Perhaps it is much, much more optimistic than that.
Believe it or not, classical music has been the springboard for an enormous amount of radical innovation in the performing and visual arts. Representing the political and social superstructure of "high culture," rigid instrumentation and traditional compositions of orchestral music have repeatedly been the target for a creative class seeking to shatter conventions and shape new modes of expression.
At the turn of the 20th century, a "crisis of tonality" was identified, and composers and musicians began to systematically press the edges of the score. From sophisticated harmonics and complex chords to singular instruments and minor notes, composers assembled and deconstructed nearly every aspect of music in a conscious attempt to redefine musical arrangements from within the medium. The influential composer Arnold Schoenberg confronted the crisis and conceived of the "emancipation of dissonance" as a strategy to release at once composers and audiences from their harmonic bounds. Another composer, George Antheil, removed musicians altogether and wrote scores for mechanical pianos, airplane propellers and sirens, to be performed "as beautifully as an artist knows how." And then there was John Cage, who approached the piano, lifted the lid, and sat motionless in silence for 4 minutes, 33 seconds. These progressive responses to tradition in classical music would prove a watershed for a new generation of creative minds.
One of those creative minds was Nam June Paik. Though primarily known as a video artist, Paik's first interest was musical composition. This interest was immediately followed by, or perhaps simultaneous to, musical decomposition. Featured in the video documentary "The strange music of Nam June Paik," critics hailed him "as the world's most famous bad pianist." (If you watch the video, you'll notice that he is also not so good with a hammer). Paik studied composition and music in Japan at the University of Tokyo, where he wrote a thesis on Schoenberg. He continued his studies at the University of Munich and the Academy of Music Frieburg in Germany. There, his interest in revolutionary music making was encouraged by new relationships with Karlheinz Stockhausen and John Cage. Cage's influence on Paik was profound, enabling him through improvisational performances and "found sound." Paik embraced these new explorations of "chance" in his art making, whereby artists may set the stage for a performance, but relinquish control and allow the art to just happen.
[...] The beauty of moving theatre lies in this "surprise a priori," because almost all of the audience is uninvited, not knowing what it is, why it is, who is the composer, the player, organizer - or better speaking - organizer, composer, player. Paik, 1963
These concepts of improvisation and chance are critical to the understanding and experience of Paik's artwork. They are particularly apparent in Paik's Prepared Piano. In all its disheveled glory, Prepared Piano is an instrument that has been staged for a new sound experience. Augmented by the artist with buttons, toy cars, nails, coins, handles, motors, cans and an array of additional material, this piano anticipates an unpredictable concert. There's no telling what noise it might make when played. Rather than having been attacked for its perceived collusion with tradition, it has been prepared for an entirely new kind of concert. It is ironically optimistic in its composition, and therein lies the art.
Nam June Paik: Global Visionary runs through August 11, 2013.