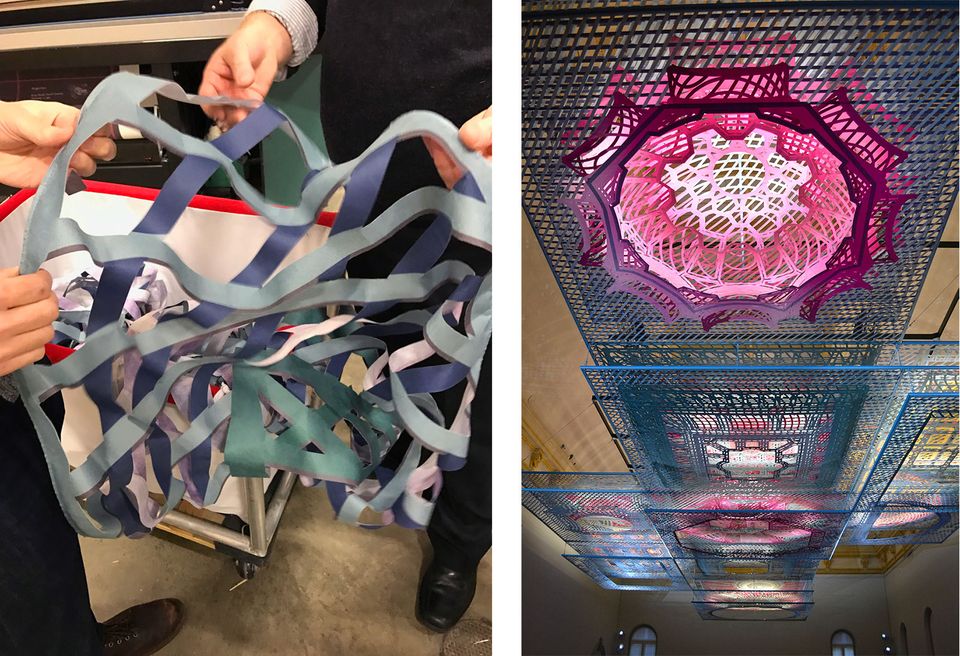 Left: cut linework (photo by Helen B. Bechtel). Right: Parallax Gap installed.
Helen B. Bechtel, independent curator and coordinator of the installation, Parallax Gap, fills us in on the relationship between architecture and American craft. Parallax Gap remains on display at the Renwick Gallery through February 11, 2018.
"Visual spectacle." "Spatial illusion." "Abstract architecture." FreelandBuck's Parallax Gap, the work of installation architecture currently on view in the Renwick Gallery's Bettie Rubenstein Grand Salon, offers no shortage of intriguing experiences for the visitor. At its core, however, the work is still based on a straightforward exercise: an architectural drawing.
In the field of architecture, drawing has long been used to represent three-dimensional space on a two-dimensional page. Architects David Freeland and Brennan Buck, however, have pushed the role of drawing in their practice, applying the process of drawing beyond just the page or screen and into the fabrication of physical structures. In Parallax Gap, FreelandBuck started with a collection of drawings of nine different architectural ceilings. The linework was printed at large scale on synthetic fabric, and then CNC-cut to isolate the thickness of each line, hatch, and curve. The fabric pieces were then stretched across aluminum frames, arranged in layers, and suspended from the ceiling to create the overall drawing composition. With this process, the architects introduced material heft to their linework, physically crafting a 3,000-square foot drawing. The piece is simultaneously representation and installation, offering a unique and creative example of craft in contemporary architectural practice.
For those who associate the Renwick with exhibiting craft and decorative arts, it may be puzzling to see the museum present a piece of installation architecture. As the Renwick is an institution committed to investigating the art of making, architectural drawing is not a typical exhibition offering nor a notable part of its collection. However, when an architectural practice like FreelandBuck proposes the provocative idea of actually building a drawing, an installation based on an architectural drawing becomes a piece newly relevant to the museum. Parallax Gap marries the art of making with the act of drawing, representing a new artistic medium and a significant example of the Renwick's expanded definition of contemporary craft.
Interested in learning more about Parallax Gap? Join me this Friday, August 25, at 12 p.m. in the Renwick's Bettie Rubenstein Grand Salon, as I discuss the artwork's fabrication and installation with Abraham Thomas, the Renwick's Fleur and Charles Bresler Curator-in-Charge.