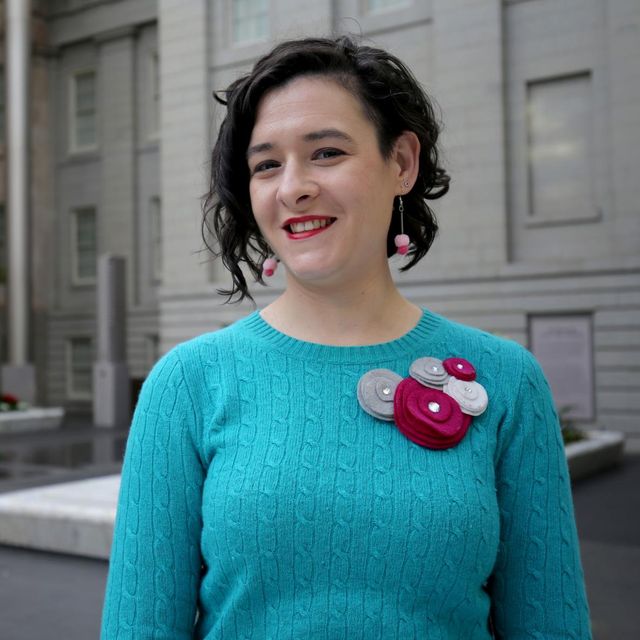 Gloria Kenyon
Public Programs Coordinator
December 9, 2020
If you're tired of looking at your walls, it's time to deck the halls. SAAM's resident Craft Master leads you through a simple craft to add a little festive cheer to your home, or to give to a loved one.
Supplies needed
Sheet of cardboard big enough to cut a 6 to 8-inch circle from
Yarn of various colors
Scissors or X-Acto knife
Tape
Pencil
Compass or something to trace your circle
Use your compass or something with a 6 to 8-inch diameter to trace a circle. Mark off 1.5 inches from that line inside the circle and trace another smaller circle inside.
Cut out the circles, leaving you with a cardboard ring.
Tape down an end of yarn on what will be the back of your circle. Begin wrapping your main color of yarn around the ring, keeping it snug to each wrap as you go around. You don't want to see any gaps of cardboard.
Continue to wrap the yarn as you go around the ring. When you get to the end, tape down the second end and check to make sure that you don't have any cardboard showing through. Gently adjust the yarn wraps as needed to cover any gaps.
Wrap with your second or third colors of yard to create an interesting visual pattern around the wreath. Get creative with your patterns!
Cut a 4-inch piece of yarn and loop around the top of the wreath. Tie a knot it in it to hang.
If you're interested in more DIY crafts from SAAM, check out our library of videos for crafters of all ages and experience.