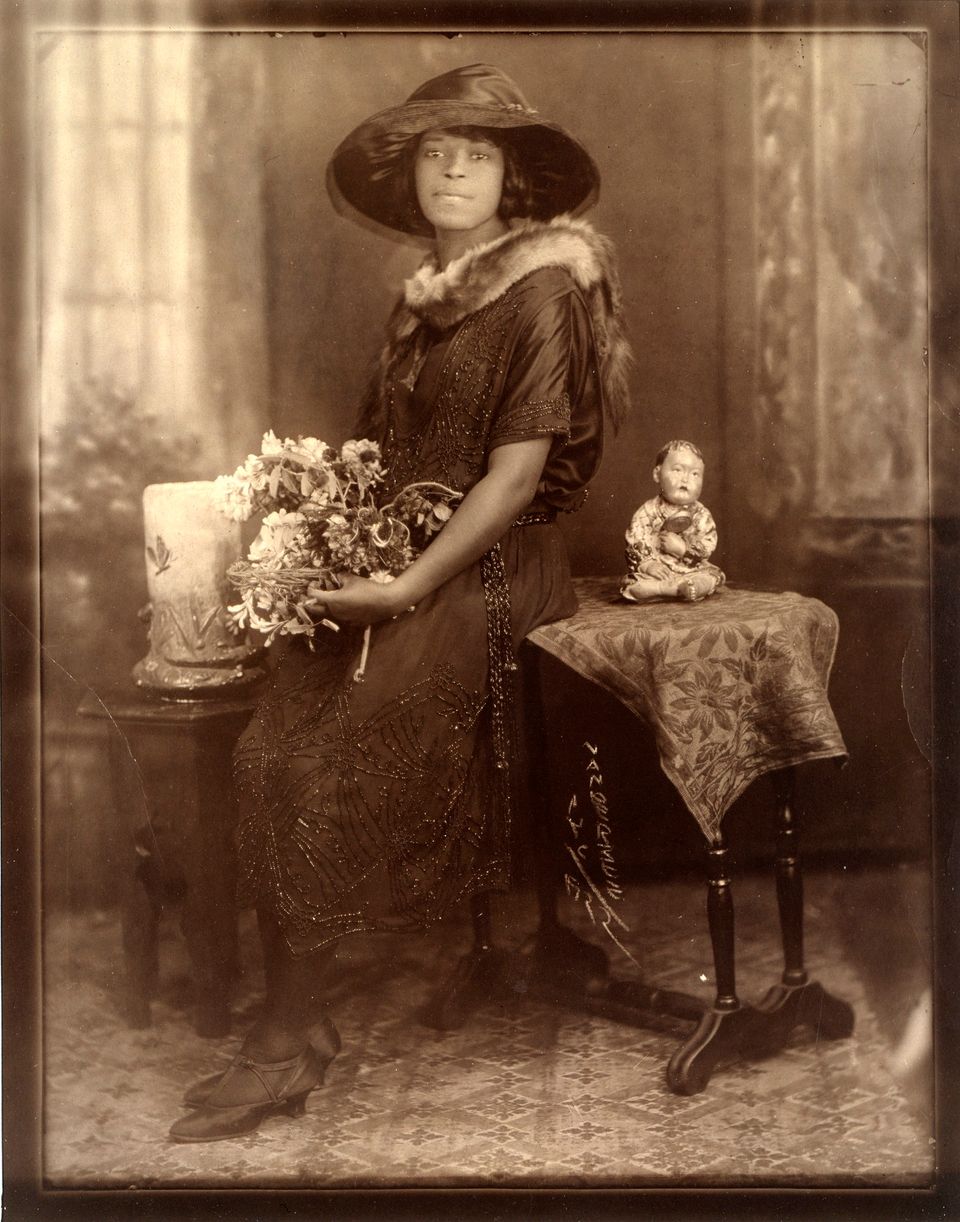 Student Questions
1. Carefully study the sitter in this portrait. What is she wearing? What does her "evening attire" tell us about her?

2. Now look at her environment. What objects do you see? What kind of scene do they help create?

3. Where do you think this photograph was taken?
About This Artwork
James VanDerZee's photograph of a Harlem resident is one of thousands of his meticulously composed and polished studio photographs that capture the image and spirit of the New Negro movement—the efforts of black artists, academics, critics, and consumers that promoted African American social issues in the mid-1920s and 1930s. This fashionable young woman, perched casually on a table, gazes confidently into the camera while decked out in her evening attire, a fur gracing the shoulders of her fancy beaded dress and flowers filling her arms. The studio is made to look like an elegantly appointed Edwardian parlor decorated with a fancy vase, a tapestry on the wall, and a figurine of chubby child. The woman's identity is unknown, but her confident bearing, sophisticated attire, and carefully curated surroundings signify the economic and social aspirations of many African Americans in the 1920s. Proponents of the New Negro movement believed that establishing a thriving middle class was necessary before significant civil rights progress could be made. To help foster an ideal of success, many African Americans created stylized images of themselves, a ritual with history in American and European portraiture.
Although photos like this one certainly indicate how the sitters wished to be seen and remembered, VanDerZee's photographs should not be considered as simple reflections of an aspiring black middle class. Known as the "eyes of Harlem," VanDerZee ran the most famous photography studio in the cultural capital of black America in part because he employed a deliberately directorial style to envision black Harlemites as urban, sophisticated, and modern. However, in using such a style to emphasize the integrity of individuals and families, VanDerZee also sought to create works of art. As he would recall:
I had a personal interest in the pictures ... sometimes they seemed to be more valuable to me than they did to the people I was photographing.... I had one woman come in to see me, and say, "Mr. VanDerZee, my friends tell me, 'That's a nice picture, Daisy, but it doesn't look like you.' " That was my style though. Not like other portrait photographers where all you saw was more faces that looked the same.1
As this image attests, VanDerZee's photographs not only present his sitters as urbane and self-possessed, but also as part of a thoroughly idealized and beautiful world, moving them far beyond the racial labels and degradations that often shaped everyday life beyond his studio.
1. VanDerZee is quoted in, "James VanDerZee: A Community Visionary," Harlem Heyday: The Photography of James VanDerZee (Studio Museum in Harlem, 1982), n.p.
About This Artist
The famous photographer and unofficial chronicler of the Harlem Renaissance, James VanDerZee moved to Harlem in 1906 and opened a portrait studio in 1916. He worked primarily in his elegantly furnished studio, documenting Harlem's growing black middle class and celebrities, such as entertainer Florence Mills, dancer Bill "Bojangles" Robinson, boxer Joe Louis, minister Adam Clayton Powell Sr., and Powell's son, politician Adam Jr. He also was the official photographer of black separatist Marcus Garvey  and the Universal Negro Improvement Association (UNIA). VanDerZee's portraits were stylized tableaus with a variety of studio props, and he retouched and hand-tinted his photographs, doing, as he once told interviewers, "extra work outside of what the camera did" to bring them to perfection. Thanks to such details, VanDerZee's images project a sense of glamour, sophistication, and prosperity. He shared the aspirations and racial pride of the black middle class and leading lights of the Harlem Renaissance, and his photographs captured the image of New Negro success through World War II. After the war, VanDerZee's fortunes changed. He drifted into obscurity until 1969, when his work was featured in Harlem on My Mind, a controversial photography exhibition at the Metropolitan Museum of Art. He was celebrated once again but reaped little financial reward.
John Loengard (photographer), Eubie Blake and James VanDerZee, 1981 (printed 2004). Gelatin silver print, 8 x 12 1/16 in. National Portrait Gallery, Smithsonian Institution, © John Loengard, NPG.2004.143
In Café's bright colors and simplified forms, William H. Johnson lightheartedly conveys the central place of fashion, sociability, and nightlife in the Harlem Renaissance. Yet Johnson's style indicates a sophisticated side to the cultural awakening. By drawing on African, folk, Southern, and modern art forms, the painting demonstrates some of the cosmopolitan roots that fed the New Negro movement.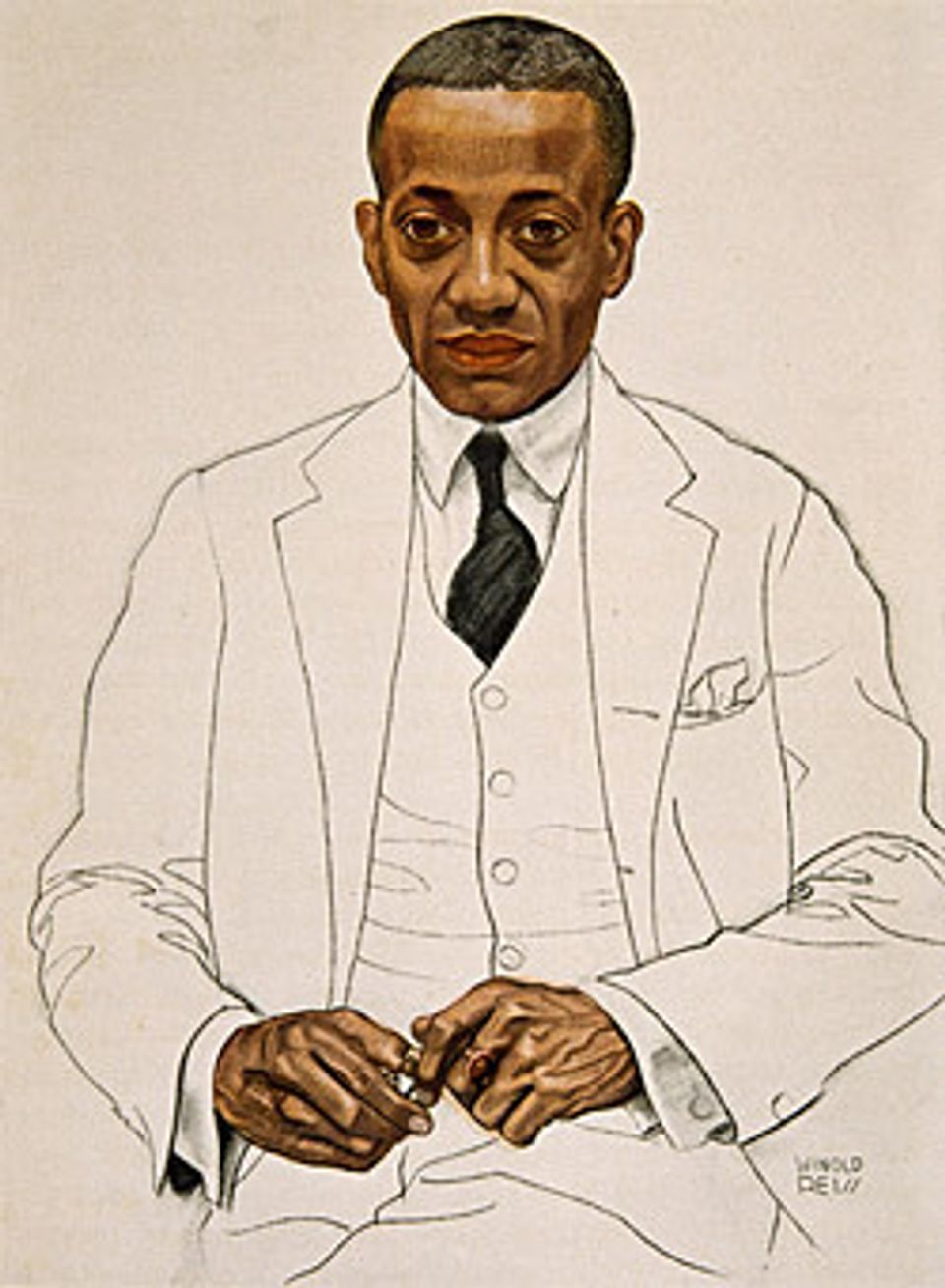 Contrary to popular belief, the Harlem Renaissance was a worldwide movement steeped in political and aesthetic traditions. Alain Locke promoted this deeper understanding with his 1925 publication of The New Negro: An Interpretation, in which this portrait of Locke appeared. Containing fiction, poetry, essays, and images by African and African American artists, the anthology demonstrated the vitality of historical sources to the contemporary cultural renaissance. Locke's book, considered the founding text of the New Negro movement, also provided its name.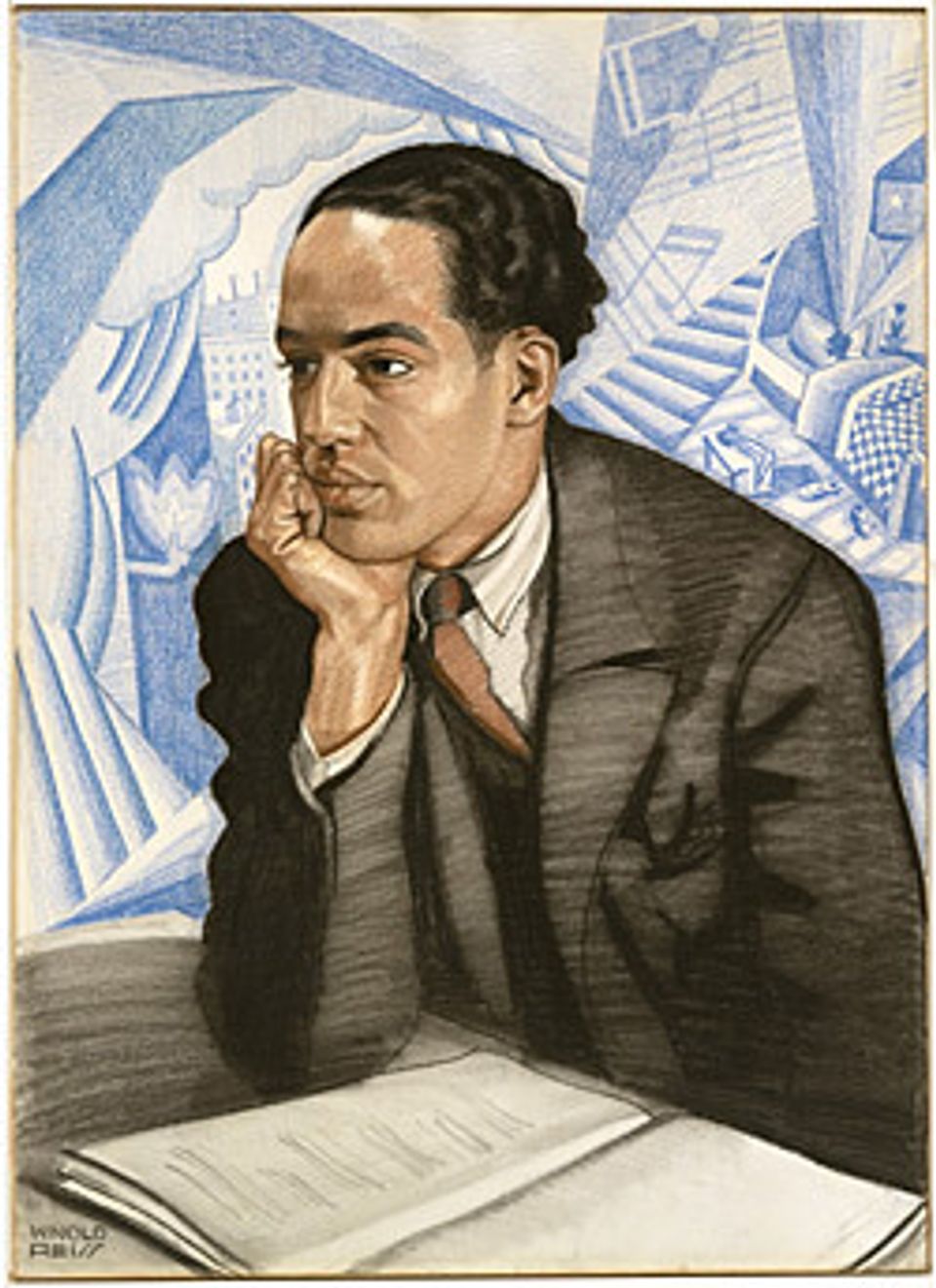 Poet, novelist, and essayist Langston Hughes's career demonstrates the broad influence, at once political and artistic, of the Harlem Renaissance. In his exploration of African identity, folk culture, and everyday experiences, Hughes encouraged African Americans across the country to assume racial consciousness and cultural nationalism. His writing influenced black writers outside the United States, too, and is credited with inspiring cultural and political movements in Europe and the Caribbean.