Día de los Muertos at SAAM
Celebrate Día de los Muertos (Day of the Dead) online with crafting activities, traditional Mexican folk dancing, and coloring pages.
Join in the celebration! Craft your own decorations including paper calaveras (decorative skulls), lanterns, and marigolds with step-by-step instructions. Enjoy videos of traditional Mexican folk dancing performances, music performances, and more. Download a coloring page featuring artwork from SAAM's pioneering Latinx art collection and calavera pages. Show us your creativity! Please share a picture of your completed creations by using #SAAMFamilyZone on social media.
SAAM's Latinx art collection represents the museum's profound commitment to building a great national collection reflecting the diversity of Latino communities and their rich contributions to our country.
Learn more about Día de los Muertos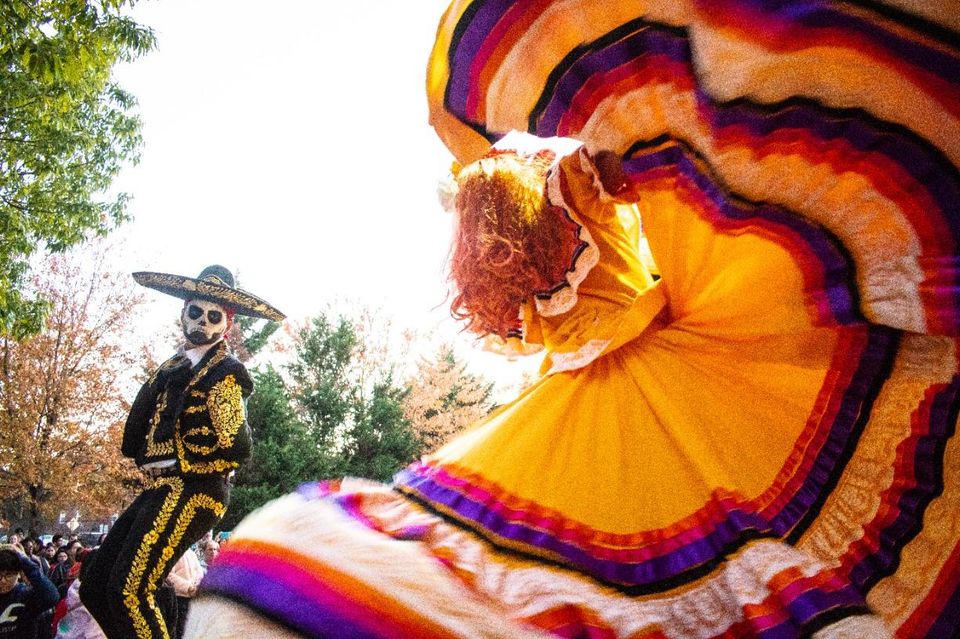 Día de los Muertos, or Day of the Dead, is a time to remember and honor those who have departed. It is a holiday celebrated on November 1 and 2 throughout Mexico, much of Latin America, and Mexican American communities in the United States. Day of the Dead is deeply rooted in Aztec and other Mesoamerican traditions that pre-dates the arrival of the Spanish in Latin America. On the holiday, it is said that spirits of the dead return home for the night to visit their loved ones. Families create ofrendas, or altars, covered with pictures of their departed family members, lit candles, sweets, decorations, and personal offerings like favorite foods and drinks to nourish the spirits in their journey. Filled with food, music, and dancing, Day of the Dead is a lively celebration in honor of those who have passed before us.
Read more about the history and traditions of Día de los Muertos and learn how Chicano artists and activists blended cultural and visual traditions to create modern-day celebrations in the U.S.
Crafting
Get creative with Día de los Muertos-themed crafts! Click on a craft image below to download a step-by-step instruction sheet. Share your final piece with us @americanart
Enjoy Mexican folk dancing performances by Ballet Folklórico Mi Herencia Mexicana and from the Smithsonian Latino Center. 
Enjoy traditional music from the different regions of Mexico by Grupo Bella at the Smithsonian Latino Center's 2018 Hispanic Heritage Month Family Festival at the National Museum of American History.
Learn more about the meaning of a Día de los Muertos Ofrenda with scholar and writer Xanath Caraza.
Watch a conversation with Ana Ramirez and Alonso Martinez from Pixar Animation Studios. These artists helped create The Academy Award-winning animated film Coco.
The Smithsonian American Art Museum celebrated Día de los Muertos (Day of the Dead) with a lively performance of traditional Mexican folk dance and music by Ballet Folklórico Mi Herencia Mexicana.