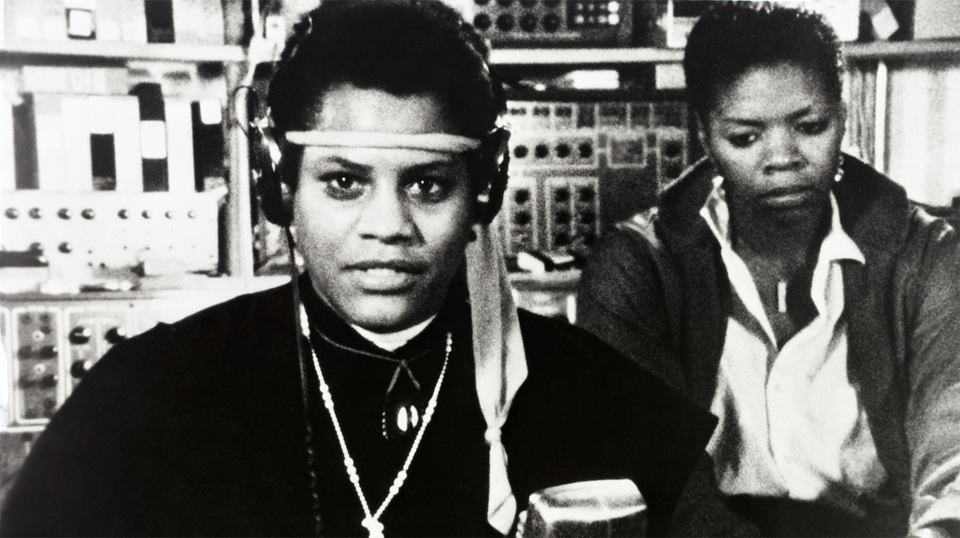 The 2020 Women Filmmakers Festival at SAAM highlighted artists working outside the Hollywood game, making their own rules and seeking adventurous audiences for their bold visions. The 2020 edition recognized the 100th anniversary of women's suffrage in the United States by asking, how are today's female and non-binary filmmakers using their art to image the world differently? Before the passage of the 19th Amendment, the idea of women voting and participating in politics posed a great challenge to the social order and asked those fighting for such change to believe in something they had never seen. Until the Amendment was ratified in 1920, it took radical leaps of imagination to envision what that world might look like. A hundred years later, what speculative visions are film artists putting forward about women's power in society or their role in shaping its futures? Taken together, the selected works offered nuanced thought-experiments about the relationship between past, present, and possible futures, futures that we will all share but will not experience equally.
In addition to a day-long film festival at the museum's main building, SAAM partnered with Eaton DC and curator Sheldon Scott for an evening showcase featuring work by some of the best filmmakers from DC, Baltimore, and Philadelphia. Hosted at Eaton DC, this intimate film screening examined the past, present, and future visions of female empowerment. Filmmakers were available after the screening for conversation and questions.
Director Lizzie Borden post-screening conversation
Friday, March 6, at the Cinema @ Eaton DC
7–9 p.m. Hometown Sheroes
Some of the best filmmakers from the DMV to Philly shared past, present, and future visions of female empowerment. This program was co-organized with Eaton DC curator Sheldon Scott.
Nadine M. Patterson, We Are Free Because of Harriet Tubman (2019, 4:33 min.)
Be Steadwell, For Sethe (2016, 5:32 min.)
Ada Pinkston, LandMarked Part 5: A Tribute to Fannie Lou Hamer (2019, 2:30 min.)
Stephanie J. Williams, The Lingering Survival of the Unfit (with preamble) (2018-present, 8:40 min.)
Britt Sankofa, DOLL BABY (2018, 15:45 min.)
Sobia Ahmad, Endure (2016, 3:32 min.); The Walk (2016, 2:20 min.); and Traverse (The Problem of Aliens) (2019, 5:18 min.)
M. Asil Dukan, Resistance: the battle of philadelphia, episode 1 (2018, 6:19 min.)
Plakookee, Crypto$Crystal (2018, 8:07 min.)
Post-screening salon with Sobia Ahmed, Nadine M. Patterson, Britt Sankofa, and Stephanie J. Williams.
Saturday, March 7, at the Smithsonian American Art Museum
1:45–6:45 p.m. Interactive Twine game Redshift & Portalmetal
Micha Cárdenas's interactive Twine game, Redshift & Portalmetal (2014), was presented in the McEvoy Auditorium Lobby during the festival. In the game, players are a trans woman of color, preparing for migration and settlement in space.
2–4 p.m. Experimental Videos and Artists in Conversation
Videos by internationally acclaimed artists creatively leap from current conditions to possible tomorrows.
Carey Young, Palais de Justice, 2017, 17:58 min.
Jen Liu, Pink Slime Caesar Shift, 2018, 24:21 min.
Meriem Bennani, Party on the CAPS, 2018-19, 25:28 min.
Wangechi Mutu, End of eating Everything, 2013, 8:10 min.
Post-screening conversation featured Meriem Bennani and Jen Liu, and was moderated by Saisha Grayson, curator of time-based media at SAAM.
4:30–6:45 p.m. Feature Film: Born in Flames (R, 1983)
The remastered indie classic chronicles an intersectional feminist rebellion that emerges in an alternate 1980s America, a decade into a dystopian social democratic revolution. This raw and confrontational film examines issues of race, class, and sexism in ways that remain provocative and resonant today.
Post-screening conversation with director Lizzie Borden was moderated by Saisha Grayson, SAAM curator of time-based media.

Women Filmmakers Festival at SAAM: Feminist Futures was supported by the Smithsonian American Women's History Initiative. Additional in-kind support was provided by Eaton DC.