The exhibition features 50 of the more than 400 canvases Cunningham painted during his life. His imaginary landscapes are marvels of the unexpected and the unlikely. Pink flamingos dot the shoreline of the Maine coast, New England cottages sit at the edge of Florida swamps and Seminole Indians wear feathered headdresses. In this make-believe world, Cunningham merged past and present and defined time by sunsets, dawns, seasons and storms. Virginia Mecklenburg, senior curator for painting and sculpture, is the exhibition curator. This exhibition tours in 2008.
August 9, 2007
–
November 3, 2007
Open daily, 11:30 a.m.–7 p.m.
Free Admission
"Earl Cunningham's America" is organized by the Smithsonian American Art Museum. The exhibition is made made possible by generous support from Darden Restaurants Foundation; the Elizabeth Morse Genius Foundation; the Arts and Cultural Affairs Office of Orange County, Florida; CNL Financial Group; Bright House Networks; Lockheed Martin; and Friends of The Mennello Museum of American Art. The exhibition's tour is supported in part by the C. F. Foundation, Atlanta.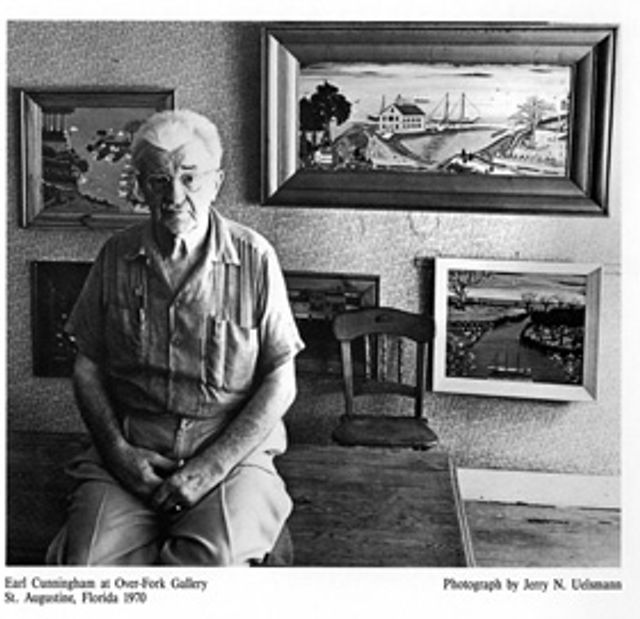 born Edgecomb, ME 1893-died St. Augustine, FL 1977
Earl Cunningham was born on a farm in Edgecomb, Maine, near Boothbay Harbor in 1893. He left home at 13 and supported himself as a tinker and a peddler.