Jointly organized by the Smithsonian American Art Museum and the Portland Museum of Art in Maine, the artworks in Richard Estes' Realism are selected by Patterson Sims, an independent curator, and Jessica May, chief curator at the Portland Museum of Art. Virginia Mecklenburg, chief curator at the Smithsonian American Art Museum, is coordinating the exhibition in Washington, D.C.
Richard Estes' Realism is the first complete overview of Estes's work in the U.S. since 1978. It explores the full range of Estes' career as a painter, with works from the late 1960s to 2013. Paintings in the exhibition balance Estes' interest in cities—London, New York, Paris, Tokyo—with luminous sunlit scenes of Venice and Antarctica as well as his explorations of the Maine coast and the woods on Mount Desert Island, where he has spent part of each year since the late 1970s. Recently, Estes has captured nocturnal images of New York City, and several examples are on display. A number of Estes' rare portraits and self-portraits also are included in the exhibition.
Estes layers and merges multiple viewpoints to create dense and detailed scenes that reward the viewer with careful looking. His images are more sophisticated than they appear to be at first glance. His realism is a compelling record of the appearance of the urban and natural environments in the late twentieth and early twenty-first century.
October 9, 2014
–
February 8, 2015
Open daily, 11:30 a.m.–7 p.m.
Free Admission
Richard Estes' Realism is organized by the Smithsonian American Art Museum and the Portland Museum of Art, Maine. The museums thank the following donors for their generous support of the exhibition: Gabrielle Bekink and the Honorable Rudolf Bekink, Isabelle and Scott Black, The Wolf Kahn & Emily Mason Foundation, Thelma and Melvin Lenkin, The Lunder Foundation – Peter and Paula Lunder, Elizabeth Ragland Park Fund of Triangle Community Foundation, Debbie Frank Petersen, the Walter and Lucille Rubin Foundation, Holly and Nick Ruffin, and John Wilmerding. The accompanying catalogue is supported by Furthermore: a program of the J.M. Kaplan Fund, Marlborough Gallery and the Wyeth Foundation for American Art.
Richard Estes' Realism is accompanied by a catalogue with critical essays on Estes' practice by exhibition co-curators Patterson Sims and Jessica May. The book also includes a detailed chronology by independent art historian Helen Ferrulli. It is distributed by Yale University Press.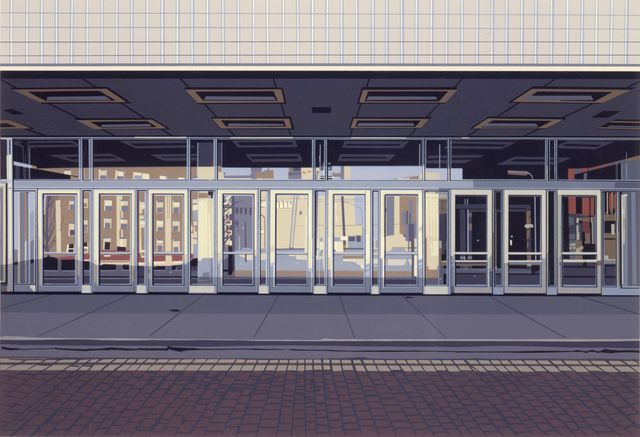 born Kewanee, IL 1932
Born in 1932 in Kewanee, Illinois, Richard Estes studied at the Art Institute of Chicago from 1952 to 1956. During the next decade he worked as a commercial illustrator and layout artist, first in Chicago and then New York, where he moved in 1958.