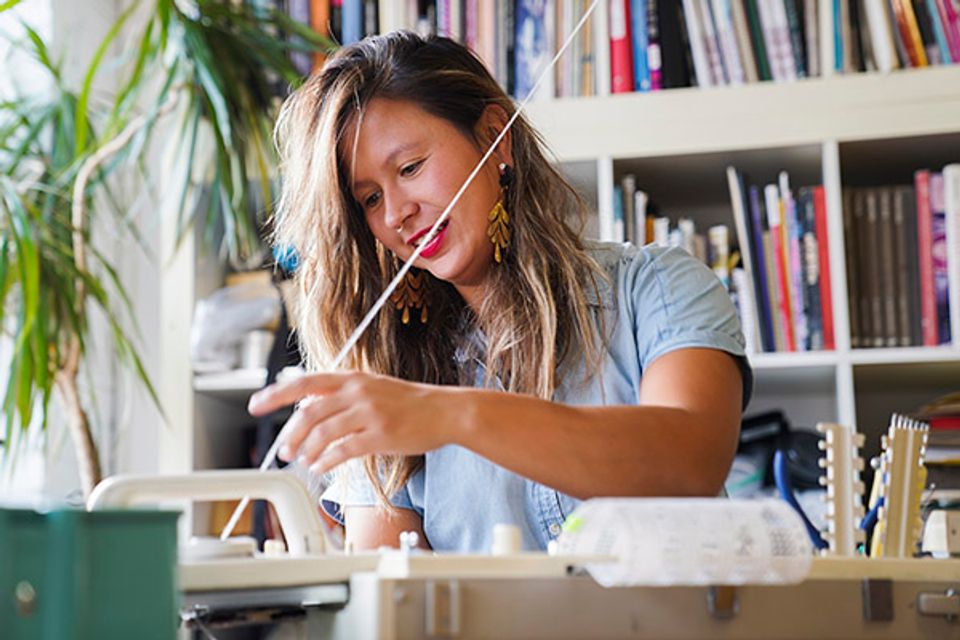 Catherine "Maggie" Thompson (Fond du Lac Ojibwe; born Minneapolis, MN, 1989; resides St. Paul, MN, with a studio in Minneapolis) is a textile artist and designer who derives inspiration from her Ojibwe heritage, family history, and the contemporary Native American experience. Thompson pushes the viewer's understanding of textile art by combining photographs, found objects, stockings, beadwork, and more. Through large-scale work and installations, she brings form to emotional experiences and creates a visual way to process complex topics.
Thompson received her BFA in textiles at the Rhode Island School of Design (RISD) in 2013. She had her first solo exhibition, Where I Fit, at All My Relations Gallery in Minneapolis in 2014. Since then, Thompson has exhibited at regional institutions such as the Minneapolis Institute of Art and the Plains Art Museum in Fargo, North Dakota. In 2015, she received support from the Minnesota State Arts Board Cultural Community Partnership Grant and the Native Arts and Cultures Foundation Regional Fellowship to create a body of work for her exhibit at the Minnesota Textile Center, On Borrowed Time, which explores themes of grief around her experience of losing her father.
In addition to her fine arts practice, Thompson runs Makwa Studio, a small knitwear business based in Minneapolis. She is also an emerging curator of contemporary Native art and has worked on exhibitions at the Two Rivers Gallery, the McKnight Foundation, and the Minnesota Museum of American Art.
Artist in Action: Maggie Thompson