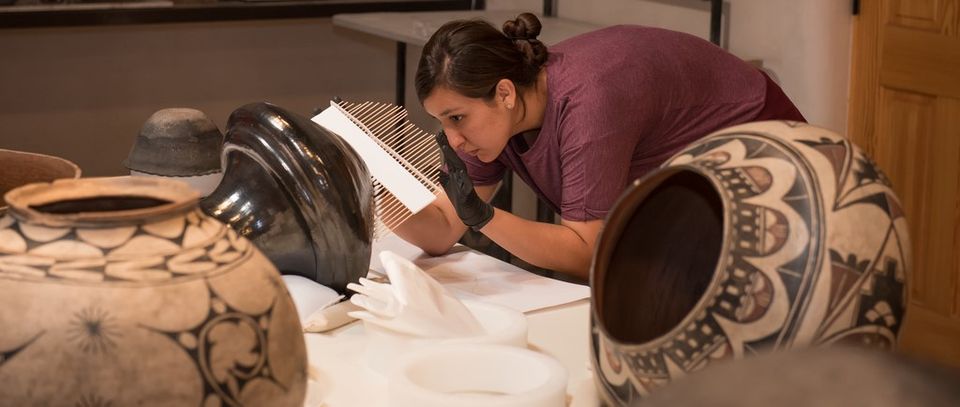 One fellowship will be awarded annually in support of a 12-month residency for a scholar at the predoctoral level or a 9-month appointment for a postdoctoral or senior-level researcher. Residencies must take place between June 1, 2024, and August 31, 2025, and begin on the 1st or 15th of the month. Housing is not provided.

The Betsy James Wyeth Fellowship in Native American Art carries a stipend of $53,000 and an allowance of up to $5,000 for short research trips. Additional funds will be provided to help with the fellow's health insurance premiums and travel to Washington, DC. The Smithsonian's Office of International Relations will assist with arranging J-1 exchange visas for any recipients who require them.

The Betsy James Wyeth Fellow will be jointly advised by a SAAM and a National Museum of the American Indian (NMAI) staff member. They will be seated alongside other scholars of American art history and visual culture in SAAM's Research and Scholars Center, located just one floor above the Archives of American Art and the American Art/Portrait Gallery Library. A Smithsonian shuttle provides free transportation to the NMAI Cultural Resources Center, where additional desk space will be made available adjacent to its collections, library holdings, and photo and paper archives. Regular lunchtime seminars, workshops, and symposia organized by both museums will facilitate scholarly exchange and professional development.

The proposed research project should focus on historic or contemporary Native American artists, designers, and makers. Successful applications will center Indigenous methodologies, knowledges, and communities within their research practices and draw on the resources of the two Smithsonian host museums:
SAAM has one of the most inclusive U.S.-American art collections in the world. Its expanding collection of contemporary art includes key paintings by Jaune Quick-to-See Smith, Fritz Scholder, and Kay WalkingStick. Early Native American holdings include modern works by Woodrow Crumbo, Paul Flying Eagle Goodbear, Allan Houser, Julian Martinez, Awa Tsireh, and Thomas Vigil. The Renwick Gallery, a curatorial department of the museum, has expanded its collections in recent years by acquiring works by such makers as Kelly Church, Carla Hemlock, Joe Feddersen, and Marlana Thompson. The SAAM and Renwick research staff includes 17 full-time curators, conservators, and historians.
NMAI cares for one of the world's most expansive collections of Native American art and artifacts, comprised of 825,000 two- and three-dimensional works. The NMAI art collection is extensive with key works by Rick Bartow, Joe Feddersen, Shan Goshorn, the Growing Thunder family, Kimowan Metchewais, George Morrison, Awa Tsireh, Ronald Senungetuk, and Kay WalkingStick. The museum also has a photographic archive (324,000 images), media archive (12,000 items), and a paper archive (1500 linear feet). Its research staff includes 18 full-time curators, historians, and cultural specialists.
The Smithsonian believes that recruiting and maintaining an inclusive and diverse cohort of fellows is critical to our mission. We welcome applications from qualified persons of color; who are Indigenous; with disabilities; who are LGBTQ+; first-generation college graduates; those from low-income households; and who are veterans. The Smithsonian does not discriminate on grounds of race, color, religion, sex (including gender identity, sexual orientation, and pregnancy), national origin, age, disability, genetic information, parental status, or marital status.
No employee or contractor of the Smithsonian Institution may hold a Smithsonian fellowship during the time of their employment or contract, nor may an award be offered to any person who has been employed by or under contract to the Institution in the previous year, without prior approval.  
Predoctoral fellowships are for those who have completed coursework and preliminary examinations for their doctoral degree and are engaged in university-approved dissertation research.  
Postdoctoral fellowships are available to support independent research projects by scholars who have earned a PhD or equivalent within the last seven years.  
Senior fellowships are intended for scholars with a distinguished publication record who have held their doctoral degree for more than seven years or who possess a commensurate record of professional accomplishment.  
Application: Apply Through the Smithsonian Online Academic Appointment System (SOLAA)
Deadline: December 1, 2023
Applicants should propose two fellowship advisors, one from NMAI and SAAM, and notify them before applying. In addition, they may propose up to three consultants from any Smithsonian unit. To find a potential advisor or a consultant whose research interests match yours, browse the staff listings in the Smithsonian Opportunities for Research and Study guide or Smithsonian Profiles.
Proposals should describe the current state of consultation or collaboration with Indigenous artists and estates, knowledge holders, and communities relevant to the work, and demonstrate how the research is accountable to these rights holders. Along with an academic reference letter, at least one letter of support from a tribal community member, knowledge holder, artist, or artist's estate is required. More than one such letter may be submitted.
Candidates for the Betsy James Wyeth Fellowship are encouraged to apply for the museum's other fellowship opportunities; however, those require a separate application, due November 1, 2023.
Questions about the fellowship or application requirements can be emailed to SAAMFellowships@si.edu. Please allow up to one week for our staff to respond. We encourage applicants to begin their proposals well in advance of the deadline.
About ​​​​​​the Wyeth Foundation for American Art
The Wyeth Foundation for American Art encourages the study, appreciation, and recognition of excellence in American art.  The Foundation supports selected programs of scholarship, research, conservation, and exhibitions with institutions and other non-profit organizations that are consistent with this mission.