Artist
Charles Willson Peale
born Queen Anne's County, MD 1741-died Philadelphia, PA 1827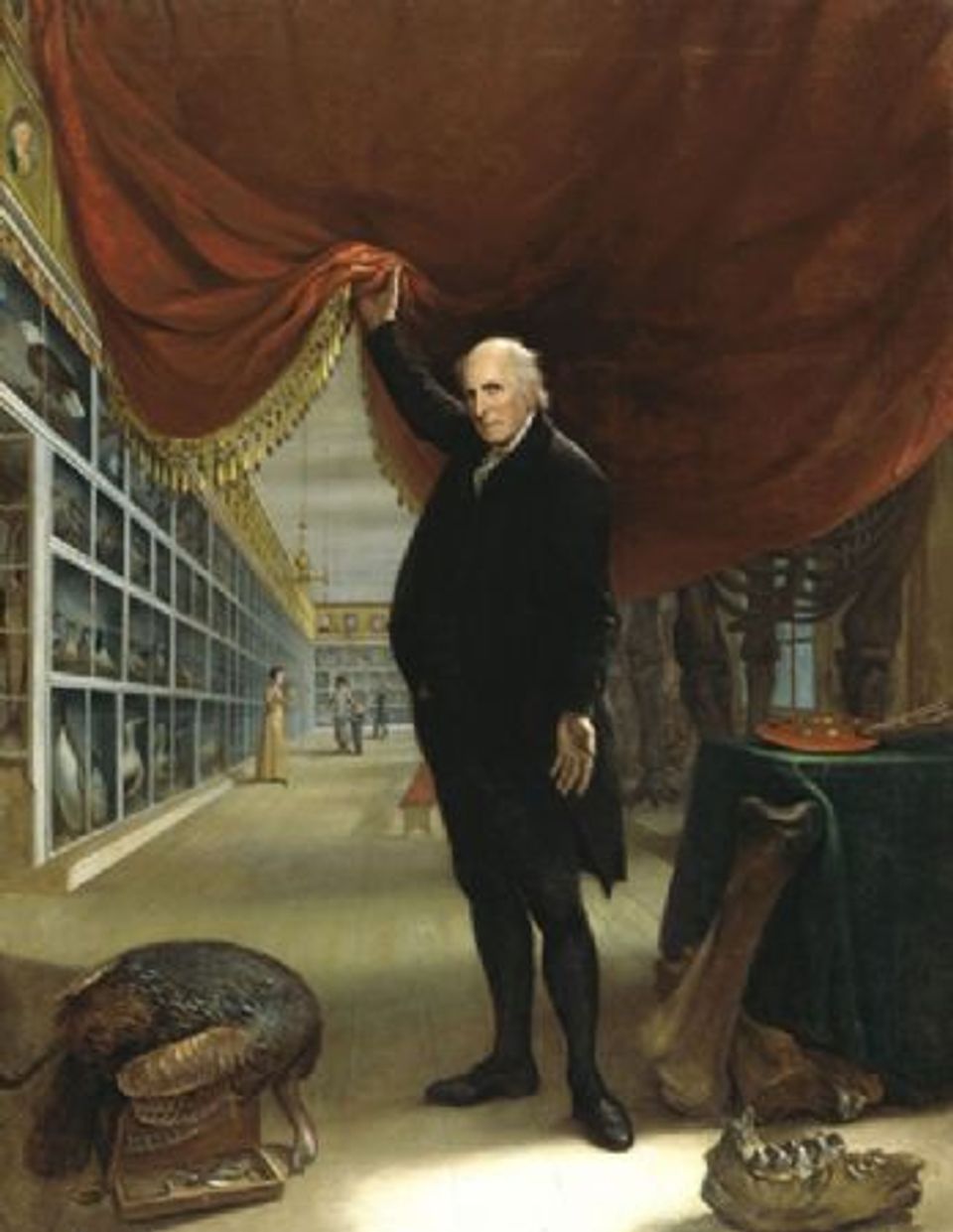 Also known as

Charles W. Peale
C. W. Peale

Born

Queen Anne's County, Maryland, United States

Active in

Annapolis, Maryland, United States
London, England
Biography
Born 15 April 1741, Queen Anne's County, Md. 1750, death of father. 1751, family moved to Annapolis. 1754, apprenticed to a saddler. 1761, established a shop in Annapolis. 1762, married Rachel Brewer. Became interested in painting; 1763, studied briefly with John Hesselius. 1764, joined Sons of Freedom in opposition to the "court" party of Maryland. 1765, sailed to Boston and Newburyport; met and studied briefly with John Singleton Copley.
1766, moved to Accomac, Va., then Annapolis; in December sailed for England to study with Benjamin West. 1768, exhibited with Society of Artists of Great Britain. 1769, returned to Annapolis; painted in Maryland and Philadelphia. 1772, first portrait of George Washington. 1774, son Raphaelle born. 1775, daughter Angelica Kauffmann born.
1776, moved to Philadelphia and joined city militia. Fought in battles of Trenton and Princeton. 1777, chairman of Whig Society. 1778, son Rembrandt born. 1779, commissioned by Supreme Executive Council of Pennsylvania to paint portrait of Washington. Elected representative to General Assembly of Pennsylvania. 1780, son Titian Ramsay born. 1782, added exhibition room to his house; opened portrait gallery. 1784, son Rubens born; 1786, daughter Sophonisba Angusciola born. "Peale's Museum" (the Philadelphia Museum) opened.
1787, made mezzotints after his portraits. 1790, wife Rachel died. 1791, married Elizabeth DePeyster. 1794, son Charles Linnaeus born; 1795, son Benjamin Franklin. 1797, published "An Essay on Building Wooden Bridges;" developed the patent fireplace; daughter Sybilla Miriam born. 1799, son Titian Ramsay II born.
Published first lecture, "Introduction to a Course of Lectures on Natural History Delivered in the University of Pennsylvania. …" 1801, organized expedition for first American exhumation of a mastodon, which he exhibited. 1802, daughter Elizabeth DePeyster born. 1804, wife Elizabeth died. 1805, co-founder, Pennsylvania Academy of the Fine Arts; married Hannah Moore. 1810, retired to "Belfield," farm outside Philadelphia, turning museum over to Rubens. 1812, published "An Essay to Promote Domestic Happiness."1818–19, in Washington, D.C. 1821, incorporated Philadelphia Museum Company; wife Hannah died. 1822, resumed management of museum. Experimented with manufacture of porcelain teeth. Died 22 February 1827, Philadelphia.
William Kloss Treasures from the National Museum of American Art (Washington, D.C. and London: National Museum of American Art with the Smithsonian Institution Press, 1985)
Luce Artist Biography
Charles Willson Peale is best remembered for his monumental portraits of George Washington and other Revolutionary War--era figures, and for organizing and opening America's first natural history and art museums in Baltimore and Philadelphia. He began his career as a saddlemaker, turning to the fine arts in the 1760s when he traveled to London to study with the leading American painter, Benjamin West. Upon his return to the United States, he traveled widely, painting his first life portrait of George Washington in 1772. He served with Washington for three years in the Continental army, and then settled in Philadelphia, where he founded the nation's first museum, which later became the Pennsylvania Academy of the Fine Arts. Married three times, Peale sired seventeen children, five of whom---Franklin, Raphaelle, Rembrandt, Rubens, and Titian Ramsey---became noted artists.