Artist
Nancy Grossman
born New York City 1940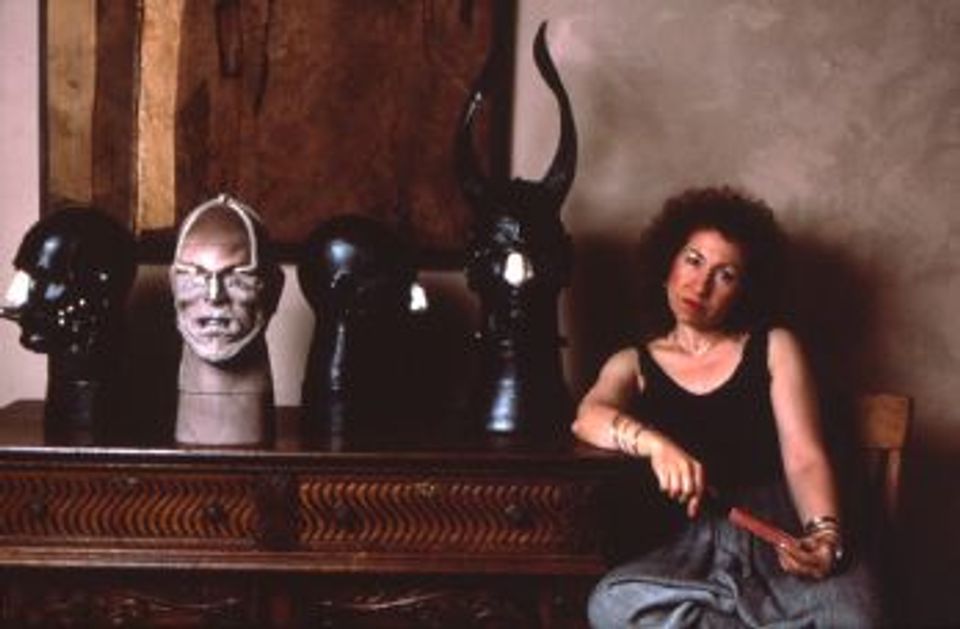 Biography
Grossman completed a fine arts degree at Pratt Institute in Brooklyn and subsequently received a Guggenheim fellowship for travel abroad. Although initially influenced by Richard Lindner and David Smith, Grossman's paintings, collages, and sculpture come out of a distinctly individual understanding of the psychological reality of contemporary life. Concerned with people as victims, Grossman depicted headless human forms tightly bound with shackles in a series of drawings, and in collages created figures whose contorted postures and featureless faces convey an unidentifiable sense of panic. In the late 1960s Grossman began her well-known series of carved wooden heads. Covered with leather, they often have closed zippers for mouths and are adorned with horns, buttons, or metal studs. In these sculptures Grossman symbolizes repression and the bestial side of human nature.
Virginia M. Mecklenburg Modern American Realism: The Sara Roby Foundation Collection (Washington, D.C.: Smithsonian Institution Press for the National Museum of American Art, 1987)
Luce Artist Biography
Nancy Grossman began her career as a painter and an illustrator of children's books. Many of her early paintings and lithographs focus on the tensions between men and women, and the relationships between women and nature. In 1968, Grossman began a series of wooden heads wrapped in leather. Some heads have their eyes and mouths bound, while others gnash their teeth, struggling to escape their restraints. For Grossman, these sculptures acknowledge the darker side of humanity and refer to the abuse she endured as a youth and the unfair responsibility of taking care of her younger siblings.